Buying a home with a low income: How to get prepared

Buying a new home can feel out of reach if you're concerned that you don't earn enough money or that you haven't saved enough to make a purchase.
Fortunately, programs exist that can help low- to moderate-income buyers make their dream a reality. Before you begin your research on different lending programs, there are a few things that you can do to make sure you will be able to qualify for home financing.
The following steps will help guide you along the path to homeownership.
Step 1: Address your credit
Credit has two components: the actual report and the score. The score is a calculation based on the information found in your report. To get a free copy of your credit report, go to annualcreditreport.com.
Your credit score
The credit score is an important factor in the lending process. Today, credit is used for borrowing, employment, insurance pricing and utility deposits. Scores range from 300 to 850. The higher your score, the more opportunities that will be available to you. If you're a cardholder with Discover®, you'll receive an update on your FICO credit score in each monthly statement.
The score is typically determined by the timeliness of payments, the ratio between how much credit is available on revolving accounts and how much is used, how long your credit has been established, the types of accounts you have and the number of recent inquiries that have been made about your credit history.
Your credit report
For home buying, get copies of the reports from all three credit reporting agencies – Experian, Equifax, and TransUnion.
Once you receive your reports, look over them carefully and correct any mistakes. Accounts that are not yours, addresses where you have not lived, and all other errors should be corrected.
Check again in several months to be sure requested changes were made. Lenders will assume everything is correct. Ensure that all of your bills are caught up. Do not close accounts even if they have zero balances, because this could actually lower your score.
Step 2: Establish a monthly budget
Generally, lenders will allow you to have a monthly debt-to-income ratio of up to 43%. This will include all debt payments found on your credit report in addition to the new mortgage payment. Creditors use the minimum monthly payment when establishing a debt-to-income ratio. This may result in a payment that is higher than you are comfortable with.
By living within a budget, you can determine how large of a monthly payment you can afford along with all of your other expenses. Begin by using your current rent payment in your budget and then set aside the largest amount possible for a few months to see if you can manage a higher monthly expense. This will also help you put money aside for the down payment and closing costs.
The total cost of homeownership includes more than the mortgage payment. Other expenses, like maintenance and utilities, need to be considered. If something breaks in your new home, you must be able to repair it.
Step 3: Save for the down payment
Sticking to a budget is one of the best ways to reduce expenses and increase savings, both of which will help build a down payment for your home.
Other ways to save include getting a second job or finding a roommate to share rent. Set a goal to save as much as you can to cover for a down payment and closing costs.
Step 4: Meet with a lender
A mortgage lender can help review which loans you will qualify for and how much you will need for a down payment. The lender will verify your income and determine what price you can afford and what your monthly payments will be. Finally, the lender can help you get pre-approved. This will enable you to proceed through the homebuying process with confidence and peace of mind.
When you take these steps before you even begin looking for a home, the process will be much smoother. Then, you can start your search with higher confidence that you will be able to follow through on the purchase when you find a home you like.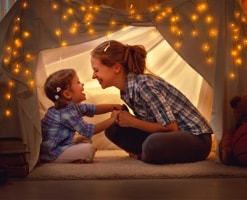 The home equity you've earned
can be used in a multitude of
ways. 
Main

Start your application online or give us a call.