10 steps to buying a home in 2023

Finding and purchasing your dream home is a process that can be stressful, but it doesn't have to be. These ten steps can help make the home buying process more manageable and help you make the best decisions for your personal and financial situation.
Understanding how to find and finance the perfect home
One of the best ways to find the perfect home is to make a plan—and stick to it. Even if you must make some changes along the way, you can prepare for almost anything by learning about the home buying process ahead of time.
Step 1: Start your research early
As soon as you can, start reading websites, newspapers, and magazines that have real estate listings. Make a note of homes you are interested in and see how long they stay on the market. Note any changes in asking prices. This will give you a sense of the housing trends in neighborhoods where you're interested in purchasing a home.
Also, pay attention to current events in the home financing industry. Changes in interest rates or legal requirements related to the area you're looking to live may have an impact over how you conduct your search.
Step 2: Determine how much house you can afford
Lenders generally recommend that people look for homes that cost no more than three to five times their annual household income if home buyers plan to make a 20% down payment and have a moderate amount of other debt.
Calculating your debt-to-income (DTI) ratio will help you get an idea the monthly mortgage payment you may be able to afford. You can determine this ratio by adding up the total of your current monthly debt payments and dividing that number by your monthly income. The result will show you what percentage of your monthly income goes toward paying debts. Lenders typically look for a DTI of less than 43% for home loans.
If you plan on providing less than 20% of the sale price on a home as a down payment, lenders will often require private mortgage insurance (PMI) as a part of your monthly mortgage payment. This amount will vary by lender and can be eliminated when you have paid off 20% of the total sale price.
You should make this decision based on your own financial situation. Use the affordability calculator from Discover® Home Loans to see how much you might be able to afford.
Step 3: Get prequalified and preapproved for your mortgage
Before you start looking for a home, you will need to know how much you can spend. The best way to do that is to get prequalified or preapproved for a mortgage.
To get prequalified, you need to provide some financial information to your mortgage banker, such as your income and the amount of savings and investments you have. Your lender will review this information and tell you how much money you are eligible to borrow.
This will tell you the price range of the homes you should be looking at. Later, you can get preapproved for credit, which involves providing your financial documents (W-2 statements, paycheck stubs, bank account statements, etc.) so your lender can verify your financial status and creditworthiness.
Step 4: Find the right real estate agent
Real estate agents are important partners when you're buying or selling a home. Real estate agents can provide you with helpful information on highly desirable homes and neighborhoods.
Their knowledge of the home buying process, negotiating skills, and familiarity with the area you want to live in can be extremely valuable. And best of all, it typically doesn't cost you anything to work with an agent – they're usually compensated from the commission paid by the seller of the house.
Step 5: Shop for your home and make an offer
Start touring homes in your price range. It might be helpful to take notes or carry a checklist along to all the homes you visit. It can be tough to remember everything about them, so you might want to take pictures or videos to help you remember each home.
Make sure to check out small details in each house. For example:
Test the plumbing by running the shower to see how strong the water pressure is and how long it takes to get hot water.

Try the electrical system by turning switches on and off.

Open and close the windows and doors to see if they work properly.
It's also important to evaluate the neighborhood and make a note of things like:
Are the other homes on the block well maintained?

How much traffic does the street get?

Is there enough street parking for your family and visitors?

Is it conveniently located near places of interest to you: schools, shopping centers, restaurants, parks, and public transportation?
Take as much time as you need to find the right home. Then work with your real estate agent to negotiate a fair offer based on the value of comparable homes in the same neighborhood.
Step 6: Get a home inspection
Typically, purchase offers are contingent on a home inspection of the property to check for signs of structural damage or things that may need fixing. Your real estate agent might be able to help you arrange having this inspection conducted within a few days of your offer being accepted by the seller. This contingency protects you by giving you a chance to renegotiate your offer or withdraw it without penalty if the inspection reveals significant material damage.
Both you and the seller will receive a report on the home inspector's findings. You can then decide if you want to ask the seller to fix anything on the property before closing the sale. Before the sale closes, you will have a walk-through of the house and the chance to confirm that any agreed-upon repairs have been made.
Step 7: Work with a mortgage banker to select your loan
You may find that mortgage lenders offer a wide range of competitively priced loan programs. You will likely have many questions when you are purchasing a home, so make sure that you have a responsive mortgage banker assist you can make the process much easier.
Consider keeping a running list of questions that occur to you throughout the process, so you can remember to ask them at the right time. In particular, make sure you inquire with your lender about potential loan closing costs and fees.
Every home buyer has their own priorities when choosing a mortgage. Some are interested in keeping their monthly payments as low as possible. Others are interested in making sure that their monthly payments never increase. Some might pick a loan based on anticipating that they will be moving again in just a few years.
Spend some time comparing lenders before selecting one. There may be key differences between the mortgage products that they offer that will help you make your decision.
Step 8: Have the home appraised
Lenders will arrange for an appraiser to provide an independent estimate of the value of the house you are buying. The appraiser is a member of a third-party company and is independent from the lender. The appraisal report will let all the parties involved know that you are paying a fair price for the home.
Step 9: Coordinate the paperwork
As you can imagine, there is a lot of paperwork involved in buying a house. Your lender will arrange for a title company to handle all the paperwork and make sure that the seller is the rightful owner of the house you are buying.
Step 10: Close the sale
At closing, you will sign all the paperwork required to complete the purchase, including your loan documents. It typically takes a couple of days for your loan to be funded after the paperwork is returned to the lender. Once the check is delivered to the seller, you are ready to move into your new home!
Closing thoughts: Buying a house in 2023
Home buying can be very rewarding, but also very stressful. There are many steps involved, and a lot of details that require your attention. If you're prepared and know what to expect, you increase your chances of obtaining the best mortgage for your needs. Go into the process with patience, ask questions, and trust your instincts when it comes to what works for you.
Discover Home Loans doesn't offer purchase mortgages, but home equity loans and cash out refinances are options to keep in mind when you have home equity to tap into.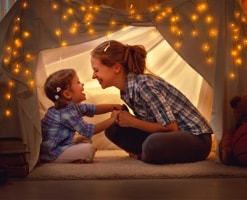 The home equity you've earned
can be used in a multitude of
ways. 
Main

Start your application online or give us a call.