Personal Loan to Consolidate Debt
Move forward with a debt consolidation loan from Discover®
Get up to $40,000 to consolidate debt.
Check Your Rate
It won't impact your credit score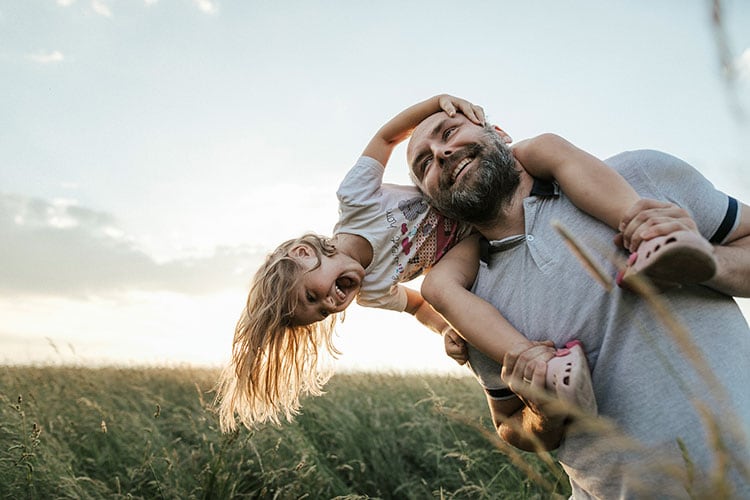 How can a debt consolidation loan help you reach your goals?
A debt consolidation loan allows you to combine multiple higher-rate balances into a single loan with one set regular monthly payment. It is one of several tools you might consider to gain control of your debt, from bills to credit cards. With a Discover® personal loan, for example, you can apply for up to $40,000. With rates from
x
to
x
APR, we could help you save money on higher-rate interest and pay off your debt sooner.
Which consolidation option is right for you?
Debt consolidation isn't one-size-fits-all. That's why Discover offers solutions to help you consolidate your debt in a way that works for you.
Personal loans for debt consolidation
With a debt consolidation loan, you can save money on higher-rate interest with a lower-rate loan
Personal loans can be used to consolidate bills and credit card debt
Choose a repayment term that works for you, from 36- to 84-month terms
Pay off your consolidated debt with one set regular monthly payment
Borrow between $2,500 and $40,000 with a Discover personal loan
Balance transfers for credit card debt
Balance transfers let you use the available credit on a credit card to pay off other debts
The consolidated debt amount is added to your credit card balance
When you complete a balance transfer, you can save money with a low promotional APR for a set period
You'll also still take advantage of one set payment instead of many
Transfer a balance with Discover Card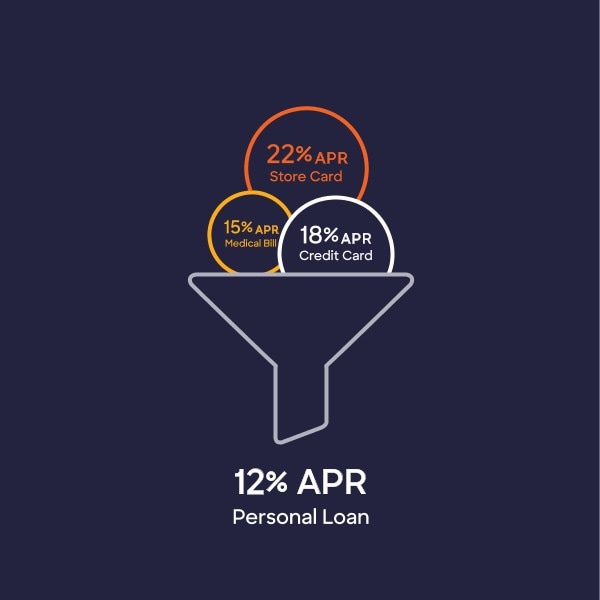 How can you start consolidating debt?
 
A personal loan for debt consolidation can help you feel in control and get excited about your financial future. Here's how you can start on the path to a brighter future with Discover Personal Loans:
See what personal loan offers you qualify for
Complete a personal loan application in minutes
Get an approval decision
Your funds can be sent on the next business day
Pay off your loan; you can choose to have the money sent to your bank account or directly to your creditors as soon as the next business day after you are approved for and accept the terms of your loan.
Ready to move toward a debt-free future?
Check Your Rate
See how much you could save with a Discover personal loan
Enter your credit score, and a few details for each debt balance you hold (up to a total of x) — and we'll show you how much you might be able to save.
Here's what you told us
Your Credit
Total Debt
Average APR
Total Monthly Payments
Here's how we can help
This estimate maintains your current monthly payment for a term at APR with a total loan cost of .

Rates are calculated based on Discover application data as of 11/14/2023.
See if you qualify for this loan with no impact to your credit
Check Your Rate
Your APR will be between x and x APR based upon creditworthiness at time of application. Information and interactive calculators are made available as self-help tools for your independent use and are intended for educational purposes only. Any results are estimates and we do not guarantee the applicability or accuracy to your specific circumstance. For customers with less than Good credit, a Discover personal loan may not be the right debt consolidation solution.
We're unable to provide an estimate
Based on the information you entered, consolidating debt with us may not save you money. Feel free to give us a call to speak with a dedicated loan specialist if you have additional questions or would like to explore other options.
1-866-248-1255
Monday - Friday, 8 a.m. - 11 p.m. ET
Saturday - Sunday, 9 a.m. - 6 p.m. ET
Frequently asked questions about debt consolidation
Paying off higher-rate debt is critical for financial health. The most important thing is to pick a

method for paying off debt

and stick with it. Your dedication can give you peace of mind, open up new financial opportunities, and put you on a path toward a more rewarding future.

If you have debt in the form of higher-rate credit cards or loans that you're struggling to pay off, consolidating that debt into one loan with a lower fixed rate can help. You could save money on interest and pay off your debt faster. 89% of surveyed debt consolidation customers told us they paid off existing debt sooner with a Discover personal loan.

ABOUT SURVEY All figures are from an online customer survey conducted August 19 to September 6, 2022. A total of 665 Discover personal loan debt consolidation customers were interviewed about their most recent Discover personal loan. All results @ a 95% confidence level. Respondents opened their personal loan between January and June 2022 for the purpose of consolidating debt. Agree includes respondents who 'Somewhat Agree' and 'Strongly Agree'.

There are two very common ways to consolidate credit card debt. You can transfer your other credit card balances onto one credit card with a balance transfer. Or you can get a personal loan for debt consolidation and use it to pay off your balances. There are other ways to tackle credit card debt, but either way, consolidating could help you save money and pay down your credit card debt faster.

A Discover personal loan cannot be used to directly pay off a Discover credit card.

Interest rates for a Discover personal loan are determined on a case-by-case basis. They are based on creditworthiness at time of application for loan terms of 36-84 months. Many factors are used to determine your rate, including your credit history, application information, and the term you select. A lower interest rate does not always mean a less expensive loan — you'll also want to understand the total lifetime costs of your loan.

Getting a loan to consolidate debt can be a smart way to pay off your credit card balances, higher interest loans, and other bills. Because your goal is to eliminate debt, a debt consolidation loan can help in the long term. Since credit bureaus look for a credit mix, having an installment loan may impact your credit health by adding a fixed loan to your revolving credit. In the short term, the debt consolidation loan may affect your credit because you're opening a new account and taking out a new line of credit.

Wondering if a debt consolidation loan is right for you? You can review your rate and monthly payment before you apply. Just check your rate. It's quick and easy. And it won't affect your credit score.

First, we find your daily interest rate by dividing the

annual interest rate

by the number of days in the year. Next, we take your loan balance and multiply that by the daily interest rate to find the daily interest charge. Every time you make a set regular payment, your loan balance will change and so will your daily interest charge.  

That's one of the advantages of a Discover personal loan. There are no prepayment penalties to worry about. So you can make extra payments or pay off your loan early if you'd like.
Still trying to decide if debt consolidation is right for you?