What You Should Know about HOAs

Homeowners Associations (HOAs) govern about 25% to 27% of all U.S. homes, according to the Community Associations Institute. This number has increased over the years, from around 10,000 communities in 1970 to more than 300,000 in 2012. The bulk of new developments have HOAs, as do many older subdivisions. With this widespread prevalence of HOAs, it is important for homebuyers to know how this entity works.
What Is an HOA?
In many cases, a builder develops a piece of land into multiple homes for sale. Units may be single-family homes, townhouses or condominiums. The builder sets up an association with rules and regulations that residents must follow. In return, the homeowners are able to purchase nice homes at affordable prices. They also receive amenities and upkeep of certain areas and they pay for only a fraction of the infrastructure costs via their homeowners' dues, which are often $200 to $400 monthly.
Once the development is complete, the association nominates homeowners as board members. The board is responsible for ongoing management of the association, including creating rules, collecting payment of dues and maintaining common areas.
Some communities establish an association after the fact; these are called optional HOAs because membership is not required. Dues are generally much smaller than for mandatory HOAs and the services provided are likewise fewer.
Benefits of an HOA
One of the biggest benefits of buying with an HOA is affordability. Associations help keep home ownership costs down by offering homes on smaller lots and providing common amenities that are included with the membership fees. This allows buyers to purchase larger homes with lower mortgages as compared to non-HOA communities.
An HOA is also beneficial to the city or town. Since the city doesn't carry the responsibility of maintaining roads and other infrastructure within the association, municipal operating costs are reduced although the city still receives property tax income.
Concerns with an HOA
While buying a home with an HOA has many benefits, it is not for everyone. You must follow the rules and regulations imposed by the association even if you do not agree with them. This should not be a concern if you read over these rules before deciding to purchase. However, many buyers skip this step when buying in an HOA and are sometimes surprised to discover limitations once they have moved in. Examples include restrictions on:
Having pets
Parking your car in your driveway

Installing a satellite dish


Hanging laundry outside
Another concern is upkeep of common areas within an HOA. The obligation lies with the HOA, but follow-through may sometimes be unsatisfactory. For this reason it is important to do a walk-through of the home and surrounding neighborhood before you buy to ensure that everything is well-maintained and in good working condition.
Buying with an HOA
If you are considering buying a home with an HOA, make sure to conduct due diligence. Ask for a walk-through of the property, especially the common areas. Read the Covenants, Conditions and Restrictions (CCR) to identify any limitations, and consult with your attorney to make sure you understand the provisions. Once you decide to buy a home, you will be required to follow these rules and pay the dues as a member of the association.
Take the time to compare one association with others in the area. While buying a home is often an emotional process, you should treat it like a business decision. Make sure the investment you are making is worthwhile and will grow over time. Be sure to factor monthly HOA dues into your budgeting and financial planning.
Meet the neighbors and get their opinions of the association. This will often yield inside information that you couldn't discover on your own.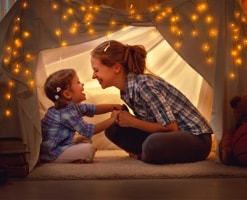 The home equity you've earned
can be used in a multitude of
ways. 
Buying a home within a homeowner's association may be a good option for you. However, to ensure that you make the right decision, you must understand the differences from purchasing a traditional home outside of an HOA.
Main

Start your application online

or give us a call.
Main

Start your application online or give us a call.