Neighborhood research: A key step before buying your dream house

Purchasing a new house is an exciting milestone but remember that the location of your dream home may be just as important as the house itself. Before diving into a property purchase, take the time to conduct thorough neighborhood research. This will help you evaluate whether the area is the right fit for your lifestyle and needs. To guide you on this journey, here are some suggestions on steps to follow when beginning your search.
1. Define your priorities and preferences
Begin by making a list of your priorities and preferences for your ideal neighborhood. Consider aspects such as safety, proximity to schools, public transportation, shops, parks, and community facilities. Think about your lifestyle and what type of environment you want to be a part of — whether that's a bustling urban neighborhood or a quiet suburban area.
2. Consult online resources
The internet is a valuable tool for neighborhood research. Many websites provide comprehensive information that can help you assess the characteristics of different areas. Look for real estate websites, local government websites, and online community forums. These platforms often offer insights about local amenities, crime rates, school rankings, transportation options, and property value trends. Take advantage of online maps to get a better sense of the area's geography.
3. Visit potential neighborhoods
While online research may be valuable, physically visiting prospective neighborhoods is an essential step. Spend time walking or driving around to get a feel for the atmosphere. Pay attention to cleanliness, noise levels, traffic patterns, and the general ambiance. Consider visiting at different time of the day and week to observes any changes in activity, traffic, or noise levels.
4. Talk to locals
Connecting with the people who live in the neighborhood can offer valuable insights. Strike up conversations with local residents, business owners, and potential neighbors. Ask about their experiences, thoughts on the community, and any potential concerns they may have about the area. Engaging with locals may provide a realistic understanding of the quality of life, community spirit, and any issues.
5. Evaluate nearby amenities and services
Take note of the amenities and services that are important to you and evaluate their accessibility in the neighborhood. Check for nearby grocery stores, healthcare facilities, libraries, parks, recreational spaces, and public transportation hubs. Evaluate the quality and convenience of these amenities in relation to your needs and preferences.
6. Consider safety and crime rates
Safety should always be a top priority when choosing a neighborhood. Research crime rates in the area through local crime statistics and interactive crime maps available online. Look for signs of an active neighborhood watch program or strong police presence. Safe and secure neighborhoods may contribute to your peace of mind and the well-being of your family.
7. Observe school rankings and education options
For families, the quality of education in the neighborhood may be an important factor. Research the local schools and their rankings to see if they meet your expectations. Visit the their websites, read reviews, and consider talking to parents who have children attending these schools. Also, evaluate the availability of alternative education options such as private schools or homeschooling communities.
Closing thoughts: Doing a neighborhood check
Taking the time to conduct neighborhood research may enable you to make an informed decision before investing in a property. Remember that what may be an ideal neighborhood for one person may not be the right fit for another. Following these steps may help you choose a neighborhood that aligns with your lifestyle, priorities, and aspirations — ensuring that your new house becomes can be a dream home in a location that's best for you and your family. 
Found a house for sale in a location where you'd like to live? If you plan on taking out a mortgage to buy it, take time to review some mortgage basics and get prepared.
Please note: Discover® Home Loans offers home equity loans and mortgage refinance opportunities, but does not offer purchase mortgages.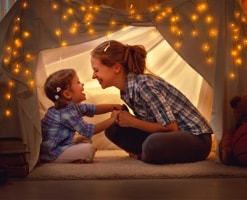 The home equity you've earned
can be used in a multitude of
ways. 
Main

Start your application online or give us a call.