What is Your Debt-to-Income Ratio for a Home Loan?

One of the many things a lender considers about your home equity loan application is your debt-to-income (DTI) ratio. Since this calculation compares what you earn to the total amount of debt you'll have if you're approved, it's a key indicator of your overall financial health. More specifically, your DTI ratio helps the lender estimate how much you can pay on a loan, after you make your existing payments.
Applicants who've kept their debt to a minimum relative to their earnings are more likely to get the loan they're applying for, along with more favorable terms. Consider this example:

Pete and Melissa are a young couple looking to renovate their 19th century home. Together they make $15,000 per month before taxes. After approval, they will have $5,000 in monthly debt – which puts their DTI at 33 percent, which is ten percentage points lower than a typical conventional maximum allowable debt for a home equity loan.
As a result of their low DTI and other positive indicators, Pete and Melissa received a home equity loan for the amount they requested and with favorable terms. However, a household with a borderline 43 percent DTI may have to accept a lower loan amount, a different loan length, or not be approved at all.
What's Your Debt-to-income Ratio? 
Clearly, it's important to know your DTI as you start to shop for home equity loans. Here's how to do it:
Add up your total post-approval debt. Be sure to include your:
Home payments (This includes taxes, Home Owners Association or condo dues, and insurance.)
Student loans
Credit card debt
Car loans
Any other type of debt not listed here, for which you are ultimately responsible (ex. a loan for on which you are a co-signer).
Estimated monthly payment on your potential home equity loan, for example, use Discover® Home Loans online monthly payment calculator.
Note: A lender will typically not consider ongoing expenses, such as groceries, utilities, and phone charges as debt.
Once you have your total, divide it into your monthly pretax income. The result is your DTI ratio.
Here's an example:
You earn $6,000 per month before taxes, and your total monthly debt is $2,160. Divide $2,160 by $6,000, and you will get 36 percent – your DTI ratio.
Assessing the numbers
The lower the DTI ratio, the better. Most lenders require a DTI ratio of 36 percent or lower for a home equity loan. They set this minimum to ensure that you don't accidentally overextend yourself, as you pursue your financial and lifestyle goals.
If your DTI ratio exceeds 43 percent, consider reducing it before applying for a home equity loan. Start by paying down existing debt, such as credit cards, to reduce your debt total and drive down you DTI. Then, you'll be ready to take advantage of all the benefits a home equity loan offers, while maintaining healthy financial habits. 
Once your debt-to-income ratio is in a range you consider acceptable, you may be ready for a home equity loan from Discover. Use the Discover loan amount calculator to determine how much you may qualify for.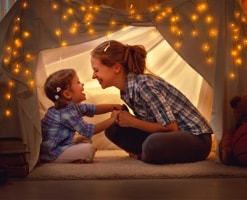 The home equity you've earned
can be used in a multitude of
ways. 
Main

Start your application online

or give us a call.
Main

Start your application online or give us a call.