Mortgage preapproval vs. prequalification

As you prepare to buy a new home, one of the most important considerations for you, your real estate agent and sellers is how much home you can afford.
If you choose to finance the home with a mortgage, you need to find out from a lender how much money you can borrow. You'll also want to figure out what payment amount is comfortable for you within your overall monthly budget.
Just because you can borrow a certain amount doesn't necessarily mean you should spend that much.
Prequalification
If you decide to go the home loan route and want a quick, general idea of your spending power, getting a mortgage pre-qualification is a good first step. Being prequalified means you've told your lender basic information about your assets and income, and they've come back with an estimate of how much home you can afford.
That estimate is not guaranteed by the lender because they most likely have not seen proof of your finances or pulled your credit at this point. In fact, you haven't even put in an official mortgage loan application yet. Think of prequalification as a loan amount you MIGHT qualify for IF you apply.
The benefit of prequalification is speed. You can get prequalified over the phone in as little as ten minutes. However, if you want to create a meaningful impression on real estate agents and sellers, you'll need to get preapproved.
Prequalification to buy a new home
General estimate

Fast—takes as little as 10 minutes

Financial information is NOT verified

Credit is not checked
Preapproval
Being preapproved for credit for a mortgage means you've taken the process beyond pre-qualification. You've submitted a loan application via a Mortgage Banker who has pulled your credit score, and you've given the lender all your necessary documentation for mortgage preapproval requested by the lender regarding income, assets and employment.
With a preapproval for credit, an underwriter has reviewed the loan file and issued a written promise to lend, subject to review of an appraisal on the house in question and other conditions depending on when you find your home.
From a real estate agent's perspective, preapproval gives you a leg up on other, less-prepared consumers. Preapproved homebuyers can act faster when they find a house they want because they already have their financing well in hand.
In fact, many real estate agents will only work with preapproved homebuyers because they know their price range with certainty. It also shows sellers that the customer is a serious buyer.
Preapproval to buy a new home
Promise to lend, subject to home evaluation

More in-depth—takes at least 48 hours

Financial information IS verified

Credit is checked
What to expect
Prequalification is usually much faster than preapproval because the lender doesn't verify the information you have provided.
For a prequalification, lenders will typically ask for your personal contact information, an estimate of your credit score, a general idea of home price and what type of home you're looking for (primary vs. secondary residence, condo vs. single-family house, etc.). Lenders will want to pinpoint your debt-to-income ratio (the percentage of your gross monthly income that goes toward paying off your total debt) and your potential loan-to-value ratio, or LTV (the percentage of the total value of the property you are looking to purchase that represents your home loan amount). Also, be prepared to tell your lender about any down payment you may be planning to make. Your credit will NOT be checked, so don't worry about a prequalification affecting your credit score.
For a preapproval, the lender will obtain your credit report and ask you for initial financial documents such as tax returns, pay stubs, W-2s, bank statements, etc. It's an in-depth investigation of your finances, so expect it to take a couple of days or more. The extra time may be worth it in the long run given the clout preapprovals have.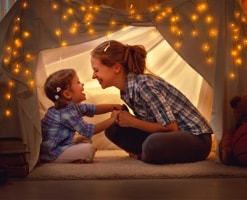 The home equity you've earned
can be used in a multitude of
ways. 
Main

Start your application online

or give us a call.
Main

Start your application online or give us a call.