How to Buy and Own Multiple Properties for Investment or Rental Income

Buying a home is often considered a good investment. Taking it a step further and owning multiple homes as rental properties can also be a great way to increase your assets and make money. However, you should be aware of some basic differences between buying an investment property as your home versus as a property to rent out. 
The Buying Process
You can get a home loan for a rental property just as you would with a residential property. However, take note of these major differences between the two:
Loan products – You won't qualify for some of the loan products that are available to homebuyers, such as FHA or USDA loans.
Down payment – You will generally need at least 20% of the property price for your down payment and this cannot come from gifted funds.
Reserves – You will need more reserves than if you were buying a home to live in. You may need to have enough cash on hand for six months of payments on both your home and any rental properties you own.
If this is the first property you are buying as an investment, you must use your non-rental income to qualify. This will be in addition to any other mortgages you currently have. If you already own rental properties and can prove that you have at least two years of experience in the field, then you may be able to include rental income from other properties.
If you are looking to refinance rather than purchase a rental property, you can add the accrued rental income to your loan application.
You cannot use any gifted funds for the down payment unless the person is on the title or is classified as an interested party, like a co-applicant. You can use inheritance funds for your down payment if the source of the money can be traced.
The Benefits of Buying Properties for Rental Income
What are the reasons you would want to buy properties and rent them out? For many, there is the allure of having an income after retirement. Your tenant's rent may cover the monthly mortgage payment until it is paid off, at which point the payments become an extra income stream.
Real estate can also be a wise investment due to appreciation. You may be able to sell the property at a much higher price in the future vs. the current value so you can use that money to pay for retirement. When tenants have paid for your mortgage, that means the sale price could be almost all profit. You may also choose to leverage the home and accumulated equity to pay for ongoing expenses, like college tuition.
How to Prepare for Buying a Rental Property
If this is your first time buying a rental property, it's important to know several things. By conducting due diligence and making a plan, you may be able to avoid problems down the road.
Plan for what you will do if you don't get the property rented right away. In this scenario, you will have to carry the mortgage payment, taxes and insurance.
When something breaks, you will have to fix it – and perhaps more quickly than you would fix your own property.
This is not a liquid investment and should not be considered a quick source of cash.
Research the responsibilities and considerations of being a landlord and become well-acquainted with the area where you are buying.
Determine the potential return on your investment.

Decide if you will manage the property yourself or spend the additional money to hire a management company.
Buying an investment property to rent out is not a get-rich-quick scheme, but a long-term investment that may yield good returns over time. If you are prepared and have a lender that you can rely on, this can be a lucrative investment for the future.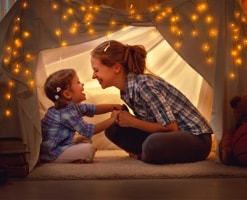 The home equity you've earned
can be used in a multitude of
ways. 
Main

Start your application online

or give us a call.
Main

Start your application online or give us a call.