Should I Refinance My Student Loan?

Over 44 million Americans carry student loan debt. For some, paying off that student loan debt may become difficult at times. If you can't afford your student loan payment, there are options to consider, such as refinancing with a home equity loan.
Using home equity to refinance or pay off educational loans is one way you can refinance student debt so that it is easier to pay off.
However, before you run out and apply for a home equity loan to refinance or pay off your educational loans, consider the following:
1. Understand your interest rate options. 
If your credit has improved since you were a student, you may be able to secure a lower interest rate using a home equity loan. While rates vary by lender, Discover® Home Loans has fixed rates from 4.99% - 9.99% for first liens and 6.49% - 12.99% APR* for second liens, which is competitive with Government offered solutions and many times better than private student loan lenders.
* Fixed rates starting at 4.99% APR for first liens and 6.49% APR for second liens.
The APR will be between 4.99% and 9.99% for first liens and 6.49% and 12.99% for second liens based on loan amount and a review of credit-worthiness, including income and property information, at the time of application. The lowest APRs are available to borrowers requesting at least $80,000 for second liens or $200,001 for first liens, with the best credit and other factors. Loan amounts available from $35,000 to $300,000.

2. Evaluate the risk of securing debt with your home.
Most educational loans are unsecured debt. On the other hand, a home equity loan is a debt secured by your home. That means failure to pay your home equity loan could put your house at risk. Always know how much you can afford before you borrow.
3. Understand your student loan repayment options.
Some educational loans allow borrowers to elect income-based repayment options, which can help ease the burden of hefty monthly payments. If your loan servicer does not offer a program of that nature, you may want to consider using a home equity loan to lower your monthly payments.
4. Consider the costs of refinancing.
One thing to always consider is the cost of refinancing. Do these upfront costs warrant the potentially lower rate? Luckily, with Discover® Home Loans, there is no cash required at closing.

Refinancing your private student loan may help you lower interest rates, reduce monthly payments, or both
When refinancing student loans makes sense
First, know the difference between federal student loans and private student loans:
Federal student loans - are issued by the government for student expenses. Federal student loans typically provide low interest rates and an ability to flex your monthly payments to match your existing income and potentially offer debt forgiveness when you can document hardship.
Private student loans - offer none of the leniency of federal student loans. Private student loans will have competitive interest rates but sometimes expect you to meet scheduled monthly payments as originally agreed. While some negotiation is possible to help you meet your payments, they will not be as flexible as federal student loan negotiations.
Knowing that, it is generally not beneficial for you to refinance federal student loans, as it will be tough to find better interest rates or more flexible terms.
If you are carrying private student loans and have already tried to negotiate more favorable monthly payments or terms, refinancing your private student loan may help you lower interest rates, reduce monthly payments, or both.
As you consider refinancing your student loan, ask yourself if you are refinancing to:
Reduce the overall cost of your entire loan by lowering interest charges or

Reduce the monthly payments you make by lowering interest charges and potentially extending the repayment term.
If your goal is to reduce the overall cost of your student loan, you will want to find a refinancing option that uses a lower interest rate than the interest rate of your existing private student loan. If your refinance option matches the repayment term length of your existing private student loan (for example, if both offer 10-year repayment periods), a lower interest rate will save you in interest charges each month and over the life of your loan: so you should consider refinancing.
If, however, you are focused on lowering what you owe each month, take care when refinancing to control the overall costs of the loan. If your existing private student loan for $10,000 features a 10-year term with 5% interest, a refinanced loan for 30 years at 4% will significantly reduce your monthly payments but it will also increase the cost of the entire loan: as you will pay thousands more in interest charges across the 30 years.
Remember, most refinancing options will charge service fees, including origination fees and closing costs: as you calculate the entire cost of refinancing, be sure to evaluate these costs from available lenders.
Finally, you will be securing your home and if you are unable to repay your home equity loan, there is a risk that you could lose your home.
How to refinance your student loan with home equity
If you are a homeowner, home equity loans can provide interest rates that are comparable with student loan interest rates. Our set of home equity loan calculators can help you understand how much you can borrow given your current equity levels and credit score to see if a home equity loan can cover your outstanding student loan debt and improve on your current monthly payments.
By seeing what interest rates your home equity can earn you, you can easily compare against your existing student loan rates. Once you find interest rate levels, loan term lengths, and monthly payments that agree with your budget, you can inquire with lenders to meet those levels and apply for the loan.
Home equity loans from Discover® Home Loans waive origination fees to reduce the costs of opening a home equity loan. 
When it comes to paying off student debt, there is no one-size-fits-all approach. For some, using a home equity loan to pay off educational loans can be an excellent way to lower monthly payments and save on interest. For others, seeking different payment options from your student loan provider may be a better choice. Talk with a Discover® Personal Banker to learn more at 1-855-361-3435.
Sources:
    1) https://studentloanhero.com/student-loan-debt-statistics-2016/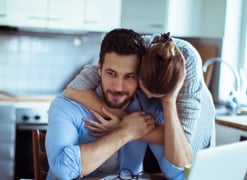 Find your low,
fixed rate

Use our Rate Calculator to find the  rate and monthly payment that  fits your budget.
Main

Start your application online

or give us a call.
Main

Start your application online or give us a call.