Seasonality in Home Buying

Car buyers often consider seasonality when planning their vehicle purchases, waiting for bargain prices when new models arrive in the fall or winter. Home buyers should also consider time of year. The two high-volume seasons in real estate sales are spring and early fall. Many buyers want to move during warm weather and get settled before a new school year begins. Addressing this demand, many sellers put their homes on the market in these seasons. To reach the largest number of interested buyers, one of the best times for sellers to list a house is March or April.
Although those seasons will provide a larger selection of homes, a buyer is more likely to find a better deal in the winter. With fewer buyers looking for homes, sellers are more likely to reduce asking prices. Keep in mind that these factors vary by specific regions and properties, ultimately hinging on the owners' reasons for selling.
Mortgage rates are driven more by the rates on 10-year Treasury notes than by seasonality in the real estate market. Specific mortgage companies, however, may have more available capacity in the winter and therefore may be somewhat flexible in their fees. On the other hand, they may choose to reduce their lenders' working hours and cost overhead during slower times without offering any fee reductions. Different parts of the country face varying levels of competition among lenders, so it pays for a buyer to shop around for the best mortgage.

2014 was a volatile year. A backlog of houses has been held off the market by owners who would like to sell but are concerned about value. These houses may soon be placed for sale. Buyers are cautious as well. In southern California and Arizona, the real estate market has been very strong, but when rates rose a little, house prices declined as some buyers left the market. Even a small rate increase can cause buyers' perception of value to plummet. If rates go above 5%, the perception of lower value will be more significant.
In light of this uncertainty, is it okay to buy now? Keep in mind that when you buy a house, you're also buying your home. It is more than a financial investment; it is a long-term personal decision. Seasonality is just one factor. Watch for houses in your target areas and be prepared to move fast when you find the right home. Calculate your payments at current prices and interest rates. Get prequalified and preapproved for credit; these approvals provide the seller with valuable peace of mind and give you an edge over other buyers in competitive bidding. When the numbers work for you, buy. And most of all, enjoy finding your home.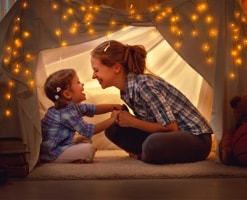 The home equity you've earned
can be used in a multitude of
ways. 
Main

Start your application online

or give us a call.
Main

Start your application online or give us a call.