4 Remodeling Myths to Avoid When Building Your Home Equity
To get the most out of your property, every ounce you put into it counts. Home improvement can no doubt be one of the best ways to add value to your home. Shows are inspiring homeowners across the nation to attack their houses with wild, creative abandon. But before the hammers start swinging, there are factors to consider to make sure your redo will truly maximize the equity you build in your home.
Truth is, there likely will always be something you could change about your house. So how do you know which moves are the best? "Borrowers should carefully weigh the cost and expected return," says Rob Cook, Head of Marketing and Customer Experience for Discover Home Loans. "You should look for projects that not only boost your enjoyment of your home but will also maximize its value." However, there are so many potential projects to choose among, and a never-ending number of experts offering different guidance, it can be challenging to tell truth from fiction when it comes to determining the financial impact of a home improvement project. To start, here are four of the most common remodeling myths and how to handle them:
Remodeling Myth #1: You get all your home-improvement money back when you sell
It's probable that you will get at least a partial return on your home improvement investment. But the percentage you get back when you sell depends on which projects you do and the quality of the work. Home improvements with typical high return on investment (ROI) include: a kitchen remodel, a bathroom remodel and a roof replacement. One example: a minor kitchen redo using midrange materials typically costs just under $22,000 and can get you an ROI of over 80 percent, according to Remodeling's 2018 Cost vs. Value Report.
Remodeling Myth #2: Always use the best materials you can afford
In reality, it's smarter to use quality materials that are in line with the rest of your home—and the neighborhood. Splurging on high-end materials might sound good, but can lower your remodeling ROI. For example, a $5,000 professional range fit for a gourmet chef can be an aesthetically pleasing choice but may not provide enough return at resale to make the investment worthwhile. Consult a real estate agent who knows your area well and check out ads for nearby homes for sale to see which materials are typical for your neighborhood. If you get a home equity loan to finance your project, you'll have a set payment each month for a certain period of time, typically between 10 and 30 years. When crunching the numbers to determine your ROI, factor the total cost of the loan into your calculations.
Remodeling Myth #3: Remodeling work doesn't require permits
Remodeling can mean much more than surface changes. Neglecting to get the proper permits can cost you and, in a worst-case scenario, force you to redo some of the work. How? A city or county inspector might find out that work is being done and may stop by to check your permit. If you don't have one, they may order all or part of the work to be demolished and redone. In addition to the cost of the redo, you also could get hit with fines and fees. So what remodeling requires a permit? Minor or cosmetic projects like swapping the faucet on your bathroom sink or installing new carpet generally don't require a permit, but major work does. You will probably need a permit for home improvements that involve electrical work, plumbing, moving walls and creating new doors or windows. The good news: a qualified contractor typically handles all permits. But if you're doing the work yourself, or you are in doubt about whether a permit is necessary, call your local building or codes department.
Remodeling Myth #4: Using a handyman to remodel can save you money
Hiring a qualified contractor who is licensed, bonded and insured for their trade usually pays off in the long run. Going with someone who's unlicensed and offers a low bid may sound good in theory but can backfire. For example, you could end up with work that's poor in quality and needs to be redone, safety issues that have to be fixed or even a claim against your home insurance if a worker gets hurt on the job. So be sure to hire a qualified contractor, check with the state or local government to make sure they're licensed and verify that they carry personal liability, worker's compensation and property damage insurance.
Many factors in the home improvement process—from creating a budget to planning the design to performing the work—can be stressful and lead to poor decision-making. By learning about common remodeling myths and mistakes before you get a home equity loan and take on a big home improvement project, you can make smart choices, improve the value of your home and protect the equity you've worked hard to build.
Did you find this article helpful? Check out our other tips and tricks on using your equity to improve your home.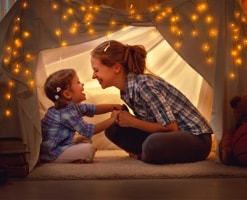 The home equity you've earned
can be used in a multitude of
ways. 
Main

Start your application online

or give us a call.
Main

Start your application online or give us a call.