Refinance Rates in California

When you're considering whether or not it's a good time to refinance your home, you're likely considering multiple factors. In addition to your personal situation and personal financial goals, you may also wonder how interest rates would affect refinancing options and opportunities. In fact, it's not uncommon for people to consider refinancing several months post-closing, if fixed-interest rates go down. This is especially true in a state like California, which has had high property values in the past. 
Using a refinance calculator at Discover Home Loans can be a helpful way to determine how a low mortgage rate can potentially affect how much you would pay each month, as well as how much you would pay during the life of your loan.
Of course, refinancing can be complex, with paperwork, closing costs, and potential financial implications. That's why it's a good idea for California homeowners to consider personal financial and home ownership goals alongside interest rates to determine whether refinancing in California makes sense right now. Speaking with a financial pro or your lender can also help give you insight into mortgage rates in California today.
Refinance Rates in California
Remember, mortgage rates change frequently. That said, some broad trends can help you understand where your mortgage rate falls on the spectrum of interest rates offered. Generally, mortgage rates offered in California range from 3.6% to about 5.75%. This 2% difference can represent substantial savings over time, especially when you factor in the high cost of living in California. For example, considering that the median cost of a house in LA is a little over $700,000, a mortgage rate decrease of 1.25% could save over $63,000 during the life of a thirty-year mortgage. 
While a general rule of thumb is to consider refinancing once mortgage rates fall a percentage point below your mortgage rate, there may be other reasons beyond interest rates to refinance. Understanding how refinancing falls into your overall financial goals can help you avoid making any hasty decisions.
Get the Best Refinancing Rates in California 
While it's tempting to immediately consider refinancing as soon as you see interest rates drop, it's important to remember that other factors will influence the refinance loans you may be offered. Being prepared for refinancing — understanding your refinancing goals, having your paperwork ready, and having a strong credit score — can all help you get the best refinancing rate in California. Here are some smart strategies that can help you get the best refinancing rate. Even if you're not planning on refinancing your house soon, regularly staying on top of these actions as a homeowner can ensure that you can move quickly when the time is right to refinance.


Once you've locked in on the type of mortgage that makes the most sense for you, then you can assess interest rates.
Consider the best mortgage type for you
What would your payments look like if you refinanced your original 30-year mortgage to a 15-year mortgage, or if you refinanced a conventional fixed rate mortgage to an Adjustable Rate Mortgage (ARM)? Exploring different mortgage types, looking at monthly payments, and considering what ifs —  how could you swing the new payment if your income fluctuates; what would a high-interest rate do to your ARM — can help you assess how different mortgage strategies fit into your overall financial picture. Once you've locked in on the type of mortgage that makes the most sense for you, then you can assess interest rates.
Improve your credit
Lenders consider credit scores when it comes to refinancing in California, so it's important to keep your credit score strong. Improving your credit, if applicable, can help you lock in the best rates when refinancing makes sense for your financial goals.
Invest in your home equity
The more equity you have in your home, the more favorable loan terms you may be offered. Paying more toward your mortgage principal, investing in improvements, and making sure that your house is as competitively assessed as possible through maintaining repairs and curbside appeal will help you lock in the best rates.
Compare offers
While interest rates may be standard, that doesn't mean you'll receive the same loan offers from different lenders. Comparing several offers will help you lock in the best rates for your California refinance. 
Make a decision that makes sense in the long term
While there's technically no limit to the amount of times you can refinance, it's smart to make sure your refinancing fits into your overall financial and property goals.
Discover® Home Loans offers a mortgage refinance option with zero origination fees, zero application fees, zero appraisal fees, and low, fixed rates for first liens. 
Our mortgage refinance calculator can help you get a better idea of what to expect. Paying attention to California's mortgage rate fluctuations — especially if you're paying a substantial monthly mortgage — can be a smart strategy as a homeowner. 
Refinancing done thoughtfully can be a financial move that could potentially save California homeowners money. That said, depending on your mortgage, refinancing isn't necessarily a money-saving guarantee. Understanding your options can help you make the choice that makes the most sense for you. 
Discover Home Loans has low, fixed rates. See the current rates here.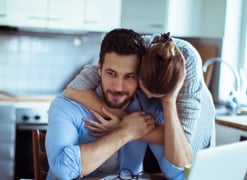 Find your low,
fixed rate

Use our Rate Calculator to find the rate and monthly payment that fits your budget.
Main

Start your application online

or give us a call.
Main

Start your application online or give us a call.