Home equity loan vs Personal loan

Big financial decisions like remodeling your home or getting rid of credit card debt, can feel overwhelming. But there are some simple, affordable options for meeting these goals head-on.
Choosing a home equity loan vs personal loan
Taking out a big loan can be a big deal. Whether it's a personal loan or a home equity loan, do a bit of research first:
Determine how much you need

Gather existing bills and debts

See what payment amount you can afford

Talk to a financial planner about your options
Examine the benefits of each. Personal loans tend to have low fees, fast approvals, and quick access to cash.
Home equity loans normally have lower interest rates and may offer larger loan amounts and afford possible tax breaks — just remember to consult a tax advisor to determine your potential eligibility for any deductions. These benefits are possible because a home equity loan is secured by your home.
Discover® Home Loans offers home equity loans from $35,000 to $300,000 without application, origination, or appraisal fees, and no cash is required at closing.
Compare these to personal loans from Discover. They will come with different rates, terms, and borrowing limits, so it's always a good idea to evaluate your options to decide what will work best for you.
Tap into your home equity
Home equity loans are often the best for financing large purchases such as home renovations or medical bills. With interest rates that are typically lower than credit cards and personal loans, home equity loans are also often used to consolidate debts and get a little extra cash. Ideal for long-term needs, home equity loans perform well for almost everything except short-term expenses.
Benefits of home equity loans
Potential tax breaks. Depending on how you use the loan, interest payments may be tax deductible – which isn't the case for all personal loans. Consult a tax advisor to learn more about this opportunity.
Easy consolidation. Get a large sum to take care of other expenses such as medical bills, home improvements, and more.
Cash for big purchases. Whether you need a new roof or want to finance a dream wedding, a home equity loan can provide the cash you need at a fixed, stable cost to make budgeting easier. Because home equity loans are secured using your home as collateral, they often allow for high borrowing limits that can help you fund large expenses.
Low interest rates. You will typically get an interest rate that is much lower than credit card annual percentage rates (APRs) and often lower than other types of unsecured loans.
Lower credit score may be OK. Discover Home Loans lends to borrowers with credit scores of 620 and above.
Lower fees. While fees vary by lender, home equity loans from Discover have no application fees, no processing fees, and no closing costs.
Risks of home equity loans
Risk of foreclosure. Because your home serves as collateral for the loan, failing to make payments on a home equity loan might mean you will lose your property.
Reduced home equity. When you take out a home equity loan, it reduces the amount of equity you have in your home. This may limit your borrowing power and financial flexibility in the future.
Impact on credit score. When you apply for a home equity loan, a lender may pull a hard inquiry of your credit report. This can temporarily lower your credit score. Taking out a new home equity loan may also impact your credit utilization ratio, which can potentially have a negative impact on your credit score as well.
Taking out a personal loan
Personal loans are a common way for people to eliminate credit card debt when they don't have other assets to use as collateral. Personal loans usually allow you the freedom to spend how you want, whether it's for a wedding, vacation, or debt consolidation. If you need a quick decision and a lower sum than is generally available from a home equity loan, a personal loan may be preferable.
Benefits of personal loans
Lower fees. Many personal loans come with no origination fees or closing costs.
Consolidation of small debts. Lenders can pay off credit cards directly, consolidating your debt as soon as you're approved.
Rapid decisions. Get a decision on your application within hours.
Quick cash. Some loan programs provide your money shortly after the loan is approved.
Risks of personal loans
High interest rates. Since personal loans are not secured by collateral, lenders generally view them as riskier than some other types of loans and charge higher interest rates as a result.
Shorter repayment terms. Compared to home equity loans that come with the opportunity to pay back over a 30-year term, personal loans often have much shorter repayment terms. Depending on your budget and the interest fees on a personal loan, this might make it difficult to afford monthly payments.
Loan default. Even though you won't risk losing collateral with a personal loan if you default on your payments, the loan may end up in collections and cause damage to your credit score.
Closing thoughts: Which loan is more useful?
Choosing between a personal loan and a home equity loan depends on your financial needs. Set yourself up for success for whatever you want to accomplish by taking the time to find out as much as you can about each loan before you decide.
In general, a personal loan is good if you want to cover short-term expenses or plan on selling your home soon, while a home equity loan works to cover large expenses or long-term financing and often comes with a lower interest rate.
If you want to learn more about loan financing with Discover, taking a look at current rates for personal loans and home equity loans might help you decide what works best for you.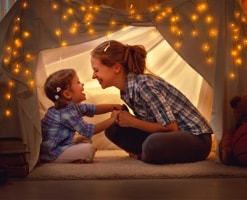 The home equity you've earned
can be used in a multitude of
ways. 
Main

Start your application online or give us a call.