If you own a home, you're probably already familiar with the basic principles and some of the benefits of mortgages. However, you may gain additional benefits if you refinance your mortgage.
Why should you refinance a mortgage?
A mortgage is considered "good debt" because it represents an investment in something that generally has lasting value or will possibly provide appreciation.
Additionally, mortgages often have lower interest rates than credit cards and other types of loans. As you make monthly mortgage payments, part of each payment is applied to interest on your loan and part of it reduces your loan balance creating equity in your home.
Your mortgage is likely to be your biggest debt, so it's important to evaluate this obligation to see if refinancing would give you financial benefits. You could be missing out on big savings if you do not capitalize on refinancing opportunities.
A refinance may allow you to:
Reduce your monthly mortgage payment.

Change from a longer term to a shorter loan term, or vice versa.

Change from an adjustable-rate mortgage (ARM) to a fixed-rate mortgage, or vice versa.

Change your ARM to get new terms for interest rate adjustments.

Take cash out from your equity.
Be aware that a mortgage refinance may have some fees and closing costs, often about 2 to 5 percent of the loan amount. Compare the loan amount, the interest rate and the length of your current loan with the new refinance terms using a mortgage refinance calculator to determine what your monthly savings will be.
Check to be sure that your current mortgage does not have a prepayment penalty that will impact this savings. Factor in the amount of time that you are likely to live in this home to be sure you will pass the break-even period to cover any closing costs.

Home equity loans often have fewer (or zero) fees and closing costs compared to first mortgages.
What are your mortgage refinancing options?
Refinancing can take several forms:
Refinance your mortgage directly with your existing mortgage provider or a new financial organization. You may find fixed-rate, adjustable rate or government loan options.

Use a cash out refinance from Discover® Home Loans to refinance your first mortgage by taking out a loan that is more than your mortgage balance and getting the difference in cash. A cash out refinance replaces your first mortgage with new terms.
Take out a home equity loan or a second mortgage, which is in addition to your existing mortgage. Home equity loans often have fewer (or zero) fees and closing costs compared to first mortgages, but the interest rate may be higher. A home equity loan can be a low-cost refinance option if you're looking to get cash for home improvement, debt consolidation, or major expenses.
What are the benefits of refinancing your mortgage?
Refinance benefits can save you money in the short term or over the length of your loan.
If you are refinancing to take advantage of lower interest rates, you will see your monthly mortgage amount go down, giving you more money on an ongoing basis for other things, and you may end up paying less on interest over the life of the loan.

Refinancing your home allows you to make use of additional funds if you refinance with cash out or refinance with a home equity loan. Because you have paid equity into your home and are using your home as collateral, you are getting a benefit of that invested money. A mortgage refinance is usually more attractive than taking money from your retirement savings.

A mortgage is up to 100% tax deductible, so the interest you pay for this loan will reduce your tax burden. Credit cards and other types of loans are not likely to have this benefit. Consult a tax advisor to learn more about your situation.
What are some tips for refinancing?
Refinancing your mortgage is similar to applying for your initial home loan.
Get your finances in order and be sure your credit report accurately reflects your current financial situation. You will need to provide personal, employment and financial information as well as information about your home. Use a refinance checklist to help you collect this information in advance to make your application go smoothly.
You can use a home equity loan or cash out refinance for any purpose. However, since this a secured debt with your home as collateral, you will want to avoid using the cash for a short-term expense. Think about using these options with Discover Home Loans for home improvement, debt consolidation, a major expense or a significant life event that offers some lasting value.
If you are refinancing primarily to take advantage of lower interest rates, consider an interest rate-lock as part of the application process. This will guarantee that you have access to the current rate at the time of settlement, which may take 30 to 60 days.
Shop around among lenders and be sure to compare all the terms of the offer, not simply the interest rate. Because this may be your second-largest debt decision, be sure to research your options to make the right decision for you. Many reputable lenders will be happy to talk through your situation to see if refinancing makes sense for you.
Articles may contain information from third parties. The inclusion of such information does not imply an affiliation with the bank or bank sponsorship, endorsement, or verification regarding the third party or its information.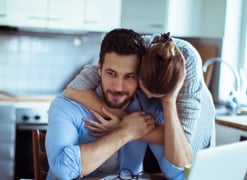 Find your low,
fixed rate

Use our Rate Calculator to find the rate and monthly payment that fits your budget.
Main

Start your application online or give us a call.