How Long Does it Take to Refinance a House?

If you're thinking about taking advantage of low interest rates to refinance your mortgage, you might be wondering how long the process takes.
While it varies from homeowner to homeowner, Discover® Home Loan's refinance process typically takes an average of 6-8 weeks. Let's look at how long it takes to refinance a house and what you can do to prepare.
How to best prepare to refinance a mortgage
To ensure the quickest possible refinancing process, it's important to be prepared for every step. So, what can you do to get ready to refinance?
Calculate your refinance
Start by running your numbers to see if refinancing makes sense for you. Try Discover Homes Loans' refinance calculator to see how much lower your monthly payments would be after refinancing.
Check your credit score
Before you apply to refinance, check your credit score to see if you meet your lender's requirements. Your credit score is used by lenders to help them assess how likely you are to make your monthly payments on time. A higher credit score makes you a more attractive candidate and can lead to better rates.
If your current credit score doesn't meet your lender's minimum requirements for refinancing, working to improve your score can improve likelihood of approval while earning the most competitive interest rates.
Prepare documentation
Having all your documentation ready to go will keep the process running smoothly. Most lenders want to see:
Pay stubs

Tax forms (W-2s, 1099s)

Bank statements

Asset information (investments)

Homeowners insurance

Title insurance
The Discover Home Loans refinance application checklist can help you prepare all of your personal, employment, mortgage, and financial documents.
Ready your house for an appraisal
Most lenders require an appraisal for refinancing. There are a few things you can do to get your house looking its best before the appraiser arrives:
Clean up. Finish all the projects on your to-do list and get your home looking its very best. Start outside – mow your lawn, rake the leaves, clean your windows and the gutters. Get the inside of your house looking clean and inviting. Remove clutter, fix anything that's broken, clean floors and carpets, and touch up any paint that needs it.
Reference all updates. If you've made any updates to your home that could increase its value, make sure you have documentation on hand. For instance, if you've recently upgraded to a high-efficiency furnace or replaced your roof.
Share your research. Know of the value of homes in your area. Look at comparable properties to see how sales are trending and be ready to share this information with the appraiser.
How long each step of a mortgage refinance takes
While an average mortgage refinance takes 30 to 45 days from application to closing, each step of the process can vary depending on your financial situation. Here's how long you can expect each step of the refinance process to take:
Application
When you apply for a refinance with Discover Home Loans, the application can be completed online or over the phone in a matter of minutes.
Approval decision
How quickly you're approved will depend on how quickly you upload your documentation. With Discover Home Loans, you can securely upload your documents online to speed up the processing. Discover will also give you updates on your progress along the way.
Rate lock
If you're refinancing to secure a lower interest rate, consider an interest rate lock as part of your application process. A rate lock guarantees the current rate at the time of closing, which may take anywhere from thirty to sixty days. Rate locks are typically available for thirty, forty-five, or sixty days.
Underwriting
The underwriting process takes anywhere from a few days to over a week. Underwriting is when the lender decides if they want to offer you a loan based on your documentation. They examine your credit history and your personal, financial, and mortgage documents to determine if you meet their criteria. You can ensure this process goes as quickly as possible by having all your paperwork completed and in order.
Home appraisal
The appraisal period starts when the appraiser visits your house and ends when they deliver their report. This usually takes between seven and ten days. Appraisals can take longer if you live in a remote area, have a more complex home, or if the appraiser is particularly busy.
Closing
Closing is the final step in the refinance process where you sign all the documents and pay your closing costs. With Discover Home Loans, there are no upfront closing costs, so you don't have to worry about bringing any cash to the closing.
Factors that can delay a mortgage refinance
A few factors can delay a mortgage refinance. Some are within your control and others are not.
Taking on new credit. Avoid opening a new credit card or taking out a new loan before or during refinancing. Lenders will likely comb through your credit report more than once during the process and will have questions about any new credit. This can slow things down.
Incomplete paperwork. Sending incomplete paperwork will require back and forth communication and cause delays in the refinance process.
Third-party services. How busy appraisers, inspectors, and other third-party service providers are can delay your refinance. You can't do much about this besides be prepared when it's your turn for an appraisal or inspection.
Preparation is key to refinancing a house
From application to closing, the time it takes to refinance a house varies by homeowner. Refinancing with Discover Home Loans takes between 6-8 weeks. Checking to see if you meet your lender's qualifications, having your paperwork ready, and preparing your home for appraisal can move the process along as quickly as possible.
Before starting the application process, try Discover mortgage refinance calculator to see if a refinance makes sense for you. If you have questions about the process or would like to apply to refinance your home, reach out to a Discover Home Loan specialist.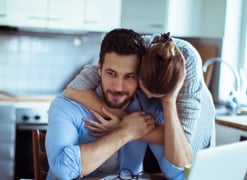 Find your low,
fixed rate

Use our Rate Calculator to find the rate and monthly payment that fits your budget.
Main

Start your application online

or give us a call.
Main

Start your application online or give us a call.