Refinance application checklist: Documents and information you need to provide to a lender

Refinancing your mortgage can be a great way to save money, lower your interest rate, or change your loan terms. However, the process may seem complicated, especially when it comes to gathering all the necessary documents and information.
The types of documentation you may need to prepare can be broken down into four main categories: your personal information, your employment information, your financial information, and your property information.
To help you prepare, this checklist will give you an idea of what you may be asked to provide.
Personal information
Full name. Your legal name as it appears on current verified identification documents.
Social Security number. Required of you and any co-borrowers. This is required for credit checks and loan processing.
Date of birth. Lenders will use this to verify your identity.
Contact information. This will include your current address, phone number, and email address.
Divorce or separation information. If this applies to you or the property being refinanced, a copy of the divorce decree or maintenance agreement may be required along with any amendments and a 12-month payment history of alimony and/or child support payments, as well as documents if the payments are needed to verify your income and qualify for the new mortgage.
Employment information
Employer(s) verification. Names and addresses of your employers for the past two years.
Income verification. Your two most recent pay stubs with year-to-date earnings.
Tax returns. Lenders may request your federal tax returns for the past two years.
Self-employment documents. If self-employed, be prepared to provide a lender with two years of tax returns or bring your profit and loss statement and balance sheet for the past two years.
Proof of additional income. If you have additional sources of income, such as rental properties, alimony, or child support, you will need to provide documentation.
Financial information
Mortgage statement. Your most recent mortgage statement, which should include your loan balance, interest rate, and payment information.
Bank account(s) information. Account number(s) and current balance(s) of your checking, savings, or any other account(s).
Assets information. Statements of current assets, such as Individual Retirement Accounts (IRAs), Certificates of Deposit (CDs), stocks, and bonds. For individual investments, a current brokerage statement with the name of the stocks, the amount per share, and the number of shares owned.
Debt and credit information. Names and addresses of all creditors, and the monthly payment and total amount due for all current loans. Your lender will pull your credit report as part of your application, but it's a good idea to review it yourself beforehand to ensure there are no errors or discrepancies.
Rental property information. Federal tax returns and a schedule of all real estate property you own, plus account number and address of the mortgage company if any property you own is not paid for. If the property is rented, provide a copy of the current lease.
Property information
Recorded deed. Your deed will show the legal owner(s) of the property.
Title Insurance. A copy of your title insurance will help the lender verify taxes on the property, and provide us with a legal description of the property.
Homeowner's Insurance. A copy of your homeowner's insurance will show that you have sufficient insurance to cover your property.
Property tax statement. Your most recent property tax statement, showing the assessed value of your home and taxes owed.
Home appraisal. Your lender will likely require a new appraisal to determine the current value of your home. You should be prepared to pay for this, although some lenders will cover the cost.
Closing thoughts: Your home refinance checklist
By gathering all the documents needed to refinance ahead of time, you'll be better prepared to navigate the mortgage refinance process and secure loan terms that work for your unique financial situation.
Remember that requirements vary by lender, so compare different lenders and check with each one before you apply to make sure you are prepared to provide them with the information they need to process your application.
If you've checked recent rates and you're ready to apply with Discover Home Loans, look over this list for what to expect during the mortgage refinance application process.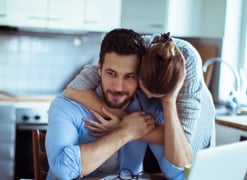 Find your low,
fixed rate

Use our Rate Calculator to find the rate and monthly payment that fits your budget.
Main

Start your application online or give us a call.