What does it mean to refinance a house?

Refinancing a house means trading in your current mortgage for a new one that offers either better rates and terms or a lump sum of cash for a home improvement project or other large expense. Kicking off the refinancing process is simple: request quotes from lenders, choose the one that's best for you, and submit your application.
Lenders determine loan amounts, rates, and terms based on a few factors, including the equity you've built in your home, your credit score, and debt-to-income ratio.
One of the most popular refinancing options is a cash-out refinance. Cash-out refinance from Discover® is a fast, simple process you can complete online or over the phone.
How refinancing your home mortgage works
Refinancing your home starts with shopping around for quotes from different lenders to find the best rate. You can also estimate your home equity to see if a cash-out refinance is the right option for you.
Once you choose a lender and submit your application, a loan officer begins the underwriting process. They will verify your financial details and appraise your home to estimate its current value.
After the underwriting process, you'll receive a Closing Disclosure (CD) outlining the mortgage's details. Always compare your initial loan estimate with the CD to ensure the figures are the same and, if not, be sure to ask questions and understand why the numbers changed.
Common reasons to refinance your home
Not sure if refinancing is the right move? Here are the most common reasons for a refinance:
To reduce monthly payments
Standard interest rates change and your credit score may have improved since you were first approved for a mortgage. Refinancing can lower your monthly mortgage payments through a better fixed interest rate.
You can also refinance for a longer-term mortgage for lower monthly payments, though you may end up paying more interest charges overall.
To reduce interest rates and charges
When national mortgage rates go down, you may want to refinance for a lower rate. This lets you pay less over the term of your mortgage.
To shorten term and reduce interest charges
Maybe you decided on a thirty-year mortgage, but things have changed over the past five years. Now you're making more money and can afford a bigger monthly payment.
You can refinance for a shorter-term mortgage, which will let you pay the loan off faster and save on interest.
To borrow funds through a cash-out refinance
If you're looking to complete a new home renovation, need emergency repairs on your home, or want to consolidate debt, a cash-out refinance can help you get a lump sum of cash quickly using the equity in your home.
With a cash-out refinance loan you take a loan for a larger amount than what you currently owe on your home, pay off your first mortgage, and keep the difference to use as you like.
How much does it cost to refinance?
The closing cost to refinance your mortgage is, on average, two to five percent of your loan amount. On a $200,000 mortgage, refinancing can cost from $4,000 to $10,000. Some lenders offer to absorb some of the closing costs. With Discover Cash-Out Refinance, there are zero application, origination, or appraisal fees at closing.
If your refinance comes with closing costs, you'll want to determine where your break-even point is to decide whether refinancing makes sense. This is the point when your savings from refinancing cover the costs of refinancing. The break-even point is different for everyone and depends on your loan's terms.
When is the best time to refinance?
Several factors can help you decide if it's a good time to refinance.
When Federal mortgage rates are low, a refinance can lower your rate so you pay less over the life of your mortgage.
If you've built up enough equity in your home, you may also qualify for a lower interest rate.
Finally, if your credit score is excellent, you've reduced your debt, or increased your income, you may qualify for a better mortgage rate than your original mortgage provided.
What are some alternatives to refinancing?
There are two main alternatives to refinancing: home equity loans or home equity lines of credit (HELOCs).
A home equity loan lets you borrow a fixed amount, secured by the equity in your home, and get money in one lump sum upfront. Many borrowers like that home equity loans act as a second mortgage without impacting their original mortgage.
In other words, if you already have a low rate on your mortgage and want to keep it, a home equity loan can allow you to do that while still taking money from your equity.
HELOCs, on the other hand, let a borrower tap into their equity as needed for a fixed period and up to a predetermined credit limit. A home equity loan has a fixed interest rate, whereas a HELOC typically has a variable rate.
Both HELOCs and home equity loans are different forms of equity financing because of one key aspect: these types of borrowing will have you paying back your original mortgage and give you a second bill to pay off the new loan or line of credit. Cash-out refinancing, by contrast, bundles both your mortgage loan payment and your borrowing into one simple monthly bill.
If you're thinking about refinancing, make sure you understand all your options. A Discover Home Equity Loan can be the right option to quickly raise funds without affecting your initial mortgage. Curious how much you can borrow? Use Discover loan amount calculator to see how much you may be eligible to borrow.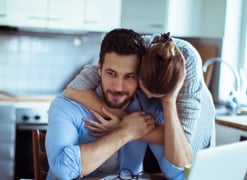 Find your low,
fixed rate

Use our Rate Calculator to find the rate and monthly payment that fits your budget.
Main

Start your application online

or give us a call.
Main

Start your application online or give us a call.