Money Saving Rules to Help You Save for a Down Payment

Establishing a regular savings routine can be a challenge for many people. To save for a large purchase, like the down payment on a home, can be a daunting task. However, it is possible—and if you make it a priority, it can happen sooner than you think.
Down Payment Requirements
Many conventional loans require at least 20% of the purchase price as a down payment. Even special loan programs like FHA loans require 3.5% down. This requirement lessens the risk to the lender. It also shows that you know how to save money and are a viable candidate for a mortgage.
You can find a few options that will allow you to put down less than 20% for your new home. However, the trade-off is paying a higher interest rate, having to purchase private mortgage insurance or carrying two loans. When you put down the full 20%, you will have instant equity built into your home. You'll also have more choices for loan products.
Before you start shopping for a home, figure out how much you need to save and how you will accomplish this goal. First, create a budget and determine how much money you have to save now and how much you'll need to pay a mortgage. Even if you qualify for a $300,000 home, you may not want to be tied to those payments every month, and may feel more comfortable with a $250,000 mortgage. That lets you know that you need to save 20% or $50,000 for your down payment of that total. You can use a Discover® Affordability Calculator to help you determine how much you will need to save.
Be reasonable with your budget. Some use the 50-20-30 budget rule. This puts your income into three categories:
The first 50% of your budget is for basic necessities, such as food, utilities and rent/mortgage. This also should include transportation expenses and other needs.
The 20% portion should be your long-term savings. This may also include extra payments on your debt, such as credit cards or car loans.
The 30% is designed for the fun things in life. This may include a vacation as well as regular expenses like gym memberships, pet care, dining out and even cable and cell phone expenses. Some of these can be included in the first category depending on your preference.
If any of your categories exceed these percentage guidelines, you should re-evaluate your budget and make sure you can manage those expenses.
Home buyers who are just starting out may not have many expenses. The 50-20-30 could serve them well now and in the future. For those who already have numerous expenses, following this rule could mean making major changes.
One of the problems with using this strategy is that the other two categories often preempt the savings category. Your budget may look more like 60-10-30, or even 60-40 with nothing left for savings. The less money you put into savings, the less you'll have for a down payment and the longer it will take to reach your goal.
Start by looking at your third category, the one that has the expenses that aren't absolutely necessary. Can you cut out or reduce any of those expenses? Work toward getting this category back into the 30% range and put the rest in savings.
One of the reasons that people hesitate to use this method of budgeting (besides not wanting to give up those extras) is that they don't immediately see real value. What's the point of reducing a cell phone plan from $200 to $100 a month when you need to save $50,000 for a down payment? Instead of looking at each individual expense, look at the total category and its relation to your income.
For example, let's say you make $5,000 per month net income. If you put away 20% each month for your down payment, you would have $1,000. In a year, that's $12,000. In two years, it doubles to $24,000. In just four years, you would have the money you need for a down payment. And all because you moved the money from category three (or one) to category two – your savings.
The benefits of establishing this type of budget go beyond saving for a down payment. It will also help you establish a "nest egg" for future emergencies and prevent financial trouble when the unexpected happens. You'll also have money to cover the costs of homeownership. Many people are not prepared to be homeowners and don't think beyond the monthly payments – maintaining a home is expensive. Having that savings cushion will make your life easier now and in the future.
Other Options for a Down Payment
If you cannot save a significant amount each month or if you don't want to wait four years to buy a home, there are other options to get enough money for a down payment. The key is to explore all of your options and determine which one best suits your situation.
Borrow from your retirement – First-time home buyers can withdraw up to $10,000 from their IRAs to fund a home purchase. You won't pay a penalty, but you will have to pay income tax on the amount you withdraw, and it must be used within 120 days.
Borrow from a 401k – If your plan allows you to obtain a loan, you can borrow a portion of your retirement funds to use for a down payment. You will have to pay interest and there may be a set time period to pay back the principal. Find out what penalties you might incur if you leave the company before you have paid back the loan.
Ask for gifts – Family gifts can be a great source of down payment assistance. It must be stated in writing that the money is a gift and not a loan to be repaid. Also, ask your lender about maximum gift contributions. Some lenders will only approve loans where a portion of the down payment is a gift and will expect you to provide the remainder.
Use your equity – Homeowners who are buying a new home can use the equity in their current home as a down payment. Once the house is sold, anything above the mortgage payoff amount may be considered profit that can be used for the down payment on a new home.
Get a second loan – In the past, many buyers were able to get a second loan to make up the difference in what they had saved and what was required as a down payment. While this scenario has changed, it is still possible to obtain a loan for a portion of your down payment. You will see this written as 80/10/10, where you provide 10% of the down payment and finance the other 10% in a second loan.



Whenever you take out a loan for a down payment, it reduces the amount you can put towards your mortgage. Since lenders take into account your debt-to-income ratio, as your debt increases, the amount you qualify for decreases. This applies whether you are getting a loan on your 401k or a traditional bank loan to cover a portion of the down payment. This may not be a problem if you plan to use only part of the approved amount. However, it could impact your affordability if you are shopping at the top end of your loan approval.
Regardless of whether you're saving money for a down payment to buy later or you're trying to find another way to come up with the money to purchase now, you must budget accordingly. Talk to a trusted lender early in the process to clarify down payment requirements. Ask questions and get the information you need to make a smart decision about how and when to buy your home. Getting money for your down payment is a big obstacle to overcome, but it shows that you're ready to take on the challenges of being a homeowner.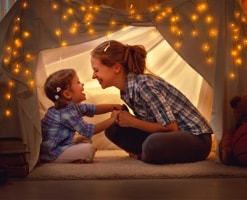 The home equity you've earned
can be used in a multitude of
ways. 
Main

Start your application online

or give us a call.
Main

Start your application online or give us a call.