Use your home equity to pay for a master bath remodel

Whether you are planning to keep your home or sell it in the near future, a master bathroom remodel may add value to your home when it's handled correctly.
To ensure a successful remodeling project, you should start by figuring out how you can get the biggest benefits for your investment.
Understand the costs for your bathroom design ideas
If the master bathroom is outdated, it may be obvious what needs to be done. 
However, a common mistake for many homeowners beginning a bathroom renovation is allocating their money in the wrong way. If you decide to take out a loan to begin this project, you want to ensure that you will get a good return on their investment.
A full master bathroom renovation can become an expensive project depending on what updates you want to make.
If you've built up enough equity in your home, a popular option for financing renovation projects is a home equity loan. These are typically fixed rate loans that let you borrow up to a certain percentage of your available home equity.
Loan features can vary by lender, but Discover® Home Loans offers low, fixed rates on home equity loans along with no origination fees, no appraisal fees, and no cash due at closing. This may be an option for you to cover all the costs that come along with a master bath remodel – both expected and unexpected.
For homeowners who don't have access to that kind of equity for the project, updates and repairs may be better route rather than a full master bathroom renovation.

Unlocking your home equity for a remodel may increase the value of your home.
Work within your budget
If you have a limited budget for your bathroom remodel, don't give up on the idea of updating this valuable space. Instead, learn how to work within your budget to make the changes that add the most value. This is a great way to get the most out of the home equity you unlocked to finance the project, if you choose to take out a home equity loan.
After making sure everything is working with no leaks or faulty plumbing, focus on the areas that are most likely to receive the most attention.
Replace or repaint an old vanity

Update fixtures and add a new mirror

Improve poor lighting and add or update an exhaust fan

Update accessories (towel bars, cabinet hardware, shelves, etc.)

Replace the shower trim kit with one that has multiple settings
If you need to replace the toilet, consider choosing an energy-saving model. Or, add a low-flow showerhead to save water. These cost conserving, environmentally friendly changes may appeal to buyers if you are planning to sell and will save you money while you remain in the home.
Small luxury touches to the master bathroom may make it feel more like a spa retreat. For example, a heated towel bar is an inexpensive way to enhance this space. Create a relaxing area with low lit wall sconces in addition to brighter lights on a vanity.
Updating your master bath may add value to your home while creating a relaxing, enjoyable space. Whether you are doing a complete renovation or making specific updates to fit within a budget, you can design a modern room that meets your expectations.
Invest in the right design
When deciding whether to renovate a master bathroom or make small updates, you need to determine what provides the most value. As of early 2023, the average bathroom remodel costs almost $11,000, but it's an investment that offers some of the largest returns among home improvement projects.
If you plan to sell your home soon, try to view listings of recently sold homes in the neighborhood and see pictures of what those master bathrooms look like. You want your remodel to be comparable to ensure the best return on your investment. The right redesign will help your home sell faster, while one that is significantly more or less costly than other master baths may hinder the sale.
When you finance a home improvement project like a master bath remodel with a home equity loan, you'll want to make upgrades that will increase the value of your home. That way, when you sell your home, you could potentially receive enough money from the sale to cover the cost of the loan and to put toward your next home purchase.
Articles may contain information from third parties. The inclusion of such information does not imply an affiliation with the bank or bank sponsorship, endorsement, or verification regarding the third party or its information.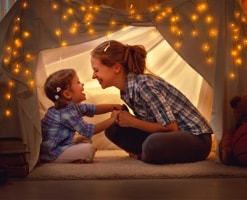 The home equity you've earned
can be used in a multitude of
ways. 
Main

Start your application online or give us a call.