Mastering the Master Bathroom Renovation

Whether you are planning to keep your home or sell it in the near future, a master bathroom renovation may add value to your home-when it's handled correctly. To ensure a successful remodeling project, you need to know what to do to get the most benefit.
Understand the Costs
If the master bathroom is outdated, it may be obvious what needs to be done. However, a common mistake for many homeowners who begin a bathroom renovation is allocating their money in the wrong way. If they have taken out a loan to begin this project, they want to ensure that they will get a good return on their investment.
A full master bathroom renovation is a costly project and may cost 5-10% of the value of the home. For homeowners who don't have access to that kind of money for the project, updates and repairs may be better route rather than a full master bathroom renovation.
Know the Value

Try to view other homes in the neighborhood to see what those master bathrooms look like.
When deciding whether to renovate a master bathroom or make small updates, you need to determine what provides the most value. According to a remodeling website, the average bathroom remodel in 2021 costs over $24,000, with the added value to an average home figured at over 60%.
When deciding where to invest your money in the bathroom, consider the average renovation. Listed in order, from highest percentage to lowest, here is where the money is typically spent:
Labor 20%

Cabinetry and hardware 16%

Fixtures 15%

Faucets and plumbing 14%

Floor 9%

Countertops 7%

Walls and ceiling 5%

Lighting and ventilation 5%

Doors and windows 4%
While these percentages are not absolute, they do give you an idea of how to spend your money if you are doing a complete remodel.
If you plan to sell your home soon, try to view other homes in the neighborhood to see what those master bathrooms look like. You want your remodel to be comparable to ensure the best return on your investment. The right redesign will help your home sell faster, while one that is significantly more or less costly than other master baths may hinder the sale.
Work within Your Budget
If you have a limited budget for your bathroom remodel, don't give up on the idea of updating this valuable space. Instead, learn how to work within your budget to make the changes that add the most value. After making sure everything is working with no leaks or faulty plumbing, focus on the areas that are most likely to receive the most attention.
Replace or repaint an old, worn vanity

Update fixtures and add a mirror

Improve poor lighting and add or update an exhaust fan

Update accessories, such as towel bars and cabinet hardware

Replace the showerhead with one that offers multiple settings
If you need to replace the toilet, consider choosing an energy-saving model. Or, add a low-flow showerhead to save water. These cost conserving, environmentally friendly changes may appeal to buyers if you are planning to sell and will save you money while you remain in the home.
Small luxury touches to the master bathroom may make it feel more like a spa retreat. For instance, a heated towel bar is an inexpensive way to enhance this space. Create a relaxing area with low lit wall sconces in addition to brighter lights on a vanity.
Updating your master bath may add value to your home while creating a relaxing, enjoyable space. Whether you are doing a complete renovation or making specific updates to fit within a budget, you can design a modern room that meets your expectations.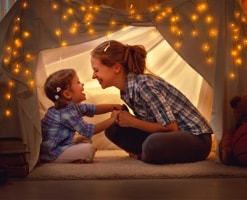 The home equity you've earned
can be used in a multitude of
ways. 
Main

Start your application online

or give us a call.
Main

Start your application online or give us a call.