Home remodel guide: Styles, tips, and loans for remodeling

Whether you're considering remodeling your home because you want to update it or because you need to make some necessary repairs, it's essential to do your research to make the best decisions for your family and your budget.
This guide gives you a basic overview of the different types of loans available for home remodeling, as well as some tips on choosing the right style for your project.
Remember that this is just a starting point — consult with a financial advisor and a contractor before making any final decisions.
The essentials of using a loan to remodel your home
Remodeling your home could add to your quality of life and monetary value of your home. However, not all remodels are equally effective in adding value.

You can use different types of loans to finance a remodel, including cash out refinances, home equity loans, HELOCs (home equity lines of credit), credit cards, and personal loans.

Going with a home equity loan to finance a home improvement project means you can use the value of your equity for borrowing a lump sum loan amount, which typically comes with a fixed interest rate.
Home equity loan for remodeling your home
Taking out a home equity loan for a remodel is one way to make your renovation projects more financially attainable.
With a home equity loan, you use the value of the equity in your home to secure a lump sum loan amount. Because they are secured loans, there is usually a lower interest rate than there would be with other consumer loans, like personal loans.
You can then use this equity to finance both large and small renovations, like adding an extra room or remodeling your kitchen counters and cabinets.
Home remodel financing: Other loans for remodeling homes
Aside from a home equity loan, there are various ways to finance your home improvement project.
Cash out refinance for home remodeling
A cash out refinance is when you take out a new mortgage that pays off your existing mortgage while providing additional funds for the remodel. You can use the extra money for any purpose, including home improvements or repairs. This type of loan allows you to tap into the equity in your home to obtain funds for renovations or repairs.
If you want to see how much cash you may be able to get out of your home, you can use the cash out refinance calculator from Discover® Home Loans.
HELOC for your home remodel
A HELOC is a form of credit that utilizes the equity in your house.. With a HELOC, you are given a line of credit that allows you to borrow up to your limit and use the money for anything, including remodeling costs.
HELOCs usually come with a variable interest rate which means your interest charge could change depending on market conditions. Please note: Discover Home Loans offers a home equity loan product, but does not offer HELOCs.
Credit card for home remodel financing
Using a credit card can be easy for financing small remodeling projects without taking out a big loan or dealing with complicated paperwork or processes.
However, using plastic has some drawbacks—most notably, high-interest rates and potential fees if late or missed altogether. Additionally, many cards come with limits on how much you can charge per transaction, which may make it difficult if you're looking to purchase large items like furniture or appliances.
When researching your options, you might consider seeing if a credit card from Discover offers the benefits and features you're looking for.
Personal loan for home remodel
Like a credit card, personal loans provide access to funds quickly and easily without going through lengthy processes like refinancing or taking out another type of secured loan against your home equity. Personal loans usually come with fixed interest rates and shorter repayment terms than other loans. However, they also typically require good credit to qualify— 
With Discover Personal Loans, you might qualify for a loan with a minimum credit score of 660. You can check out possible rates with no impact on your credit score.
Should you remodel your home?
There are many factors to consider with a remodel including cost, time commitment, and the potential return on investment.
If you're thinking about remodeling, it's important to do your research and weigh your options carefully.
Cost of home remodeling
Home remodeling can be a costly undertaking. If you're planning on making significant changes, you'll need to factor in the cost of materials, labor, and permits.
It's always a good idea to budget for unexpected problems during home improvement projects. Any issues that come up could cost you more money than you originally planned.
Time to remodel your home
Another important consideration is how much time you're willing to commit to the project.
A full-scale home renovation can take several months (or even longer) to complete. If you're not prepared to live with dust, noise, and disruptions to your daily routine, it might be better to wait until you're ready before starting.
Return on investment for home remodeling
It's crucial to consider the potential return on investment for your home remodeling project.
In some cases, the value of your home could increase after completing a renovation. However, this isn't always the case, so it's important to consult a real estate professional before making any decisions. They can give you an idea of what similar homes in your neighborhood are selling for and what type of remodel could add the most value to your home.
Looking into this can help you decide whether now is the right time to remodel your home.
A remodel might add value to your home
Anyone who has ever watched a home improvement show knows that renovating a property can be a great way to update your home while possibly adding resale value.
A well-designed and executed remodel can make your home more enjoyable to live in and may make it more attractive to potential buyers should you decide to sell down the line. Of course, not all remodels are equally effective in adding value.
For example, a complete kitchen renovation is likely to cost tens of thousands of dollars, but it could significantly add to your home's value. Conversely, adding a pool might not be worth the investment if you live in an area with a short swimming season.
Ultimately, if you're considering renovating your home, consulting with a real estate agent is essential to get an accurate estimate of what the project might be worth. With their help, you can make an informed decision about whether to proceed.
Popular home remodel styles and home renovation ideas
There are many different remodeling styles to choose from, which can make planning a remodel overwhelming. Whether you're looking for a Cape Cod renovation, a Ranch-style home renovation, or something more unique like a Tudor or Colonial-style remodel, there's no shortage of ideas when it comes to giving your home an updated look.
Let's look at some popular home remodel styles and renovation ideas:
Cape Cod renovation
The Cape Cod style originated in New England during the 1930s as a way of providing low-cost housing. This style is characterized by steep roofs and large chimneys and is often associated with classic beach homes. A Cape Cod renovation is an excellent option if you want a timeless look that will never go out of style.
Consider updating the windows and doors with clapboard siding to give your home a Cape Cod feel. You can also add outdoor seating areas, porch chairs, and outdoor furniture to add a unique charm to this classic American style.
Ranch-style home renovation
If you're looking for something more modern, consider updating  to a ranch-style home. This style became popular after World War II due to its affordability and single-story layout, which made them ideal starter homes for many families.
If you want to give your home a modern ranch look and feel during your remodel, consider adding warm wood accents throughout the house and natural stone countertops in the kitchen. You might also consider replacing your windows with energy-efficient models to help reduce heating and cooling costs.
Tudor home remodel
Tudor homes became popular during the 1920s and were favored by those who sought a luxurious lifestyle but could not afford the more elaborate styles of Gothic Revival or Italianate architecture.
These homes have steeply pitched roofs, tall windows, and decorative half-timbers along the walls. For a truly authentic Tudor feel, you can use exposed beams and stucco walls in shades of white or cream for an elegant touch.
You can also replace existing windows with leaded glass casements for an old-world charm that may transform any room in your house.
Colonial home remodel
The Colonial style was first introduced in America during the 1700s when settlers began constructing homes with symmetrical facades and gabled roofs reminiscent of English architecture.
A colonial home remodel is perfect if you want to keep some of the original features of your house but also add updated appliances or new lighting fixtures for a more modern look and feel.
Craftsman renovation
The Craftsman style was popularized in California during the late 1800s as an alternative to Victorian architecture.
What characterizes this style is its low-pitched roof lines, wide eaves, and exposed rafters on porches and eaves — all features which provide an inviting atmosphere that remains popular today.
A Craftsman renovation may allow homeowners to enjoy all these features while incorporating modern updates like energy-efficient appliances or open floor plans into their homes.
Create an outdoor living space
If you have a patio, or if you have room for one, consider creating a space that is an extension of your house. Although a patio is a great feature for any home, it is an especially enjoyable feature in warm weather regions where people spend time outside all year long.
You don't have to be elaborate in your design. Place a few stone pavers on the ground and set up a table and a couple of chairs. If you already have an outdoor area that is seldom used, spruce it up. Put a new coat of paint on your outdoor furniture or add outdoor cushions to make the place feel more inviting.
Increase curb appeal with landscaping
Landscaping is an often-forgotten aspect of your home that may increase its value. The saying, "you never get a second chance to make a first impression" defines the importance of landscaping to heighten the curb appeal of your home. If you are inspired to get outside and improve your property, focus on specific areas if you plan to have your home appraised soon:
Clear the yard of debris, such as broken limbs and leaves, and reduce clutter due to decorative lawn ornaments.

Repair hardscaped features such as sidewalks, driveways, and patios. Fix cracks, pull out weeds and pressure wash the concrete.

Re-sod areas that have thin or no grass.

Trim bushes and trees and replace spindly looking plants.

Add color by planting pretty flowers and plants that bloom while your home is being evaluated.
You can consider changing the slope of your yard to provide better water drainage by adding dirt or installing new sod. You can also replace broken slats on a wooden fence or install a fence around a pool to improve your outdoor space. A well-manicured lawn with the right number and type of trees, bushes and flowers can draw positive attention.
Closing thoughts: Get a loan to remodel home style
If you're considering a home remodel, there are several things to remember. You should think about the project's cost and how much time it will take to complete the remodel. It's also important to consider what kind of return on investment you can expect from your remodel.
You may be eligible to keep your existing mortgage and unlock cash from your equity with a home equity loan from Discover Home Loans to finance your upcoming renovation projects.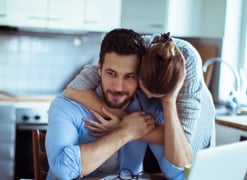 Find your low,
fixed rate

Use our Rate Calculator to find the rate and monthly payment that fits your budget.
Sources:
Articles may contain information from third parties. The inclusion of such information does not imply an affiliation with the bank or bank sponsorship, endorsement, or verification regarding the third party or its information.
Main

Start your application online or give us a call.