Benefits of using a home equity loan for home improvements

Financing a remodeling project with a home equity loan can be a cost effective way to upgrade and personalize your home. There are many renovation choices, including installing a deck, finishing your basement, remodeling your kitchen or adding a bathroom. Any of these projects can improve the functionality and comfort for your family now and increase your home's value if you decide to sell in the future.
To qualify for a home equity loan, you must have positive equity in your current residence. Equity is the difference between the market value of your home (what it could sell for) and the amount you still owe on your mortgage. Borrowers must meet additional lending requirements, including income and credit verification.
Typical characteristics of a home equity loan
A home equity loan from Discover® Home Loans has some similarities to and differences from a primary mortgage.
For typical home equity loans:
The fixed payback period may be selected within a range to fit your budget.
A fixed interest rate applies for the duration of the loan.
A lump sum payment is received when the loan is signed.
Interest begins accruing when the loan funds.
The loan is secured by your home.
Closing costs may be lower than a primary mortgage.
Benefits of using a home equity loan for home improvement projects
Several basic characteristics of a home equity loan make it a very attractive financing option amongst homeowners.
Lower interest rate
Because home equity loans are secured by your home, you can generally get an attractive interest rate that is oftentimes lower than an unsecured loan or credit card.
Tax benefits
If you itemize deductions and use the funds for home improvement, you may be able to deduct the interest you pay on a home equity loan. Your tax preparer can estimate how much, if any, will be deductible based on your personal financial situation.

A select a payback period to fit your budget
Some home equity loans can have a term of up to 20 years, or possibly longer.
Increased home value
Home improvements can add equity to the home. A local real estate professional can help predict the impact your renovation will have on your home's resale value. Some owners use home equity loans to make specific high return improvements, increasing the home's appeal before listing for sale.
Tips for getting the most out of your home equity loan
Set a budget and stick to it
Since a home equity loan is issued for a one-time set dollar amount, determine how much your project will cost before you apply for a loan. Obtain estimates and discuss the scope with professionals to establish a realistic budget. You may want to add 10% to 15% to the estimates to cover overruns.
Understand differences between equity and Return On Investment (ROI)
Equity is the value of your home above the existing mortgage. ROI is the Return on Investment for the project. Home improvements may increase your equity but not return 100% of what you spend. For example, if you spend $20,000 on a minor kitchen remodel, it may increase the value of your home by only $16,000. Keep these financial projections in mind, especially if you plan to live in the home for just a few years.
Balance your current needs with resale value
You may make a home improvement that improves your current comfort and meets your personal needs for daily living. However, personalizing too much can reduce your ultimate ROI since potential home buyers may not share your tastes.
Using a home equity loan for home improvements makes sense
Using a home equity loan for remodeling can provide comfort and value. A lower Interest rate and possible tax benefits may bring the costs down even further, depending on your circumstances. The additional option of spreading payments over a long period of time can make the use of a home equity loan a very affordable and attractive financing option.
Legal Disclaimer: The articles and information provided herein are for informational purposes only and are not intended as a substitute for professional advice.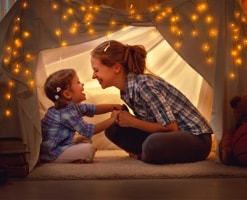 The home equity you've earned
can be used in a multitude of
ways. 
Main

Start your application online or give us a call.