How Realtors Can Get the Most Out of an Open House

When it comes to open houses, real estate agents generally either love them or hate them. To accommodate the new ways buyers search for homes online, traditional selling methods must be reconsidered—and, in many cases, redefined. Even in today's Internet-based market, most buyers need to physically see a home before making a buying decision. An open house can be a great way to market a home, if done correctly. If you're a real estate agent, use these tips to improve your open house effectiveness.
Understand how buyers are shopping for homes. Research from the National Association of Realtors (NAR) indicates that 92% of today's buyers utilize the Internet during their home search, so a listing with high-quality pictures is essential. A video tour is another way to attract more buyers; if they love the home's online profile, they will likely want to walk through it. An open house is a great way to showcase a home in its best condition and provides a low-pressure way for buyers to tour a home and get a feel for the neighborhood.
Market where buyers are looking. Open houses should target a specific audience based on price range, neighborhood and potential buyers. Marketing on websites like Realtor.com, Trulia, Zillow and MLS will reach a wider audience. Agents can also spread the word through their personal blogs, Twitter, Facebook and other social media outlets. Offering incentives, such as light snacks or lists of local foreclosures, can also help bring in buyers. For any drawing or incentive, keep the focus on the home.

Cater to the neighbors. Neighbors are sometimes seen as a nuisance to an open house. Although they generally aren't in the market to buy, they may know people who are looking to move or they may be renting in the neighborhood and in a position to buy. A neighbor could fall in love with the home and choose to move right down the street. Bringing fliers to the neighbors' homes inviting them to the open house will help create a buzz among their contacts.
Provide great information. In addition to property details, include information on schools, places of interest, parks and community attractions. Providing information on recent sales or other open houses will impress buyers and agents alike. Agents are a great resource in finding a buyer. Helping them will help you in the long run.
Be involved and accessible. Texting, being on the phone or reading a book will not offer the best first impression. Providing interesting information about the home or neighborhood and being available for questions will keep buyers engaged. Although most buyers don't want to be bombarded, they do value useful information. For buyers not represented by an agent, making a good impression during an open house could land you a new client.
Provide valuable resources. Consider partnering with fellow professionals, like a buyer's agent and a lender. The buyer's agent can represent potential buyers in need of an agent. Lenders can speak with buyers about qualifying, payments and interest rates. Buyers often look for homes before qualifying with a lender. Having one at the open house can provide buyers with information in a low-pressure environment.
Follow up. An open house can generate helpful feedback for the seller. Follow up with interested buyers or their agents to increase the chances of getting an offer.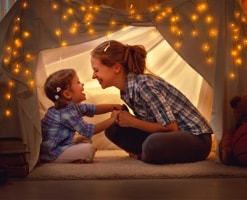 The home equity you've earned
can be used in a multitude of
ways. 
Open houses serve as a valuable resource to buyers, sellers and real estate agents. They are a waste of time only when they are not properly planned and executed. When held in a thoughtful and systematic way, an open house can result in a faster sale for the seller and more clients for the agent—which can be a very productive way to spend an afternoon.
Share these open house tips with your clients who are buyers or sellers.
Main

Start your application online

or give us a call.
Main

Start your application online or give us a call.