How City Status Can Increase the Value of Your Home

Is your quaint little town poised to explode into a full blown city? Do you want to escape from the boonies and trade wide open space for more neighbors, movie theaters and that coffee fix? You're in luck, because America's cities are growing!
Growth can mean big changes for your current home's property value or the cost of homes near you in a big city. There are many different pieces to the home value puzzle, most of which are widely known. For instance, no one expects Phoenix, Arizona property to be as expensive as living near Broadway in New York City.
However, there are lesser known factors that can have a big impact on home value. Here are three chief areas to consider when contemplating your home's future-or your second mortgage.
City services: unexpected insurance
As towns grow larger and areas become incorporated, there's an increased demand for services. This can lead to growth in local police and firefighter forces, subsidized by city taxes. The transition to a full blown city often includes a shift from pure volunteer firefighters and other services to paid, professional services.
Police, firefighters, EMTs and other emergency service providers offer an extra layer of insurance for your home and health. The better the quality of service, the more likely it will positively impact your property value.
Part of the home value assessment when getting a home equity loan, is impacted by the value of the homes around you, and growing cities often develop new homes to accommodate the influx of buyers. Again, cities can be a great place to live due to the high value of real estate in highly serviced areas.

When industry comes to town
Cities often attract large industries and companies, which can result in job growth and an improved economy. However, there are also many industries whose practices can drive down your home's value.
When a major new employer builds in or near a town, property values tend to rise.
However, Some industry is not a boon for home values; public perception can be a powerful influence on home values.
Knowing what's going on in your area can be a great way to improve and protect the value of your home.
Walk, don't drive for your java
A growing number of cities are investing more money in their downtown areas, and that means lots of small shops and places for a snack. This "New Urbanism" is impacting cities which are revitalizing their downtowns and those with historic areas. The great news for home owners is that these walkable areas attract more developers and stores.
As the real estate market improves near your home, you may see improvements in your home equity1 Improvements in your neighborhood are both a convenience for you and a great way to see local home prices rise, and there's one big thing to look for: coffee.
Being able to walk from one coffee shop to another could be tied to a big boost in home values downtown and in surrounding areas2
Walkability is also a big value driver. If your city invests in sidewalks and zoning that allows for shopping and grocery stores near homes, you can see a significant lift in your home's value. Houses that have above average city walkability can command between $4,000 and $34,000 more home value3 than homes with average levels of city walkability.
It's easy to see why people prefer walkable neighborhoods with in demand services. There's no guarantee that coffee shops and sidewalks will always point to higher property values, but today they're a good sign you have increased your equity. Keep your eyes peeled for even more value added conveniences, especially when it comes to supporting new trends in your city.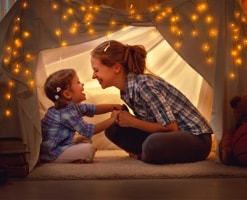 The home equity you've earned
can be used in a multitude of
ways. 
Legal Disclaimer: The articles and information provided herein are for informational purposes only and are not intended as a substitute for professional advice.
Main

Start your application online

or give us a call.
Main

Start your application online or give us a call.