Using your home equity for a debt consolidation loan

Many homeowners today are turning to home equity loans for debt consolidation since they may often carry lower interest rates than other lines of credit. Securing a home equity loan from a lender like Discover® Home Loans might help you finance unexpected life events and expenses.
If you have equity in your home, you may qualify to use that home equity in order to take out a loan for debt consolidation and pay a lower interest rate on one monthly payment.
If you are interested in using a home equity loan for debt consolidation, there are a few steps to take before you start.
1. Understand how using home equity for a debt consolidation loan works
First, you should understand exactly how debt consolidation merges your financial obligations. A debt consolidation loan may be used to pay down your credit cards, auto loan and miscellaneous debt you want consolidated into one monthly payment at a fixed low interest rate. However, consider the fact that although your monthly payments may be lower, you may end up paying more in interest over the life of the loan if the term is longer.
2. Gather documents to apply for a loan
In order to qualify for a home equity loan, you must first have enough equity since you'll be borrowing against the value of your home.
Before you begin to contact creditors, collect all the latest statements for the bills and loans you want to consolidate. You will want to know how much you owe, the APR you're currently paying and whether you pay more than the minimum amount each month. Below are suggested statements and bills to consider including:
Auto loans

Credit cards

Personal loans

Other equity loans
3. Calculate the costs
After you're finished compiling all of the information and statements, use a debt consolidation calculator to help figure out your total debt, how long it will take to pay it off and your potential savings with debt consolidation. The debt consolidation calculator from Discover Home Loans is a free tool to aid you in calculating how much you might need to consolidate your debt.
Although helpful, keep in mind that these calculators do not take the place of a financial planner.
4. Research your options
Home equity loans for debt consolidation are considered secured loans because they are tied to an asset – your home. This means that failure to pay back the home equity loan might result in a foreclosure.
Do your own research to figure out if a secured home equity loan is the right kind of debt consolidation loan for your particular situation.
5. Consider the implications of using a home equity loan
Arm yourself with the knowledge to decide if debt consolidation can improve your financial situation. Then consider your options for the type of debt consolidation you would need. If you have enough equity in your home and are looking for a lower-interest loan, a home equity loan for debt consolidation could be the right choice for you.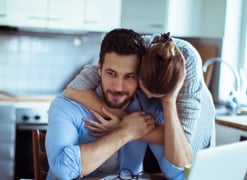 Find your low,
fixed rate

Use our Rate Calculator to find the rate and monthly payment that fits your budget.
Main

Start your application online or give us a call.