How a bathroom remodel can increase your home value

A bathroom is an essential part of any home, but one that is often overlooked. Updating this space or adding a new bathroom is one of the best ways to add value to your home.
You want your bathroom to be both functional and stylish. A bathroom remodel or addition is one way to potentially improve the resale value of your home or make it more practical for you and your family.
Updating an existing bathroom
An outdated bathroom can typically be easily remodeled within the parameters of the current space.
To determine what needs to be done, first consider the practical aspects of remodeling your bathroom.
Make sure everything works correctly, with no leaks or damaged areas. If there are any issues, these must be addressed before focusing on cosmetic changes. Plumbing, structural and electrical upgrades can be costly repairs, so being aware of these issues upfront is important.
The good news is that if you find a problem and repair it you may significantly increase the value of your home.
Decide if you need a new layout, more room or just an update to the current design. This will help you determine your costs and budget.
If you have basic carpentry skills, you can probably handle the small changes on your own. When it comes to tearing out walls or moving existing plumbing, you will likely need to hire a contractor and plumber.
The average cost of a new bathroom remodel can vary widely, depending on the age of the home and how much plumbing or electrical work is required.
Changing fixtures and adding a backsplash is much less costly than replacing everything, but you can expect to spend $3,000 to $30,000 and above on a full remodel. For an upscale remodel, it'll cost around $83,000 according to a report by Remodeling Magazine, but you'll recoup around 53% of the cost in resale value.
Where can you see the biggest ROI?
New tile, an updated cabinet or fixtures and brighter, more natural lighting will appeal to buyers. Usability and adding a touch of luxury are other factors to consider with remodels that include the following:
Adding a Jacuzzi tub or steam shower in the master bath

Installing heated floors

Adding a double sink

Installing a shower seat

Adding storage
When choosing colors, stick with neutrals to allow the buyers to imagine themselves in the bathroom. The design should also be cohesive to the rest of the house. Avoid trendy materials and designs, which can look dated in just a few years.
Increasing the size of your bathroom, or at least making the room look bigger, is a great way to add value.
Replacing a tub with a glass shower gives the appearance of more room. Installing brighter light fixtures or adding wall sconces around the mirror is another way to make the room feel larger.
Adding a new bathroom
If you have unused space and not enough bathrooms, you may want to add a second or even third bathroom to your home.
This is a fairly complex project that will require a general contractor and several specialized experts. However, an extra bathroom may add value to your home and help it sell in the future.
To determine if this is feasible, you should choose what kind of bathroom you want to add and hire an appraiser to give you an estimate of how much value it will add to your home. 
If you don't want to pay for an appraisal, you can ask a realtor to compare your home's value to others in the neighborhood. If your planned changes will take your home above the average neighborhood value, you may want to scale back.
If you have equity in your home, using a home equity loan to pay for a bathroom remodel or addition makes sense.
With the favorable ROI of this type of project, a home equity loan is a good financing vehicle, with many benefits.
Regardless of whether you decide to update a current bathroom or add an extra room, value is just one factor to consider.
A new or upgraded bathroom should enhance your life in your home and help your home sell when it is time to move on.
Talk to a Discover Personal Banker today at 1-855-361-3435 to learn about a home equity loan and whether it makes sense for you.
Or, apply online now and see if you qualify in minutes. We'll show you what product options, terms, APRs, and monthly payments are available to you.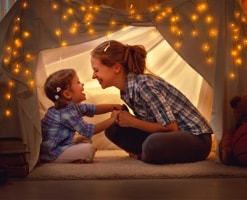 The home equity you've earned
can be used in a multitude of
ways. 
Main

Start your application online or give us a call.