Fixed Cost vs Time and Materials Contracts for Home Improvement Projects

When you start a home improvement project, you need to clearly articulate the project terms and conditions, just as you would with any business agreement. This provides you and your contractor with mutually agreed upon expectations for what you will include in your renovation, when phases of work will be completed, how much the project will cost and how any changes will be managed throughout the project. You may have the choice of creating an agreement as a fixed cost project or one with fluctuating costs based on the contractor's time and materials. While there are pros and cons to both kinds of contracts, a fixed project tells you exactly what to expect financially throughout.
Benefits of a fixed project contract
When you're renovating, there are several reasons to request a fixed price commitment from your contractor:
A realistic understanding of the cost helps you make decisions that include if and when you will do the work, what features you can afford and what you will postpone.

Your home improvement lender may ask for a written contractor's quote before approving your loan.

Getting fixed cost quotes makes it easier to compare bids among multiple contractors.

A fixed cost project helps you plan a monthly budget for the renovation, along with your other expenses.

To some extent, a fixed cost project forces the contractor to plan work in detail, which can reduce surprises.

Your expected costs are documented, so you have a clear agreement on what will be done, in addition to a written record that will be helpful if you and your contractor have a dispute during the project.
How a fixed cost project keeps renovation costs down
Working with a fixed cost project is one way to keep overall renovation costs down. Because there is a detailed budget upfront, the contractor is less likely to forget or underestimate critical items in early planning that have to be added at an additional cost later.
The project scope is everything that is understood to be part of the project as agreed upon between you and your contractor. "Scope creep" is a common project management issue. Either the client or the contractor begins to add features to the project plans, expanding the scope, often making changes with only a brief conversation or phone call. Individually, these items may seem like minor changes.
However, the costs and time for these changes can quickly add up, with a significant increase to the overall project cost. When you work with a fixed cost project, any changes in scope must be articulated and agreed to by both parties before any extra work is done.
The alternative to a fixed cost project: A time and materials contract
Not all contractors will offer a fixed cost project contract. Instead, they may request that you pay for time and materials, plus some markup. Some contractors prefer this type of contract so that they have upward contingency if material prices increase or if project tasks are complicated and require more labor hours than originally anticipated.
One benefit of a time and materials contract is that it provides a lot of flexibility to your project if you don't quite know what you want yet. However, the risk of uncontrolled project costs can be high, so you'll need to work closely with your contractor during a time and materials project.

How can you protect yourself from runaway renovation project costs?
Contractors who have been able to compete in the market for years are generally successful because they've demonstrated that they're trustworthy. Nevertheless, with a major investment like a home renovation, it's important that you control the situation by not assuming that everything will happen as discussed. Here are some tips to help control your project costs.
Before committing to a contractor, get references on the company's quality, reliability and financial responsibility. Many homeowners find that word-of-mouth recommendations from satisfied neighbors are very helpful.

Be sure to put the project terms and conditions in writing. This includes due dates, costs, any required material choices, and penalties for missed deadlines and how changes will be managed.

Maintain frequent communications with your contractor, including ongoing reviews of project costs and the level of completion.

Make a small down payment, generally about 20 percent, and set up payments as milestones are completed, rather than paying the full amount upfront.

Use a fixed cost project contract.
As always, do your research and talk closely with your contractor to ensure you have the right kind of contract to meet your project needs.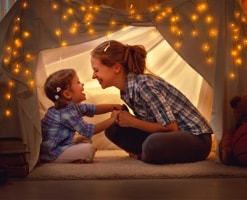 The home equity you've earned
can be used in a multitude of
ways. 
Main

Start your application online

or give us a call.
Main

Start your application online or give us a call.