Changes in Rates: How Important Are They?

If you are planning to buy a home in the near future, you may be concerned by talk of rising interest rates. Perhaps you worry that the higher rates will force you to settle for less than your ideal home or may even affect your ability to buy a home. But just how important are interest rates? How closely should you follow them as you start the home buying process?
Should Interest Rates Be Considered When Choosing between Lenders?
If you are shopping around for a lender, you may see different advertised interest rates. Before you start comparison shopping based on these numbers, consider the following:

Most differences in mortgage rates will be minimal, usually one-eighth or one-quarter of a percentage point. This difference will not have a significant impact on your monthly payments. Although your rate and monthly payment is most certainly a large factor in which lender you choose, it is also important to focus on the level of service they can provide. You should look at how knowledgeable they are on new laws and regulations regarding home loans and ask about the speed of the process before making your final decision. Being delayed several months in closing may ultimately be more detrimental than paying a fraction of a point in rate.

In many cases, the advertised rate is not what you will be paying. It may be the best rate that is offered, while the actual rate will be affected by the specific loan program you choose, your credit and other factors.
Where Should You Focus?
Of course, Annual Percentage Rate (APR) matters and is one of the most important drivers of the monthly payment.  But, when shopping for a lender, you should also focus on quality service. Here are some things to evaluate when choosing your lender.
The lender's reputation
Ability to provide guidance for a smooth transaction

Other costs, such as points, fees and APR (see below)
Points
Points, often known as discount points, are defined as interest that is prepaid to the lender at closing, which generally reduces the interest rate and lowers the monthly payment. Generally, one point is equal to one percent of the loan amount. For instance, on a $200,000 loan, you would pay $2,000 to reduce the interest rate by one percentage point.
Fees
You may have to pay other fees to process the loan. Some of them are standard, such as title insurance and appraisal fees, while others may vary by lender. All lenders are required to provide what is known as a "Loan Estimate" which is a document that includes the terms of the loan (APR, loan term and monthly payments), lender fees, title charges, pre-paid interest, mortgage insurance and any other closing costs. Although this document only provides an estimate, it allows you to compare lenders and their anticipated costs associated with getting a mortgage.
Annual Percentage Rate (APR)
The APR includes discount points, lender fees and mortgage insurance, if required. It will be slightly higher than the nominal interest rate for a loan, in most cases.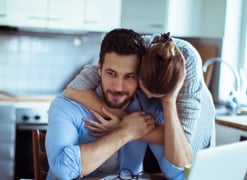 Find your low,
fixed rate

Use our Rate Calculator to find the rate and monthly payment that fits your budget.
Main

Start your application online

or give us a call.
Main

Start your application online or give us a call.