Buying a home for personal and business use

Many well-known companies started out as home-based businesses. This is good news if you are considering becoming a home business owner.
However, that doesn't mean it is easy. There are a number of things to consider if you are buying a home with this goal in mind.
Evaluate Your Business
The first step is to determine what type of business you plan to launch. It's a good idea to create a business plan that identifies your goals in working from home for the next few years. Many businesses can be successfully run from a home, including but not limited to the following:
Auto mechanic

Electric, plumbing or other repair shop

Babysitting or daycare

Tutoring/teaching specialty classes such as piano, dance, etc.

Selling products


Technology services

Graphic design

The type of business you choose will determine the needs and 

requirements for your space.
Identify Potential Restrictions 
Before you begin looking at homes in the area where you want to live, find out if the city or county has any zoning laws or restrictions for having a home-based business. You could be required to have a business license.  In some locations you may be prohibited from conducting any kind of business from your home.  Seeking out a lawyer and / or an accountant may also help you understand the legal and tax benefits of a home office.
Some common restrictions include: 
Prohibitions from changing the exterior of your home for business use

Prohibitions from conducting business outside the house

Restricted signage

Restricted parking


Prohibited noise or odors

Prohibited use of some hazardous materials 
Choose the Property 
Once you have determined that your business is permitted in the neighborhood where you want to buy, your next step is selecting the right home. In addition to the usual list of must-haves and wants, you have a new selection of requirements to consider.
Will you need a dedicated office space or workspace? How much room do you need for supplies and products?
If you have clients or customers coming to the house, where will they go? You may want a separate entrance away from the living area, or even a waiting room. You also need plenty of room for parking.
Privacy is another potential issue, both for your family and your clients and customers. Your family may need a separate living area away from visitors, so they are not interrupted by clients coming to the house. At the same time, you also must consider the privacy of your clients. You'll need a system to keep confidential information out of view, as well as a private area to conduct meetings.
Consider Costs
Before putting in an offer on a house in the perfect neighborhood that has great potential as a home and business, think about the costs involved. Make a list of all items that need to be changed or adjusted and the expense associated with each. This will help determine the affordability of the house. If alteration costs are too high, you may decide to pass and look for a property that more closely meets your needs. Combining a property as a home and business can be complicated. If you can invest the time to find the right place and the expense to make it work for you, it is an achievable goal. After all, many successful businesses began just the same way.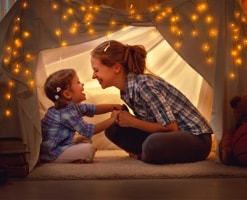 The home equity you've earned
can be used in a multitude of
ways. 
Main

Start your application online

or give us a call.
Main

Start your application online or give us a call.