What is an FHA 203(k) loan?

Are you a home buyer or homeowner looking for a way to finance a renovation project? Look no further than FHA 203(k) loans.
We'll dive into what these loans are, the different types available, the requirements to qualify for one, and explore the pros and cons of taking one out.
What are FHA 203(k) loans?
FHA 203(k) loans are a special type of loan program offered by the Federal Housing Administration (FHA) as part of the U.S. Department of Housing and Urban Development (HUD) that allows home buyers and homeowners to finance both the purchase or refinance of a property and the cost of necessary repairs, renovations, or rehabilitation.
Types of FHA 203(k) loans
There are two main types of FHA 203(k) loans available:
Standard 203(k) loans: This option is suitable for larger renovation projects that require structural changes or extensive repairs. With a Standard 203(k) loan, you can borrow more money — up to the FHA loan limit for your area. The minimum amount required in renovation costs for taking out a Standard 203(k) loan is $5,000.
Limited 203(k) loans: Also known as the Streamlined 203(k) loan, this option is designed for smaller improvement projects with a maximum repair cost of $35,000. Limited 203(k) loans have a simplified application process and may come with fewer documentation requirements compared the Standard 203(k) loans.
When applying for either type of loan, you will typically find that HUD-approved lenders offering FHA 203(k) loans offer terms of 15 or 30 years with either fixed rate or adjustable-rate options, depending on the lender. The total mortgage amount will be determined off the projected value of your property once renovations are complete and will consider the cost to complete the work. Some of the loan will go toward either the purchase price of the home or to pay off the existing mortgage in the case of a refinance, and the remaining funds will be deposited into an interest-bearing account for you to receive in stages throughout the duration of the improvement projects.1
Requirements and qualifications
To qualify for an FHA 203(k) loan, you will likely need to meet the following requirements: 1
Credit score: Generally, a credit score of at least 580 is required, although some lenders may accept lower scores.
Down payment: The minimum down payment typically required can be as low as 3.5% of the total cost of your home purchase or refinance, including both the home price or existing mortgage balance and the costs for renovations.
Debt-to-income (DTI) ratio: HUD expects lenders to evaluate two ratios related to your DTI when you apply for an FHA 203(k) loan. First, your Mortgage Payment Expense to Effective Income ratio must typically come in at below 31%. This accounts for the expectation that the mortgage you'd like to take out should come with a payment that does not exceed that percentage of your total monthly income. Next, your Total Fixed Payment to Effective Income ratio generally should not go over 43%. This means that all your debt payments including your mortgage payment should stay below that amount. There may be cases where higher percentages are allowed, but you will need to consult with your lender to see what is possible.
Occupancy: The property must be your primary residence.
Repayment ability: As is the case with most forms of loan financing, you will be expected to demonstrate the ability to repay the loan. Lenders typically review your income and debt-to-income (DTI) ratio to determine this.
Contractor qualifications: Contractors hired to perform the renovations must be licensed and insured.
There are also requirements around the type of property you can take out an FHA 203(k) loan to renovate. Eligible homes include:2
Single family homes and single family homes with eligible accessory dwelling units (ADUs)

Residential two- to four-family units

Townhouses

Homes or Real-Estate Owned properties under HUD

Primarily residential (51%) mixed-use properties

Eligible condos and site condo units where only interior improvements are made

In cases where rehabilitation or renovation does not affect structural components such as a foundation, manufactured homes titles as real estate are eligible
Types of projects eligible for FHA 203(k) loans
Here are some common types of projects that an FHA203(k) loan can be used to fund: 3
Structural repairs: If your property requires significant structural repairs, such as foundation work, roof repairs, or HVAC system replacement, you can use one of these loans to finance these expenses.
Room additions or conversions: Whether you want to add a new bedroom, convert a garage into a living space, or create an additional bathroom, and FHA 203(k) loan can help you finance your plans to expand your home. Make sure to consult with a contractor or engineer to ensure that the structural integrity of the property is maintained when undertaking these projects.
Energy efficiency improvements: With an emphasis on sustainability, FHA 203(k) loans allow you to invest in energy efficient upgrades for your property. This can include installing new windows, upgrading insulation, adding solar panels, or replacing outdated appliances with energy-efficient alternatives. These improvements not only help the environment but may also save you money on utility bills in the long run.
Cosmetic enhancements: These loans can cover cosmetic improvements such as painting, flooring replacement, and kitchen and bathroom remodeling. These enhancements can freshen up your property's aesthetics and potentially increase its value.
Health and safety upgrades: FHA 203(k) loans place a strong emphasis on ensuring the health and safety of the occupants. As such, these loans can be used to fund projects that address health hazards or safety issues including removing lead-based paint, asbestos abatement, or repairing electrical and plumbing systems.
Accessibility modifications: For individuals with specific accessibility needs, you can use this type of loan to make modifications to your property that make it more wheelchair friendly or handicap accessible. This may involve installing ramps, widening doorways, or adding support bars in bathrooms.
Landscaping and outdoor improvements: In most cases, enhancing the outdoor space of your property is a possibility with an FHA 203(k) loan. Whether you want to create a beautiful garden, build a deck, or add a fence for privacy and security, these loans may provide the necessary funds to turn your outdoor vision into a reality.
Unfortunately, you cannot use funds from these loans to add luxury features to your home such as tennis courts or swimming pools.
Pros and cons of FHA 203(k) loans
Before deciding to purchase a fixer-upper, you should understand the scope of the work that will be involved. Talk to your lender to find out if the FHA 203(k) loan is offered and what you need to do to qualify. With the right preparation and foresight, this loan product can be a great way to get the home of your dreams at an affordable price.
Pros
One loan: FHA 203(k) loans combine the cost of purchasing or refinancing a property with renovation expenses. This simplifies the financing process by providing one loan with one monthly payment for both aspects.
Lower down payment: With a minimum down payment requirement of just 3.5%, this type of loan may be more accessible than alternatives.
Flexible use of funds: You can use the funds to make a wide range of improvements, including structural repairs, energy-efficient upgrades, or cosmetic changes.
FHA backing: These loans are insured by the FHA, which typically gives lenders more confidence in approving the loan.
Cons
Strict appraisal requirements: FHA 203(k) loans require an appraisal to determine the value of the property, which can lead to complications if the value comes in lower than expected. Depending on your lender, you may also have to pay the fee for an appraisal.
Not for investment properties: Though it might sound like a perfect opportunity to expand your real estate holdings, these loans cannot be used for investment properties due to the requirement that they be taken out for a principal or primary residence only.
Additional fees and costs: There may be upfront fees, mortgage insurance premiums, and other costs associated with FHA loans.
Limited lender options: Not all lenders offer FHA 203(k) loans, so you may need to spend time researching to find the option that will work the best for your situation.
Alternatives to FHA 203(k) loans
If you've checked out the options available for an FHA 203(k) loan and haven't found one that meets your needs, there are alternatives available:
Home equity loans or lines of credit: If you want to take on some home improvements and you have built up enough equity in your property, you can tap into it by taking out a home equity loan or line of credit. A traditional home equity loan typically comes with a fixed interest rate, and you receive the funds as a lump sum once the loan closes. A home equity line of credit (HELOC) usually carries a variable interest rate, and works more like a revolving line of credit or credit card — allowing you to withdraw money as you need it. Getting a better picture of how much your renovation costs and what you can afford to pay back may help you decide which of these two loans might work best for you. Please note that Discover® offers a home equity loan product with no appraisal fees, no origination fees, and no cash due at closing but does not offer HELOCs.
Cash out refinance: If you've already purchased a home and have an existing mortgage, a cash out refinance helps you to refinance into new loan terms and withdraw cash from your equity to pay for renovations. The cash you receive from the larger loan amount can be used any way you like and may help you consolidate high-interest debts as well as afford to finish up home improvement projects.
Personal loans: You can typically receive funds from personal loans quicker than from other alternatives because they do not require an assessment of any collateral to take out. However, in exchange, personal loans typically have shorter repayment terms, lower maximum limits, and higher interest rates than loans secured by your property.
Closing thoughts: FHA 203(k) loans
FHA 203(k) loans provide a convenient and accessible option for financing home renovation projects. Whether you choose a Standard or Limited loan, carefully consider the pros and cons to determine if it's right for you. If not, explore alternative financing options to find the one that best suits your needs. Remember to consult with lenders and mortgage professionals to ensure you make an informed decision. Happy renovating!
Please note: Discover does not offer FHA 203(k) loans.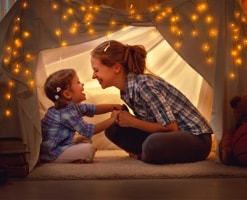 The home equity you've earned
can be used in a multitude of
ways. 
Main

Start your application online or give us a call.