What is a FHA 203(k) Loan?

A FHA 203(k) loan is a home loan that allows you to purchase a property that needs repairs or updates. This type of loan covers not only the property price, but also the cost of the work required. Read on for some information to help you better understand the FHA 203(k) loan and how it might fit your needs.
Types of FHA 203(k) Loans
Choose from the two types of FHA 203(k) loans. The streamlined loan is most commonly used. Designed for non-structural work, it allows you to make smaller-scale repairs. No architectural drawings are required and you do not have to use an architect or general contractor. The second type of loan, the regular FHA 203(k) loan, is designed for homes that need structural work.
Some of the repairs and upgrades that are covered under the FHA 203(k) loan include:
Flooring

Roof replacement or repair

Bath remodeling

Insulation

New HVAC

Plumbing and electrical upgrades

New appliances
This is just a partial list; other repairs or updates may be allowed, but it is important to discuss any proposed renovations with your lender.
Requirements and Limitations for the Streamlined FHA 203(k) Loan
The FHA 203(k) loan is limited to $35,000 in repairs. This is a nationwide figure regardless of where the property is located. The lender requires an appraisal of the expected value after completion of upgrades and repairs, along with detailed documentation of any planned work.
You will need to get bids from licensed contractors to estimate the cost of repairs. Once the loan has been approved and finalized, the proceeds are held in a fund to be released as the work is completed.
The FHA 203(k) loan is limited to single-family residences between one and four units; it excludes other types of property, such as mobile and manufactured homes. However, you can use a FHA 203(k) loan to complete work in the residential portion of a combined property.
Benefits of a FHA 203(k) Loan
Choosing a fixer-upper property may allow you to buy a bigger house than you could normally afford. You can make the upgrades that are most important to you, resulting in a home that is customized to your specifications. This loan is also an option for current homeowners who need to make repairs, either to enjoy the end result or to sell for a better price.
With a streamlined FHA 203(k) loan, you can do some of the work yourself. However, before getting approval, you must provide detailed information about the entire renovation or repair project, including the portion you intend to do, and prove that you can complete a professional quality job.
You must also get a thorough property inspection to identify all potential issues, so you can decide what can be fixed within your budget. You also need a contingency fund to cover further issues that may be found in the midst of the project. Also consider that you may have to live in the home during the renovations or pay to stay elsewhere until the work is completed.
Before deciding to purchase a fixer-upper, you need to understand the scope involved. Talk to your lender to find out if the FHA 203(k) loan is offered and what you need to do to qualify. With the right preparation and foresight, this loan product can be a great way to get the home of your dreams at an affordable price.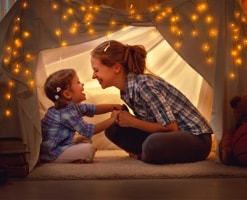 The home equity you've earned
can be used in a multitude of
ways. 
Main

Start your application online

or give us a call.
Main

Start your application online or give us a call.