Can you use a HELOC for a down payment?

Please note: Discover® Home Loans offers a home equity loan product, but does not offer HELOCs.
Home equity lines of credit (HELOCs) can save the day if you want to undertake an extensive renovation or repair in your home.
However, HELOCs can help with more than that. Their flexibility allows you to apply them to various expenses, including a down payment for a second property. This approach is unconventional, but, in some cases, it could be a wise financial decision.
What to know about using a HELOC as a down payment
Aside from financing repairs or renovations, a HELOC can be used to cover a second mortgage.

While uncommon, some people benefit from this mortgage strategy.

In many cases, the costs of using a HELOC as a down payment outweigh any benefits.
Traditionally, people use second mortgages like a HELOC or a home equity loan to quickly access cash. Both mortgage products use your home as collateral and require a minimum amount of equity in your home. So, while determining whether using a HELOC for a down payment is right for you, keep in mind that defaulting on the loan could lead to a foreclosure on your home.
How do home equity lines of credit work?
HELOCs are secured revolving lines of credit, meaning you can access cash as you need. Lenders approve you for a fixed credit limit based partially on your home equity. You can borrow from it as often as you need during your draw period, which can last up to ten years. During the draw period, you typically have to make interest payments.
Because you can repeatedly borrow from your HELOC, they offer flexibility. As a result of that flexibility, many borrowers use HELOCs for large-scale home renovations that might include unanticipated expenses. However, as revolving lines of credit, HELOCs can cover multiple unique needs for your home and beyond. If you're purchasing a new property and you're concerned about upfront costs like your down payment, a HELOC can help.
When you open a HELOC, your lender takes out a lien on your home until you repay your HELOC, making them secure loans. With your home acting as collateral, lenders can begin the foreclosure process if you cannot repay.
Using a HELOC for a down payment
Using a HELOC to cover your down payment makes more sense in some situations than others. A HELOC's flexibility makes it especially useful for investment properties. Coming up with the down payment for properties you plan to flip or rent out to other tenants can be tricky. A HELOC can pay the down payment quickly, closing the gap between when you purchase a property and when it starts making money.
You can also use a HELOC to cover the down payment for a new personal home that you plan on living in. You may not want to wait until your current house sells before you buy your next home, or you may have to relocate within a specific timeline for a new job. If you're ready to move, a HELOC can help you bridge the time between selling your old home and purchasing your new one.
Pros and cons of using a HELOC for a mortgage
While a HELOC could help you navigate challenging home-buying situations, borrowing money against your home's equity comes with some risks. Before applying, ensure you've weighed the benefits and the challenges to determine whether a HELOC is right for you.
Pros of using a HELOC for a mortgage
There are many advantages to using a HELOC for a down payment. A HELOC is relatively low risk to lenders because your home serves as collateral to secure the loan. As a result of that added security, lenders charge relatively low-interest rates on HELOCs compared to the unsecured lines of credit you might otherwise lean on, such as credit cards or personal loans.
As lines of credit, HELOCs also have advantages over home equity loans and other standard loans. With HELOCs, you only pay back the money you use (plus interest), and you aren't required to borrow the full amount available. Lenders may approve a high credit limit if you have substantial equity in your home and meet other requirements. Interest payments begin as soon as you use your HELOC, but you don't make full payments until after your term concludes.
Because you can borrow from your HELOC as needed, you can use it not only for a down payment but for move-in fees, repairs, and renovations in your new property. Even using HELOC to pay off a mortgage is possible. As long as you approach a HELOC with the same care as any line of credit by taking out only what you need and can repay, using a HELOC for a down payment could be a smooth process.
Cons of using a HELOC for a mortgage
While HELOCs can be a helpful tool for down payments and other mortgage expenses, it's important to understand their drawbacks. As you begin paying off your HELOC, you'll likely find that your bill fluctuates quite a bit over time. HELOCs have variable interest rates and payments, which can strain your budget. Some lenders offer discounted introductory rates that go up significantly over time, so it's important to consider how your rates could change. You might also owe a significant lump sum to cover the remaining debt at the end of your term.
Like mortgages, HELOCs come with closing costs, including underwriting, appraisal, and application fees that can add up to 5% of your loan. Depending on your lender, you might have to pay additional fees for transactions and terminations. HELOCs also reduce the equity you have in your home until they're paid in full.
Of course, the risk of foreclosure presents another major downside of using your HELOC for a mortgage. If you fail to make payments, lenders can initiate the foreclosure process. Ensuring your finances are stable before you take out a HELOC can help mitigate this risk. It's always important to research and speak with a professional before you take on a HELOC or any loan.
Final thoughts: Using a HELOC for a down payment
While uncommon, there are times when using a HELOC for a down payment could make financial sense. Funds from a HELOC or home equity loan could provide a financial cushion when moving from one home to another, or provide the initial money needed to purchase an investment property.
Using a HELOC for a new mortgage does come with risks, though. HELOC payments increase over time, which could lead to strained budgets down the road. If you can't make payments on your HELOC, it could lead to losing your home.
Knowing the risks of HELOCs is important, but so is making sure that the product is right for you. Before committing to a HELOC or another type of mortgage, shop rates and terms with different lenders.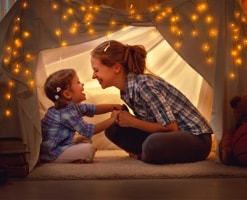 The home equity you've earned
can be used in a multitude of
ways. 
Main

Start your application online or give us a call.