Tips for First Time Home Buyers

Buying a home for the first time can be a bit daunting. After all, it is a major investment. You'll want to take time to assess all aspects of your decision, especially how much house you can afford. Here are some tips for possibly making it an easier experience.
1. Get Preapproved for Credit
A good first step is to meet with a mortgage lender to get preapproved for credit. The mortgage lender becomes the first person on your "buyer's team." People often delay this step, fearing that some issue will prevent them from qualifying. However, your mortgage lender can pinpoint any potential problems and guide you through the process with one of these approaches:
No problems. Proceed with preapproval for credit.
Quickly resolve minor issues and begin preapproval process.
Delay the process to resolve larger issues.

During the preapproval for credit process, you'll find out how much you may qualify for and what your possible monthly payment may be, including principal, interest, taxes and insurance (PITI). Then, you can plan for the closing costs and costs of ownership.
Discuss your needs and wants with your mortgage lender, who will then help you find the best loan program for your situation and comfort level, such as a "no-money down VA or USDA loan" or a conventional loan.  Being preapproved gives you a head start, so when you find the right house, you'll be ready to buy.
2.  Add a Real Estate Agent to Your Team
Once you're preapproved for credit, it's time to find a qualified real estate agent. Ask other recent buyers for recommendations and look at Realtor signs in areas of interest. Mortgage lenders often have agent connections. An experienced real estate agent knows the market, can recommend specific homes in preferred neighborhoods and can provide pricing guidance. While real estate agents usually represent the seller, they value their reputation in the industry, so they will not want to risk a bad transaction for you as a buyer. Alternatively, you can decide to use a real estate agent that represents you, the buyer.
3.  Add an Inspector to Your Team
When you've found a house you want, your real estate agent and mortgage lender will be there to assist you as you move forward. Next, you'll need to find a good home inspector. After making an offer, you have a window of time in which you can back out if the home doesn't pass inspection or if the house doesn't appraise adequately.
Your mortgage lender can assist you and provide information that will help you make informed decisions. For example, if the house doesn't appraise high enough to meet the Loan to Value requirements but meets every item on your wish list, your lender may suggest a loan in which you'll put more money down to decrease the loan size, and the loan-to-value may then be acceptable.
In another example, the inspection might identify improvement needs that you didn't notice yourself. You might decide that repair costs are manageable for your budget or you could negotiate for some or all of the costs to be covered by the seller.
Buying a house is not a simple process, especially for someone who has never experienced it. You'll find value in working with a team of experienced and trusted advisors who can help to take some of the complexity and uncertainty out of the experience.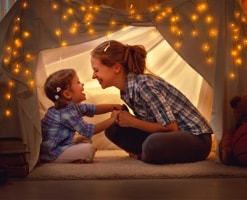 The home equity you've earned
can be used in a multitude of
ways. 
Main

Start your application online

or give us a call.
Main

Start your application online or give us a call.