The Real Cost of Refinancing Your Home Mortgage

Many homeowners love the idea of refinancing their mortgage to grab cash for both financial needs and wants. Sure, there may be some paperwork and costs involved, but the positives certainly seem to outweigh the negatives.
For instance, here are some pretty good reasons to refinance:
All of these advantages come with opportunities to save money, which you can then use to achieve your other financial goals.
However, you may not know all the factors that could influence a refinance like closing costs and other fees. Here's a breakdown to help you decide if refinancing is right for you:
Typical costs to refinance your home mortgage
There's no one typical or average cost to refinance your mortgage. Your closing costs will depend on the type of loan you want, your loan amount, where you live, the fees applicable to your loan, and whether you choose to pay discount points to lower your rate, among other factors.
Moreover, refinancing costs can vary widely. For example, an appraisal of a modest home in a small town might cost as little as $300, while an appraisal of a large or custom home in a major metropolitan area might cost $600 or more.
This checklist shows most of the refinance closing costs you may be charged:

Discover Home Loans offers a mortgage refinance option with zero origination fees, zero application fees, and zero cash due at closing.
Refinancing with no closing costs
In some instances, borrowers complete a no-closing-cost refinance because they don't want to pay closing costs out of pocket. Instead, the lender pays the closing costs or adds them to the loan amount. A loan with lender-paid closing costs typically will have a slightly higher rate.
There are some lenders, such as Discover® Home Loans, who charge no fees at closing and also keep fixed rates low.
5 Tips to lower your refinancing costs
Whether you pay your closing costs in cash or choose a no closing costs refinance, you'll want to take advantage of opportunities to lower your costs to refinance.
Here are five strategies:
Negotiate with your lender

. Some lenders offer special promotions for homeowners who refinance. Ask your lender what the current offers are and if you're eligible.

Shop around

. Refinancing costs can vary, sometimes dramatically, from one lender to another. You should shop around and compare offers before you select a lender.

Ask your lender to waive your appraisal

. If you have a comfortable equity cushion and you're not taking cash out when you refinance, your lender may be able to waive your appraisal and rely instead on an automated valuation.

Ask for a title policy discount

. If you bought your home relatively recently, you may be able to pay a reduced fee to have your existing title policy reviewed and reissued.

Ask for a streamlined refinance loan

. If you have a government-backed mortgage loan and you want to refinance with the same type of loan, you may be eligible for a simplified, or "streamlined" refinance, which can involve lower closing costs.
Making the refinance decision



For many homeowners, a no-closing-cost refinance makes the should-I-refinance question a no-brainer. With no closing costs, you can focus instead on whether refinancing will improve your financial situation and help you accomplish your goals. If you decide to choose a lender with closing costs, that's fine, too, as long as you are armed with the numbers to understand your cost to refinance and make the decisions that are right for you.
Discover's online mortgage refinance calculator can help you estimate how much lower your monthly payment might be if you refinance today.
Discover Home Loans has low, fixed rates. See the current rates here.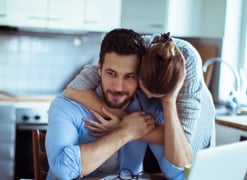 Find your low,
fixed rate

Use our Rate Calculator to find the rate and monthly payment that fits your budget.
Main

Start your application online

or give us a call.
Main

Start your application online or give us a call.