Remodeling projects that fit your home's architecture – Ranch Style Home
Home improvements can be a fun way to makeover your home, but the wrong sort of improvements could clash with the style of a house and upset the overall feel. Here are some home improvements that are tailored to the ranch style home. Take a look at your home style and get your creative juices flowing.
Ranch-Style – AKA "American ranch, California ranch, rambler or rancher"
The ranch style home is usually one floor divided into a living wing and a sleeping wing. It is often characterized by an "L" or "U" shaped design and an attached garage. A common variation of the ranch home is a split-level ranch house. The ranch home gained popularity beginning in the 1950's, and is most popular in central Midwestern states as well as several Western states including California, Washington, Wyoming, and Utah.
1. Expand into the garage
Most ranch homes are built on one floor, and aren't known for a high square footage.

To increase the living space, consider expanding into the garage, turning it into a family room, office, or even bedroom.
2. Push the ceiling up
Many newer ranch style homes are built with high ceilings, but most built between the 1950's and 1970's had lower ceilings.

Consider speaking to an architect about expanding the homes' ceiling higher, especially in the main living areas such as a family room, dining room or kitchen. This will make the home feel much more open.
3. Consider the walls
For more space, consider converting some of the wall space into extra everyday storage space.

Thick walls can be converted into useful pieces of furniture. For example, if you have a thick wall in a living room, you could convert it into bookshelves by building them into the wall.

If you have thick walls in the kitchen, you can do the same thing but turn them into a pantry shelves.

This type of improvement will take away the need for free standing shelves, making the home feel bigger.
4. Remove a wall
Another way to open up the home would be to remove a wall (or multiple walls) in the home.

For example, if the kitchen and dining room are divided by a wall, consider getting the wall removed to open up the home.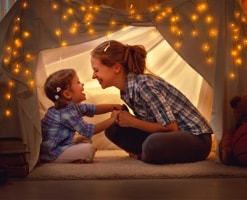 The home equity you've earned
can be used in a multitude of
ways. 
Main

Start your application online

or give us a call.
Main

Start your application online or give us a call.