Remodeling Projects That Fit Your Home's Architecture – Pueblo Style Home

Pueblo Revival
Pueblo revival style homes usually use earthy materials such as adobe, concrete, stucco or mortar, and large wood beams. Enclosed courtyards and flat or sloping roofs are also typical of pueblos. They are influenced by the ancient Pueblo Native Americans' simple multi-family homes. Their popularity began in the early 20th century, and they're most prominently found in Arizona, New Mexico and Southern Nevada.
1. Add a Corner Fireplace:
a. Most pueblo homes use a corner fireplace to help heat the home.
b. If yours doesn't, adding one should add to the feel of the home.
2. Exposed Interior Timber:
a. Exposed timber is also very common.
b. Most are built with some exposed timber, but one way to augment the look and feel of this home is to add more.
c. Adding timber to the corners of walls is a good place to start.
3. Brick or Wood Flooring:
a. Pueblo revival homes often have either brick or wood flooring.
b. If your home has carpet, replacing it with brick or wood will evoke the original style of the home.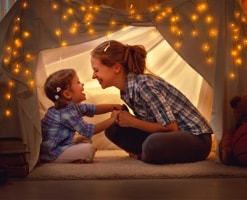 The home equity you've earned
can be used in a multitude of
ways. 
Main

Start your application online

or give us a call.
Main

Start your application online or give us a call.