Making Your First Offer on a Home: What You Need to Know

You're hoping to join the ranks of other homeowners and are understandably excited after finding the perfect place. However, the process of making an offer on your dream home can still be a bit tricky. Stay calm and be smart with these tips.
Leverage Your Buying Position with Preapproval
The ability to disclose that your credit is preapproved for a home loan provides a great vote of confidence for the seller. When your chosen mortgage company preapproves you for a loan, their staff has gone through the same standard checks as they do for full approval—your assets and incomes are scrutinized and verified. All that is usually left are issues related to the home you select.  This really ups your negotiating power.
Word to the wise: "prequalification" for a home loan only constitutes a basic letter from a potential lender that essentially shows a range of home prices that could work given a minimal credit check on your file. However, a reputable mortgage lender can and will provide a preapproval of your credit by request.
Review a Blank Purchase Contract
Throughout the process of making your offer, the purchase contract—or proposal—that guides the transaction is a document you'll want to refer to again and again. Working in concert with your real estate agent, the purchase contract defines the basics, such as location, the seller's identity and your identity.
The contract also protects you legally. It's your chance to set a limit on your maximum interest rate in order to insulate yourself from a fluctuating market with a mortgage contingency clause. This clause lets you out of the contract if you cannot find a mortgage loan within a specified range of rates and/or within a certain time period.
Price vs. Terms
A first offer is the first step in what is often a back-and-forth offer and counteroffer negotiation of price versus terms. A lot of this is pretty straightforward: the closer your offer stays to the seller's asking price, the more terms you can demand and vice versa.
Although a standard offer is dependent on you being approved to finance a home, the inspection by a professional, and a green light on your lender appraisal, you might be surprised by how many purchase contract terms can be negotiated. Here are just a couple of examples of ways you can work out amenable terms in your offer: you could request proration on property taxes or homeowner's fees, or you could request that the seller work with you on the closing costs. You could also ask that the amazing Viking range in the kitchen be included with the sale. Chat with your agent about other terms that might be perfect for you and your situation.
When it comes to price, a great rule of thumb is to gauge your own priorities for the initial offer. You know what is affordable for you and your family, but your seller does not. Many experts advise you to leave yourself some wiggle room in the initial price offered, but in a seller's market, you could risk losing your shot. Make an offer based on what you can afford and how much you have your heart set on this home. By doing your research about sale and list prices in your desired neighborhood, you can piece together an accurate picture concerning the fairness of the seller's price.
Your real estate agent should also be an invaluable asset to you in this stage of the process. After all, they work with home prices all day.
Every real estate market is different: some are intensely competitive and require decisive, aggressive offers right off the bat. Others allow more time for contemplation. On average, the listing price of a home on the market is 6% higher than the eventual sales price, but take this with a grain of salt. It's much smarter to research the statistics on sale and listing differentials in your area for yourself. Generally, unless a home has been languishing on the market for some time, offering a purchase price below a 5% drop from the listing price will not cut it.
Finalize Your Purchase Contract
Now is the time to personalize your contract by working with your agent to define all the nitty-gritty details of your offer, ranging from the amount of your deposit to the purchase price you've offered and how much your home loan will be.
Your purchase contract should also define your terms: What is the deadline for you to receive a response? What are the deadlines for you to receive financing on your loan and close? What day is it acceptable for you to show up in the driveway with your moving van? All of these questions are decisively answered in your contract.
This document is highly negotiable, so keep in mind that this is your shot to create your ideal first offer, even if you will end up changing some of the terms as the sales process moves forward. Be sure to go over your purchase contract carefully with your real estate agent and lawyer before submitting it to the seller so you can raise any concerns early on.
Hire an Inspector
Although a complete home inspection is part of escrow, be sure to facilitate an independent inspection of your own before you move forward on your offer. The law is on your side here, because in the majority of states, the seller must disclose any known defects or incidentals that could affect the value of the property. You can further define in your purchase contract whether or not your offer will proceed in the case of significant structural problems.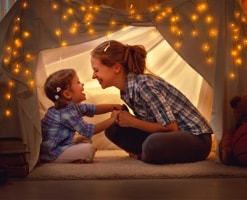 The home equity you've earned
can be used in a multitude of
ways. 
Main

Start your application online

or give us a call.
Main

Start your application online or give us a call.