How to get a HELOC online

Please note: Discover® Home Loans offers a home equity loan product, but does not offer HELOCs.
A home equity line of credit (HELOC) is a revolving credit line that you can use for large expenses, to consolidate your higher interest debt, or for home renovations. While HELOCs typically come with lower interest rates than some other common types of loans because they are secured by the collateral of your home's value, they often have variable interest rates that can change over the life of the loan.
Similar products like home equity loans or cash out refinancing can also be used to tap into the equity in your home and can often come with fixed interest rates.
You can usually apply for a HELOC online, and many lenders allow you to receive and repay the line of credit through online accounts.
However, you may be required to have your home appraised in person and will also need a notary when closing your HELOC.
Apply for a HELOC online
With most HELOC lenders offering online applications, it's simple to get started. You'll need your social security number, salary and employment information, and estimated home value along with your remaining mortgage balance.
Lenders will typically want to see that you have a minimum amount of equity in the property, meaning you've paid at least a certain percentage of your mortgage or the value of your home is a certain percentage above what you owe. They'll also want to see a credit score above a minimum level, though the specific number required varies by lender.
Receive approval and provide online HELOC documentation
Many online lenders offer same-day approval for your HELOC application, though some may take a few days to process your application. If your online application is approved and you accept the lender's HELOC offer, you'll need to verify the information you provided them. This can include submitting your:
Pay stubs

Tax returns

W-2s

Mortgage billing statement

Government issued ID
Many HELOC lenders will allow these documents (along with additional documents for you to review and sign) to be completed completely online.
The application process for home equity loans or cash out refinancing can also feature online submission for documentation and signatures.
Home appraisal will occur at your property
An appraisal lets the lender know the estimated value of your home to determine your equity (the difference between your home's value and how much you owe on it).
Some HELOC lenders may require an in-home appraisal, where someone comes into your home to determine its value. Other lenders may simply drive by your home to confirm it exists and appears to be roughly the value you reported. They may also consider the stability of your neighborhood, the property's condition, any public records, and other factors that contribute to the value of your home.
HELOC closing must be notarized
During the closing period, you'll have to have a notary, either at their office or at your home where they can witness you signing your HELOC documents. In some states, you might be able to use a remote notary. Some states' laws require you to have an attorney present as well.
Home equity lending: Online HELOC tools & applications
For some homeowners, using home equity to consolidate debts or finance home renovations is a fantastic opportunity.
While the process of applying for, processing, appraising, and notarizing your HELOC may have elements of online options, keep in mind that you should still read all instructions and requirements thoroughly to avoid any problems later.
Remember that you can always perform your home equity research online by comparing different lenders and reading additional information.
Discover Home Loans features online home loan calculators and resources to help you learn more about home equity lending and decide what works best for you.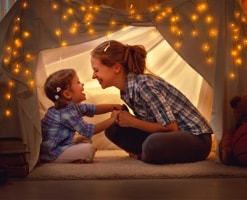 The home equity you've earned
can be used in a multitude of
ways. 
Main

Start your application online or give us a call.