How to Finance Home Improvements

Home improvements can increase your quality of life and the value of your home. An addition can provide some much-needed space for a growing family, new windows can lower energy bills and installing your dream kitchen can increase the resale value¹. You may be able to pay for a painting or rewiring job out of pocket, but for many people major home improvements require some sort of financing. There are many options out there for financing home improvements, each with its own benefits and drawbacks. Find out below which option is right for you.
Getting started with home improvement financing
Before approaching lenders, you need to have a realistic budget for the project. Once you've chosen your home improvement project the next step is compiling a budget. If you are doing the work yourself, draft a detailed list of materials costs (don't forget permit fees and equipment rental) and then add on 25% to cover unforeseen expenses. If you're hiring a contractor, ask for a firm bid broken down into labor and materials costs. Then add 10% to the bid total to cover unexpected overages. The total amount is what you should bring to any conversation with a lender.
What types of home improvement financing are available?
Credit Cards
Credit Cards are a better option to pay for home improvements when compared to cash2. This is because most cards provide some form of fraud protection and offer the leverage to pay the due amount in monthly installments rather than a lump sum. However, credit card APRs are often higher than other lines of credit and you may end up paying a large amount in financing charges if you can't pay the card off quickly.

Contractor Financing
Large contractor services sometimes offer financing as well. This route may seem convenient, but be sure to compare the rates they offer with other financing options and be sure the contractor isn't getting kickbacks from the lender. Also don't let your choice of contractor be swayed by whether or not they offer financing. Choose the right company for the important job of improving your home and then decide how to proceed with financing.
Home Equity Loans
Home equity loans allow the home owner to use the value of the home as collateral. Since a home equity loan is backed by collateral, the average interest rates are usually much lower than credit card APRs or other unsecured loans. This type of financing typically has a fixed interest rate, fixed payment term and fixed monthly payments. Along with lower interest rates, home equity loans have the added benefit that the interest payments on certain home improvements may be tax deductible (talk to your tax advisor to determine if you qualify). However, if you are unable to pay, you could lose your home.
Home Equity Lines of Credit (HELOC)
Unlike the lump sum dispersal of a home equity loan, home equity lines of credit allow the borrower to access funds as they need them, with home equity as collateral3. Usually you can spend the funds however you want (up to the credit limit) using special checks or a credit card. However, some credit lines have parameters around how much you can borrow each time or requirements for maintaining a minimum outstanding amount. As for repayment, some HELOCs require you to repay the entire amount at the end of the "draw period" while others allow you to make payments over another time period known as the "repayment period". This type of financing may have a variable interest rate, which means the amount you pay each month may fluctuate.
Personal Loans
If you don't have much equity in your home, a personal loan from your financial institution might be your best option for a major home improvement. Rates are typically lower than credit card APRs but unlike a home equity loan, the interest paid on a personal loan may not be tax deductible (talk to a tax advisor).
How do I qualify for home improvement financing?
Important factors in qualifying for home improvement financing include your credit score, income and the loan-to-value ratio on your home4. The loan-to-value ratio is the market value of your home minus all debt secured by the home. For example, if your home is valued at $200,000 and you have $100,000 left on the mortgage you have a loan-to-value ratio of 50%.
In general, higher credit scores indicate lower risk to financial institutions so lower credit card and personal loan rates will be available to individuals with higher credit scores. To understand more about how your credit score is typically calculated, visit the Discover Resource Center.
Financing your home improvement project doesn't have to be stressful. Talk to a Personal Banker about which home improvement financing option is right for you and also do your own research to compare rates between different financial institutions.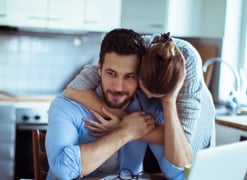 Find your low,
fixed rate

Use our Rate Calculator to find the rate and monthly payment that fits your budget.
Main

Start your application online

or give us a call.
Main

Start your application online or give us a call.