Renovating your home? Here's how to finance it.

Many homeowners might choose to remodel or renovate their homes to improve functionality, increase property value, or simply update the look and feel of their living spaces. If you're planning a home renovation, you're probably wondering how you'll finance it. Renovations can be expensive, and many homeowners often don't have the cash to pay for them outright. Fortunately, there are several options available that may help you fund your projects.
Understanding home renovation
Home renovation can be a complex process, so it's a good idea to understand the basics and get organized before you start your journey:
Define the scope of your home renovation project. Are you planning to remodel your kitchen or add a new room? Or do you just want to apply the same paint color throughout the whole house? Having a clear idea of what you want to accomplish will help you estimate the cost of materials and service providers you might need to hire to get the job done.
Set a budget for your renovation. Consider that the cost of labor and materials will typically be the biggest expense of a renovation project. Keep in mind that labor costs may vary depending on the complexity of the project and potentially the experience level of the contractors you're working with. Depending on the scale of your renovation or remodel, you may need to obtain permits from your local government, so it's important to factor these into your budget as well.
Consider your financing options. Because making home improvements may turn out to be a large expense, you'll want to have a plan in place to pay for pay for your project. This should include space to afford any unexpected costs that may come once the process has begun.
Research contractors and suppliers. Look for professionals with experience in the type of renovation you're looking to complete and be sure to ask for references and check credentials before signing any contracts. Also, compare the price of materials between multiple sources and ask for quotes from different contractors to better understand what your options are.
By understanding the basics of home renovation and about the projects you'd like to get done, you may increase the likelihood that you'll have a smooth and low-stress experience.
Financing your home renovation
When it comes to financing your home renovation, you have several options to explore and see what might be available to you. Here are some of the most common ways to finance your home improvements.
Use savings
If you have savings set aside, this may be a great source of funds for your project. By using money you already have in your bank account, you won't have to pay any interest charges or fees on a loan. Before you pull from your savings, consider leaving an amount that helps you feel prepared for emergencies.
Credit Cards
Credit cards may be a better option to pay for home improvements when compared to cash. Many cards have different forms of protection and offer the leverage to pay the due amount in monthly installments rather than a lump sum. However, credit card annual percentage rates (APRs) are often higher than other lines of credit and you may end up paying a large amount in financing charges if you can't pay the card off quickly.
Home equity loans and HELOCs
A home equity loan allows the homeowner to use the value of the home as collateral. Since a home equity loan is backed by collateral, the average interest rates are usually much lower than credit card APRs or other unsecured loans. This type of financing typically has a fixed interest rate, fixed payment term and fixed monthly payments. Along with lower interest rates, home equity loans have the added benefit that the interest payments on certain home improvements may be tax deductible (talk to your tax advisor to determine if you qualify). However, if you are unable to pay, you could lose your home.
Unlike the lump sum dispersal of a home equity loan, home equity lines of credit (HELOCs) allow the borrower to access funds as they need them, with home equity as collateral. Usually, you can spend the funds however you want up to the credit limit. However, some credit lines have parameters around how much you can borrow each time or requirements for maintaining a minimum outstanding amount. This type of financing may have a variable interest rate, which means the amount you pay each month may fluctuate.
Cash out refinance
A cash out refinance is a type of mortgage that allows you to refinance your existing mortgage and take out a lump sum of cash from your available home equity. This can be a good option if you have equity built up in your home and want to use it to finance your renovation project while also refinancing your existing mortgage for a lower interest rate or different term length.
Personal loans
If you don't have much equity in your home, a personal loan might be a good option for a major home improvement. These typically have higher interest rates than loans that are secured by collateral. However, because they don't require collateral like a home equity loan does, you won't be at risk of losing your home.
Benefits and drawbacks of financing a home renovation
When it comes to your financing options for a home renovation, there are both benefits and drawbacks to consider.
Benefits
Increase the value of your home: Renovations may increase the value of your home, which can be beneficial for building equity or potentially raising its sale price.
Protect your savings: If you choose to take out a loan to finance your home improvement project, you won't have to withdraw money from your savings to cover the costs. When taking out a loan, make sure you can pay it back, covering at least the minimum monthly payment for as long as you have it.
Get money up front: A home financing loan gives you access to money up front, without having to wait and build up savings to have enough cash to afford your entire renovation project. This can be especially helpful if you need to make urgent repairs.
Drawbacks
Interest and fees: One of the biggest drawbacks of financing your home renovation is the interest and fees associated with borrowing money from a lender. Depending on the financing option you choose, you may encounter high interest charges that can add up over time.
Introductory offers: Some credit cards may offer introductory offers with a 0% APR for a set period. While these may be a good way to borrow money for a short term, if you don't pay off the balance within the 0% APR period, you could be charged high interest and fees.
Risk to your home: With secured borrow options like a home equity loan, HELOC, or cash out refinance, you are using your home as collateral. This means that if you are unable to make payments, you might risk losing your home.
Understanding fees and costs
Since renovating your home can be an exciting experience but also an expensive one, you may want to know more about the potential fees and costs that can typically be associated with home improvement financing.
Fees: When you take out a loan to finance a renovation, you may be charged fees. These fees can include application fees, origination fees, appraisal fees, and closing costs, depending on the type of financing and your lender's requirements. Some lenders may offer to cover these costs for their customers, so do research on the options that are available to you before applying for a loan. You may find that a loan with a higher interest rate but lower overall fees works for your budget planning. Or, you may find that using a combination of financing options gives you the best overall deal. Whatever you decide to go with, the choice always depends on what meets your unique needs and expectations.
Costs: In addition to fees, you'll want to be aware of overall project costs, including labor, materials, permits, and any unexpected expenses that could potentially arise during the process. To help keep track, make a list of everything you think you'll need for a project and research the costs associated with each item, including labor and permits. Then, plan to budget for a contingency fund that may cover unforeseen expenses. This can help you to prepare for any surprises that may arise after you begin to renovate.
A note on DIY vs. Hiring professionals
One of the biggest decisions that can impact the overall cost of your home improvements is whether to do it yourself or hire a professional. There are pros and cons to both options, so it's important to weight them carefully before making a decision and obtaining financing for a project.
DIY
Doing the renovation yourself may save you money on labor costs, and it can turn out to be a fun and rewarding experience. However, remember that not all types of renovations are suitable for a DIY approach. You should only attempt a renovation project if you have the necessary skills and experience, or if you feel confident that you can learn how to do the job effectively and safely. If you don't, you might wind up running into issues that become either hazardous, expensive, or both.
Before starting a DIY renovation project, make sure you have all the necessary tools and equipment. You should also take safety precautions seriously, wear protective gear such as goggles and gloves, and know how to use all the tools properly.
Hiring professionals
If you're not comfortable with doing the renovation yourself, or if it's a complex project, consider hiring a professional to get the job done. They may also be able to complete the project more quickly than you could on your own. When hiring a professional contractor, do research by checking reviews and references and asking them all the questions you need to feel comfortable with their level of ability. You should also ask for multiple quotes from different contractors to get an understanding of the price range for labor on your project.
Closing thoughts: Financing home renovations
Overall, financing your home renovation or remodel may be a great way to make necessary improvements and potentially increase the value of your home. Weighing both the benefits and drawbacks of the options you are eligible for will help you find the resources that may work best for you. Each type of financing has unique features to consider, just like every home improvement project comes with unique benefits and challenges. It can be a lot to take on, but remember that starting out with a clear plan, defined budget, and thorough research can increase the chances of a job well done.
If you're interested in tapping into your home equity, check current rates on a home equity loan from Discover® Home Loans. Please note that Discover offers home equity loans and mortgage refinance opportunities, but does not offer HELOCs.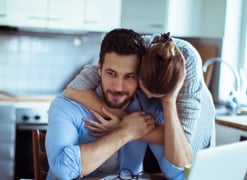 Find your low,
fixed rate

Use our Rate Calculator to find the rate and monthly payment that fits your budget.
Main

Start your application online or give us a call.