How long does it take to get a home equity loan?

How long it takes to get a home equity loan varies based on the individual homeowner and the lender. The complexity of your application, your financial situation, and how quickly you can get your paperwork together also factor into how long the home equity loan process takes.
To make the process as quick and smooth as possible, review the specific qualifications required by your lender to see if you meet them. If you do, ensure all your documentation is prepared and ready to share so you can help to accelerate the home equity loan process.
How long does it take to apply for a home equity loan?
The amount of time it takes to complete an application will vary by lender.
When applying, lenders will likely ask you to provide information about the type of loan you want to take out (loan amount), the current value of your home, your remaining mortgage balance, and some demographic information, including your name, income, marital status, and social security number (SSN).
Once you've supplied this information, a lender will review your credit history to determine if you pre-qualify and narrow down your loan options.
To begin the final approval process, you will select the loan option that fits your needs and are then asked to upload relevant documentation, including government ID and recent pay stubs.
The process with Discover® Home Loans
The process from applying for a home equity loan from Discover to receiving funds can be as quick as 30 days but will depend on a few factors.
It's possible to complete the application form in a matter of minutes. The application process is simple and can be completed online or over the phone.
You will receive a list of loan options, along with corresponding disclosures about the loans that you prequalify for within three days of your application. If you accept a home equity loan offer, you will then supply verifying documentation. This will include a government-issued ID and 30 days of recent paystubs.
When your final application is accepted, the processing period for your loan will begin. This will also set your proposed closing date for the loan.
For a typical home equity loan from Discover, the average closing date is near to 55 days from your application.
The timeline can be broken down like this:
1. Getting the basics (around 1-2 weeks)
Apply online or over the phone to review your loan options, then upload the required documents. We'll confirm your initial eligibility.
2. Processing your information (around 4 weeks)
We'll gather third-party information about your home and then send your complete application to underwriting for a final decision.
3. Closing your loan (around 1-2 weeks)
We'll contact you to schedule your closing and then arrange for your loan funds to be sent to your accounts.
When you apply for a home equity loan, you will receive updates on your progress all along the way. In general, the faster you can provide the requested information to confirm your eligibility, the quicker your loan file will move through the application process.
How long does it take to receive funds from a home equity loan?
The exact time will vary between homeowners and lenders based on how complex your situation is,how long it takes you to submit paperwork, and how long it take a lender to process your application.
After you complete the home equity loan application, you will enter a processing period. During this time, your lender will review all the personal and financial information required to approve your application.
For most lenders, the processing period includes:
Verification of borrowing ability and creditworthiness

Home appraisal to determine the market value of your home

Title search to verify any existing liens or debts on your property

Preparation of home equity loan documents
During this process, you may require the expertise of attorneys, licensed appraisers, and title agents. For this reason, most home equity loans include additional processing fees and closing costs. However, a Discover home equity loan has no origination fees, no appraisal fees, and no charges at closing.
Once your loan has been processed, you will receive a lump sum payout for the home equity loan into your preferred account.
How long does it take to repay a home equity loan?
How long a home equity loan takes to repay will depend on your budget, what you qualify for, and how quickly you want to repay your loan. In general, you can get a home equity loan with a repayment term ranging from 10 to 30 years.
For example, a home equity loan from Discover can come with flexible terms of 10, 15, 20, or 30 years in amounts between $35,000 to $300,000. For example, if you borrowed $60,000 for a 20-year term at 8.99% APR, your fixed monthly payments would be $539.45.
You can use the monthly payment calculator from Discover to estimate your monthly payments with different term options.
To use the calculator, you will enter your home value, remaining mortgage balance, and credit score to determine how much your home equity value and credit will allow you to borrow. It's likely that with a shorter term your monthly payments will be higher, but you will pay fewer interest charges over the life of the loan.
Can you pay off a home equity loan before the term expires?
Some lenders may include a prepayment penalty if you pay off your home equity loan before the term expires. A prepayment penalty is meant to protect the lender in the event you pay early, and they lose revenue over time.
A prepayment penalty may be based on a percentage of your remaining mortgage balance, or it may be calculated based on interest charges for a certain number of months determined by the lender.
Discover Home Loans does not have a prepayment penalty but does require expense reimbursement if the loan is paid off within the first 36 months. In the event that you decide to pay off your loan balance in full within 36 months after your loan closes, you will be required to reimburse Discover for some of the closing costs, not to exceed $500. Reimbursable closing costs will include all title fees, recording fees, and mortgage/transfer taxes. Please note: if you reside in Connecticut, Minnesota, North Carolina, New York, Oklahoma, or Texas you are not required to reimburse us for any closing costs.
How to improve your likelihood for home equity loan approval
When applying for a home equity loan, the lender will typically look at the following criteria to determine if you qualify:
Home equity. Lenders often use your combined loan-to-value ratio (CLTV) to determine if you have sufficient equity. Your CLTV is calculated by taking your existing mortgage balance(s) plus your desired loan amount and dividing it by the market value of your home.


CLTV = (Loan amount + Mortgage Balance) ÷ Home Value


Credit score. While credit score requirements will vary based on your lender, Discover Home Loans requires a credit score of 620 or higher to qualify. A higher credit score usually results in more favorable terms like a lower interest rate.
Credit history. Lenders review your credit history to see if you've missed any payments on your mortgage or other debts. How you've handled your credit in the past is used as an indication of how you will handle it in the future.
Income verification. Lenders will likely want to see your most recent W2 and your most recent pay stubs to confirm your employment and income information.
Increase your home equity
The more equity you have in your home, the more money you may be eligible to borrow. You can increase the equity in your home by remodeling or renovating your space to add value to your home or by paying down your mortgage to reduce your home debt.
Improve your credit score
Your credit score signals to lenders how likely you are to repay your loan. The higher your score, the more reliable you appear.
To improve your credit score, be sure to pay all your bills on time, limit hard inquiries, and reduce the amount of your credit balances as compared with your credit limits.
Increase your income and reduce your debt
When deciding whether to loan you money, lenders often look at your debt-to-income (DTI) ratio. Your DTI is another way of determining how risky it is to give you a loan. The DTI ratio looks at how much of your monthly gross income goes toward debt payments.
Increasing your income and/or decreasing your debt can help to improve your DTI and make you a more attractive applicant.
Closing thoughts: The home equity loan timeline
When you have a home equity loan, you are borrowing money against your home's value. This means that if you have enough equity built up in your home, you might be able to get a home equity loan more easily and at a better rate than other types of loans. However, it still takes a few steps to receive these funds.
Lenders will verify your income and asset information as part of the application process. You will also need to provide additional documentation as required by your lender such as a government issued ID. They want to determine your ability to pay back your loan, so that they can be certain you can afford it.
The length of time it takes to received fund from a home equity loan depends on the lender and your personal circumstances.
If you want to get prepared for a home equity loan application with Discover, check out our application checklist.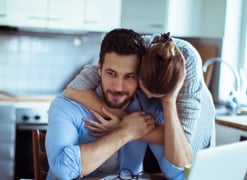 Find your low,
fixed rate

Use our Rate Calculator to find the rate and monthly payment that fits your budget.
Main

Start your application online or give us a call.