How to get the best rates for home improvement loans

Renovations, repairs, and updates can add value to your home and improve your quality of life. One of the easiest ways to finance these projects is with a home improvement loan. With many options to choose from, getting the best home improvement loan rate depends on several factors.
Home improvement loans can be secured options (where your home is used as collateral) like home equity loans or cash-out refinance. If you don't have enough equity in your home, you can choose an unsecured option, like a personal loan, although these will likely have lower borrowing limits and higher interest rates than equity financing options.
The type of loan you choose and the amount of equity you have in your home will influence your interest rate.
Let's look at the other factors that affect home improvement loan rates, like credit health and debt-to-income ratio.
6 ways to earn better home improvement loan rates
How can you get a good rate on a home improvement loan? Here are six strategies that can help you lock in a lower interest rate.
Use home equity loans and cash-out refinancing
Home equity loans and cash-out refinance loans use the equity in your home as collateral. These loans offer more security for lenders, so they are more likely to offer lower interest rates compared to other options like credit or personal loans.
Improve your credit score
A better credit score leads to better interest rates because banks see you as a more reliable customer with less associated risk. You can improve your credit score by paying down revolving credit, avoiding late payments, and using a low percentage of your available credit limits.
Reduce your borrowing amount
If the home improvement loan rate you received is too high, choosing to borrow less can help reduce the interest rate.
Shorten your loan's term length
Shortening the length of the loan, or how long you have to pay it off, can help you get a better interest rates. While this will mean a higher monthly payment, it can mean fewer interest charges over the life of the loan — keeping the overall cost of the loan down.
How home improvement loan rates are calculated
Lenders calculate home improvement loan rates using the information you provide in addition to other available data such as the estimated value of your home and your credit score to helps them get a complete view of your finances and assess your risk as a borrower. The lower your risk, the lower your interest rate will be.
One ratio lenders will calculate is your combined loan-to-value (CLTV) ratio. This is determined by adding the amount of any existing mortgage obligation and any additional amount you want to borrow and comparing that to the value of your home. For example, if your home is worth $500K and you are applying for a $100K home equity loan and have an existing mortgage with $300K then your CLTV would be equal to 80% ($400K / $500). In general a higher a CLTV ratio will result in a higher interest rate.
Types of loans for home improvements
There are three common types of home improvement loans: home equity loans, cash-out refinancing, and personal loans. Here's how they work:
Home equity loans
A home equity loan is a second mortgage that you qualify for using the equity you've built up in your home.
Home equity loans are convenient because you get a lump sum of cash at a fixed interest rate, so your monthly payment stays the same over the loan term.
Home equity loans usually have better interest rates compared to options like personal loans, plus, the borrower may be eligible to claim a tax deduction on the interest when the funds go towards home improvements.
Cash-out refinancing
A cash-out refinance loan also offers low, fixed refinance rates, but with a cash-out refinance, you take out larger amount than what you owe on your home, pay off your first mortgage, and keep the difference to use for your home improvement project.
Borrowers like this option because they retain just one mortgage payment. Plus, you may be able to claim a portion of cash-out refinance interest payments as a tax deduction.
Personal loans
You can also use a personal loan to finance your home improvement project.
Personal loans are sometimes approved in just a day, and they don't require your home as collateral. This means you don't risk foreclosure on your home if you default.
Personal home improvement loans have fixed monthly payments, but usually have a shorter term. The drawback is personal loans typically have higher interest rates than home equity loans or cash-out refinance, even if you have excellent credit. You also can't claim the interest as a tax deduction, which might be possible with some home equity loans.
Benefits of using equity for home improvements
Why choose a home equity loans for home improvements? Here are some of the benefits:
Contribute to building more equity & home value:
Home improvements can increase the value of your home, which can build more home equity. When it comes time to sell, updated and improved features can mean you added more value to your home than you borrowed. Making essential repairs early can help you avoid much more expensive repairs later.
High borrowing limits:
Home improvements like a bathroom remodel or new garage can costs tens of thousands of dollars. Home equity loans can be better for covering the full cost. Compared to personal loans or credit cards, you can usually borrow much more using home equity.
Low interest rates:
Tapping into your home equity almost always comes with lower interest rates than personal loans or credit cards. Because the loan comes with a set term, you can calculate exactly how much principal and interest you'll pay.
Flexible term lengths:
Loans terms are typically longer and more flexible when using home equity financing options. Discover® offers home equity loans with terms ranging from ten to thirty years to help your loan payments fit within your budget.
Potential tax deductions:
With home equity loans or a cash-out refinance, you may be eligible to claim some of the interest as a tax deduction if you itemize. Consult your tax advisor for more information.
Find the best home improvement loan for you
Home equity loans, cash-out refinancing, and personal loans can all be used for home improvements. All come with different terms and repayment plans. Always shop around and compare quotes to find the best interest rate and monthly payment for you.
Discover Home Loans offers both home equity loans and mortgage refinance options with fixed APRs and zero origination fees, zero appraisal fees, and zero cash due at closing.
Use the Discover Loan Amount Calculator to see how much you could borrow, or the Discover Cash-Out Refinance Calculator to find out how much cash you could get from your home equity.
Start your Discover Home Loans application online in just minutes, or give us a call at 1-855-361-3435.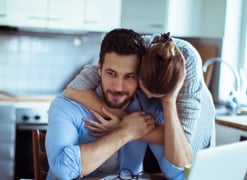 Find your low,
fixed rate

Use our Rate Calculator to find the rate and monthly payment that fits your budget.
Main

Start your application online

or give us a call.
Main

Start your application online or give us a call.