Home equity loans vs. Purchase mortgage loans

Most people must use a purchase mortgage loan to buy a house but taking out a home equity mortgage loan (or home equity loan) is a choice homeowners make after they have purchased their home. A home equity loan or a home equity line of credit is sometimes called a "second mortgage" (if the loan is placed on a property that already has a mortgage against it) and allows you to tap into your home's equity (the current market value of your home minus the amount you still owe on your purchase mortgage loan) to receive cash. A purchase mortgage loan can only cover the purchase price of a home.
Some borrowers use a home equity loan to consolidate debts into a single, low interest monthly payment, while others use their home equity loan to pay for a kitchen remodel, college expenses, or even a vacation to Hawaii. Below, we'll dive deeper into the differences between a home equity loan vs. purchase mortgage loans. 
What is a purchase mortgage loan?

What is a second mortgage?

What is a home equity loan?

What is a HELOC?
What is a purchase mortgage loan?
A purchase mortgage loan can help you buy a house or another piece of real estate. In most cases, a mortgage has a fixed interest rate and gets paid off over 15 to 30 years. To obtain a purchase mortgage loan, lenders typically require you to put down at least 3% of the total price of the home. You will then use the purchase mortgage loan to pay off the remaining price to purchase your new home.
To see what your current income and expenses allow you to afford for a new home, use the home affordability calculator from Discover® Home Loans.
Principal, interest, taxes, fees, and insurance
When you take out a mortgage loan, your monthly payment will often be comprised of five parts:
Principal: The total amount of money you borrowed to buy the home.
Interest: The price you pay, in addition to the principal to borrow the money for as long as you have the loan.
Taxes: The property taxes you pay as a homeowner.
Fees & PMI: Insurance for the home loan that you are required to purchase (if you provide less than a 20% down payment to purchase the home) to cover any potential default against the purchase mortgage loan.
Home Insurance: Insurance to protect the homeowner's new home from unexpected expenses.
If you want to see what the total monthly payments will be for a mortgage loan, enter your home price and budget available for a down payment in the mortgage payment calculator from Discover Home Loans.
Pre-approvals
If you're in the market for a home, it's a good idea to get pre-approved for a mortgage. With a pre-approval, you can find out the maximum purchase price you can afford and show sellers you're serious about buying. If you do go through the pre-approval process, you can expect a lender to check your credit report, debt-to-income ratio, and other parts of your financial profile to qualify you for a loan amount.
Different types of purchase mortgage loans
While there are many different types of purchase mortgage loans, the most common ones include:
Conventional: A conventional loan is any mortgage that isn't guaranteed or insured by a government agency. A minimum down payment of 3% is usually required. PMI is generally required if the down payment is less than 20%.
VA: A VA loan is designed for veterans and backed by the United States Department of Veterans Affairs. It can allow veterans and their families to buy a house with 0% down, but requires a VA lending fee.
FHA: An FHA loan is insured by the Federal Housing Administration and allows borrowers to put down as little as 3.5%.
USDA: A USDA loan is intended for borrowers in rural areas and sponsored by the USDA Office of Rural Development.

A loan you can take out against an already mortgaged home is known as a second mortgage
What is a second mortgage?
A loan you can take out against an already mortgaged home is known as a second mortgage. A second mortgage can help you use your home's equity to meet your financial needs. The amount you can take out will depend on your available home equity, income, credit score, and lender.
Two types of second mortgages
A home equity loan and home equity line of credit are the two different types of second mortgages. The differences between a home equity loan and home equity line of credit are discussed below.
Low interest rates
With a second mortgage, you're likely to lock in a lower interest rate for your loan or line of credit than you would with a personal loan or credit card, however, you must provide the lender with a mortgage against your home while these other products are unsecured.
What is a home equity loan?
With a home equity loan, you can access your home's equity in a lump sum. Lenders will allow you to borrow a specified amount of your available equity and you can use the funds at your discretion. You will repay your loan through fixed monthly payments over a term of anywhere between 5 and 30 years.
Fixed interest rate
A home equity loan comes with a fixed interest rate that is typically lower than interest rates for credit cards and personal loans. Fixed interest rates make it easy to budget for monthly payments and prevents your monthly payments from suddenly increasing.
Lump sum
Since you get your money in one lump sum, you can use a home equity loan to cover a large expense right away. You will have to repay your loan through fixed monthly payments (including interest charges) over a set term.
Tax deduction
If you use your home equity loan for a substantial home renovation, you may be able to deduct the interest you pay each year on the loan. For more details and to see if you are eligible for a deduction, reach out to a tax professional.
Discover Home Loans offers home equity loans that range from $35,000 to $300,000. These loans have low fixed rates, zero origination fees, and allow applications to be submitted either online or over the phone.
What is a home equity line of credit (HELOC)?
Just like a home equity loan, a home equity line of credit (HELOC) can let you borrow money against your home's equity. A HELOC differs from a home equity loan, however, because it works similar to a credit card. With a HELOC, instead of receiving a lump sum as with a home equity loan, you borrow up to a maximum amount of a set credit line and only make payments and accrue interest on the amount that you withdraw.
Variable interest rate
Some lenders offer variable rate HELOCs. While you may get a low rate initially, this rate can fluctuate over the life of the loan depending upon how market rates rise and fall. A variable interest rate can make it difficult to budget for your monthly payments, as they may increase or decrease over a fixed period of time, generally, monthly, quarterly or annually.
Only pay for what you borrow
A HELOC is a flexible option because, depending on the lender's program, you may only pay for the amount of money you borrow, with interest only charged against your withdrawals. This may be a good choice if you want access to extra money in case you ever need it or if you have an ongoing home improvement that doesn't have a fixed price.
Draw period and repayment period
During the draw period of a HELOC, you can draw on your line of credit and only pay interest on what you borrow. After the draw period is over, the repayment period (which generally lasts between 10 to 20 years) will begin. You cannot draw from your line of credit during the repayment period and you will be required to pay back what you borrowed plus interest.
Discover Home Loans does not currently offer a HELOC; however, depending on your circumstances, a home equity loan may be more beneficial. Discover also does allow you to refinance a HELOC into a new home equity loan that has low fixed rates and no origination fees.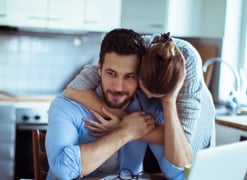 Find your low,
fixed rate

Use our Rate Calculator to find the rate and monthly payment that fits your budget.
Main

Start your application online or give us a call.