4 Ways a Home Equity Loan Could Benefit Your Finances

For many homeowners, one of the most common benefits of a home equity loan is the ability to use it for home improvement projects, which in turn can further increase the home's value. Upgrades can also boost your enjoyment in the home and make it more appealing to potential buyers if you decide to sell. A win-win.
But, wait, could there be a win-win… win? Did you know that a home equity loan could possibly improve your overall financial health? "Tapping into your home's equity can be a smart financial decision, particularly if you plan on using loan proceeds to make home improvements that offer high returns or pay down higher-interest debts," says Rob Cook, Head of Marketing and Customer Experience for Discover Home Loans. Advantages of a home equity loan over other forms of lending usually include a fixed interest rate that is lower than a credit card or other unsecured consumer loan, a lump sum distribution to cover large expenses and easier qualification since the loan is secured by your house.
Read on for four big ways getting a home equity loan can benefit your total financial picture:

1. You might (still) claim a tax deduction
Despite new tax legislation passed in 2017 that takes away most home equity loan tax deductions through 2025, all is not lost. "Prior to this law, homeowners were allowed to deduct interest on up to $1 million of primary or secondary home loans," says personal finance and tax expert Eric J. Nisall. But those details have now changed. "The new limit on loan amounts has been reduced to $750,000 in total," Nisall says, for loans incurred after Dec 15 2017.
A bit of good news is that the majority of U.S. homeowners' mortgages fall under the $750,000 threshold.1 (But it's important to note that the limit also includes the combined total of loans used to acquire, construct or substantially improve your main home and a second home.)

More good news: The main reason that many homeowners get a home equity loan—as noted above—is still tax deductible. Says Nisall: "The home equity loan has to be specifically used for the improvement of the primary or secondary home." Or to "buy, build or substantially improve" the primary or secondary home, according to the IRS.

So the days of taking out a home equity loan on your primary residence in order to build a secondary one and deducting the interest on the second property may be "over" for now, but most remodeling in its truest sense is still tax deductible. However, those who borrow on their home equity to, say, consolidate debt or pay for college, will not be able to have the added benefit of a tax deduction. (But, that does not mean it is not a good idea.) Homeowners who are interested in the tax benefits of a home equity loan should consult their tax adviser for more information.

Worth noting, says Nisall, is that the standard deduction has nearly doubled, from $12,700 to $24,000 for married joint filers and $6,350 to $12,000 for single filers, which could give some homeowners a break from laborious itemizing.2 If the taxpayer isn't itemizing, he/she is also not claiming a home equity or mortgage interest deduction.

2. Gain better credit and higher loan amounts
Another break some homeowners might want is improved credit. If you use the equity in your home to consolidate outstanding credit card debt, you may notice a nice financial benefit in the form of a higher credit score (taking the bite out of the lack of tax benefit above).
According to Nisall, the way debt consolidation works is that you'll take out a new loan (in this case, your home equity) and use it to pay off all outstanding debts. This improves your score because it increases the total overall credit available to you, while decreasing your credit utilization (how much debt you're carrying on the other cards). This is called your credit utilization ratio, or CUR, and it's the amount of money you owe on all your credit cards divided by the sum of all your limits.3

For your score to improve, you'll need to leave the cards open after you pay down the balances, and be sure not to run them up again. (This last part is very important.) A better score will then allow you to borrow more down the road and also help you qualify for lower interest rates in the event you need to borrow again for a new home or car.

3. Be able to afford the unexpected
A home equity loan can offer security in the event of unforeseen circumstances—but only if you do not need the money quickly, as a typical closing for a home equity loan can take 30 to 60 days depending upon a variety of factors, such as how long it takes you to provide necessary documents.
Still, using home equity to finance life's unexpected curveballs, such as procedural medical services, can provide cost-effective benefits. "The big advantage of a home equity loan is that the interest rate compared to other debt is much lower," says R.J. Weiss, certified financial planner and author of the financial blog The Ways To Wealth. "But your home is used as collateral. As such, there's a large risk to using home equity," Weiss says.

Weiss cautions to only use home equity for medical reasons if you're certain you can pay off the loan so that debt doesn't accrue unnecessary interest: "If you're considering a home equity loan in the event of an emergency, the goal should be to pay it off well before the payback period ends."

4. Ease the financial burden on loved ones
A home equity loan doesn't have to benefit just you; it can also help out family and loved ones. Home equity is a great asset if you'd like to finance education costs for a child or dependent. A four-year college can cost an average of $9,000 (in-state school) and $35,000 (private institution)—far outside the amount of cash most families keep on hand.4 Home equity can be a great way to finance these costs and keep the burden of loans off the student.
For example, if you have a home valued at $300,000 and a $210,000 mortgage, that's $90,000 in equity. A home equity loan from Discover allows you to borrow less than 90 percent of that $90,000. Even if the child qualifies for federal aid or receives scholarship money, that $80,000 could make a big difference.

How to close the borrowing loop
No matter what the debt is used for—college tuition, renovations or debt consolidation—it's important to ensure you can pay back the home equity loan. "If your cash flow allows, you may want to consider paying off your loan sooner to reduce the amount of interest you pay over the life of the loan," says Discover's Rob Cook. "One technique to consider for wage earners is to make an additional payment in months that have an extra pay period. Alternatively paying a little more each month can make a big difference over time."
That said, when facing debt payback be aware of prepayment penalties, which some lenders require. A home equity loan from Discover, however, does not come with any prepayment penalties—the only caveat is if the loan is paid back in full within three years, the borrower will have to reimburse Discover for certain third-party fees they are covering on the borrower's behalf, up to a maximum of $500.
A home equity loan—when used properly and taking into consideration the best practices outlined above—can be a great way to set your financial goals in the right direction.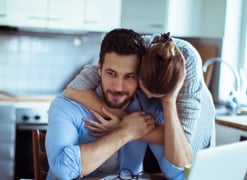 Find your low,
fixed rate

Use our Rate Calculator to find the rate and monthly payment that fits your budget.
Main

Start your application online

or give us a call.
Main

Start your application online or give us a call.