HELOC vs Cash Out Refinance

Please note: Discover® Home Loans offers cash out refinances, but does not offer HELOCs.
If you're looking to borrow money using the equity in your home, you might consider a home equity line of credit (HELOC) or cash out refinance. These are both popular loan options for accessing funds that you can use for home renovations, debt consolidation, or major purchases.
Which solution is best for your financial needs? You can use this comparison chart to weigh the options between a HELOC vs. cash out refinance.
What is a HELOC and how does it work?
A HELOC is a line of credit with a limit that is determined by your home's equity and your income and credit status. Similar to a credit card, a homeowner can open a HELOC and use it to make certain purchases within a set time period known as the withdrawal period, which usually ranges from 5 to 10 years. During the withdrawal period, some HELOC lenders allow you to pay only accrued interest on the line of credit.
The borrower repays the borrowed amount plus interest within the repayment period, which can range from 5 to 20 years after the withdrawal period ends.
If you already have a mortgage on your home, the HELOC will be considered a separate mortgage, complete with its own terms and monthly payments. Not only will you potentially have two lenders with your mortgage and HELOC, but you'll also have two bill payments (unlike with a cash out refinance).
Pros & cons of HELOC
The biggest benefits of HELOCs include:
High credit limits, tapping into a high percentage of your home equity.
Flexible loan amounts, since you can use some or all of your credit limit based on your ongoing needs.
Low or no closing costs, since you're not refinancing your whole mortgage.
Meanwhile, HELOCs also come with disadvantages, such as:
Variable interest rates, which can lead to fluctuating, and unpredictable monthly payments.
Possible requirements for withdrawal minimums, which lenders may set to ensure you borrow a certain amount of funds within the withdrawal period.
Possible additional fees, such as origination fees and annual fees.
When to get a HELOC
Homeowners might use a HELOC to fund a renovation or tap into a revolving credit line for ongoing home improvement projects. They also might open a HELOC to have quick access to funds in case of emergencies.
Since HELOCs are flexible, borrowers also might use them if they don't want to commit to a certain loan amount or don't know how much money they'll specifically need over the next five to 10 years.
Still, HELOCs have variable interest rates, which can trap borrowers with unpredictably high monthly payments if rates move up. Fixed rate options such as home equity loans or cash out refinances replace a HELOC's flexible borrowing with a lump sum amount, so you can know what your monthly payment will be and plan ahead for your financial goals.
What is a cash out refinance and how does it work?
Cash out refinancing is the process of replacing your mortgage with a new one, potentially allowing you to set a lower interest rate and access your home equity at the same time. Since cash out refinancing involves creating a new mortgage loan, other terms may also change.
For example, say your current mortgage has $200,000 remaining, and your home is worth $400,000. Through refinancing, you aim to secure a lower interest rate on your remaining mortgage and have cash on hand to renovate your bathrooms. You'll need to keep at least 10% of the equity in your home, or $40,000, meaning you could borrow up to $160,000 for your home renovation needs.
Keep in mind that the length of the repayment period can reset to 10, 15, 20, or 30 years even if you're already a few years into your original mortgage. Plus, you'll need to cover any additional fees and closing costs, so you may receive less money when the transaction is closed.
Unlike a HELOC, cash out refinancing provides the borrower with a lump sum of money up front, which can be paid back in regular monthly installments.
Cash out refinance pros & cons
The biggest advantages of cash out refinancing include:
The possibility of lowering your interest rate since you're creating an entirely new mortgage for your home.
Fixed interest rates, which allow for steadier and more predictable monthly payments.
Streamlining your finances, since you'll only have one mortgage payment to make instead of two, as with a HELOC.
Cash out refinancing also has its downsides, such as:
Possible closing costs, which may be higher than those of HELOCs as you go through the process of redoing your mortgage.
Lack of flexibility, since you have to identify the entire amount of money you'll need up front.
When to get a cash out refinance
Cash out refinancing is a great option for borrowers who want to fund renovation projects with clearly projected costs or use their home equity to consolidate debt. Cash out refinancing is also a helpful solution for people who have a higher rate mortgage and want to take advantage of lower market interest rates by redoing their mortgage.
Alternatives to HELOCs and cash out refinance
A home equity loan is a common alternative to HELOCs or cash out refinancing. Like a cash out refinance, a home equity loan lets you take out a lump sum of cash, which you then pay back in monthly installments.
Compared to HELOCs, home equity loans also offer fixed rates for more stable and affordable monthly payments.
While personal loans and credit cards offer borrowing opportunities, you can expect higher interest rates and lower borrowing limits than comparable home equity financing options.
Get a cash out refinance with Discover Home Loans
Use the equity you've built in your home to fund your next renovation project, consolidate debt, or pay for other expenses.
With a cash out refinance from Discover Home Loans, you can take out a lump sum of money and lower your fixed interest rate in one fell swoop. Discover Home Loans also comes with zero application fees, origination fees, or appraisal fees, so you don't have to bring any cash to your loan closing.
Discover offers tools and resources to help you reach the best financial decision that works for you. Try our cash out refinance calculator to see how much you might be eligible to borrow.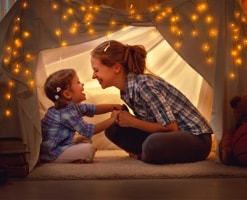 The home equity you've earned
can be used in a multitude of
ways. 
Main

Start your application online or give us a call.