Getting the best home equity loan rates

You've been working to build up equity in your home for a long time. You like your home.
When you think you might need to access some equity, you most likely don't want to have to have sell it. An alternative option to consider is taking out a home equity loan. Like with any loan, you'll want to get the best interest rate possible. You can do that by comparing interest rates from various lenders.
When you choose a loan after reviewing a comparison of all your loan options—whether you plan to use it for something like debt consolidation, home improvements, or paying for tuition—you'll most likely find the best home equity loan rate available, and you can feel good that you're doing it responsibly.
What is a home equity loan rate?
A home equity loan rate is the interest rate you pay on a home equity loan.
While some loans have adjustable rates, home equity loans typically come with a fixed rate for the entire payment term. That means the rate doesn't change for the life of the loan.
"In many cases, home equity loan interest rates are lower than the annual percentage rate (APR) on a credit card or a personal loan, since you're putting up your home as collateral," says Rob Cook, Head of Marketing and Customer Experience for Discover® Home Loans. However, if for any reason you're unable to pay the loan back, your lender could foreclose on your home. Whereas with an unsecured loan—like a credit card or personal loan your home is not directly at risk.
If you are able to go the home equity loan route, not only are lower interest rates a plus but tax advantages might also be in your favor—if you use your loan for home improvements. Consult with your tax advisor for specific advice on your situation.
How is a home equity loan rate calculated?
When it comes to getting the best home equity loan rate, lenders take your credit score into consideration.
"As with many financial products, the better your credit score, the happier the outcome," Cook says. "You're much more likely to get a lower interest rate." If yours is lower, it doesn't necessarily mean you won't get a loan, just that you could pay a higher rate for it.
But your combined loan-to-value ratio (CLTV) is probably one of the biggest factors affecting your loan qualification. This number is the combined amount of all mortgages on your property—including the home equity loan that you are trying to finance—versus the total property value.
CLTV is calculated by taking your primary mortgage balance, your drawn portion of any existing home equity lines of credit (HELOCs), any second or third mortgages you may have—plus the new home equity loan amount—and dividing them by the total value of the property.
Other items under consideration could be your current home value, mortgage balance, requested payment term and loan amount.
Discover offers a number of financial tools, including a home equity loan calculator that can help you get an idea of current interest rates and your possible monthly payment.
How do you compare one home equity rate to another?
One of the biggest things to consider when weighing one home equity interest rate against another is the annual percentage rate (APR). Collect quotes from as many lenders as you can in order to find a good APR.
"Keep in mind that even seemingly small differences in rates can add up over time," Cook says.
If you find one rate just half a percentage point lower than another it can mean saving thousands of dollars in interest payments on a 30-year loan. For example, if you're borrowing $100,000 and getting a 6.5 percent interest rate loan versus a 7 percent interest rate loan, the former will save you a total of $11,964.61 over 30 years.
Also, when doing your homework and comparing home equity loan rates, take a close look at the type of loan you're considering. There can be a big difference between a fixed and adjustable rate loan.
Fixed rates mean your payment remains the same every month, which makes it easier to manage the debt and avoid any surprising rate variations.
Adjustable rates can fluctuate with the market, so a year from now your rate could be much higher or lower than when you first signed up for the loan. Adjustable rates could be better for loans with a shorter term during an economic environment when rates might be going up overall. If that's the case, you may be able to lock in a more appealing rate for the duration.
An important tool to weigh into your decision-making is a home equity loan calculator. The monthly payment calculator from Discover can help you determine monthly payments based on your interest rate, loan amount and length of your loan term. Plug in the numbers of the loans you are considering and get an idea of which type of loan might be best for your financial needs.
What are the considerations beyond interest rates?
Fees and closing costs are more key considerations in your loan choice.
Some lenders charge application and appraisal fees, as well as closing costs. Others may impose penalties for making extra payments or paying off the loan before the full term. These costs can vary between states and different lenders. For example, Discover Home Loans doesn't charge application, origination or appraisal fees and doesn't require cash at closing.
"Also consider the lender's complementary services," Cook says. "For example, if two loans' rates are equal, but one offers you a Personal Banker, exceptional online and mobile access, and automated payments, you may want to take advantage of those benefits."
To that end, you may want to ask a loan officer to itemize your loan terms and perks before your sign an agreement.
When it's time to choose
Though it takes some research when you start looking, comparing home equity loan rates between different home equity loan types and different lenders will undoubtedly help you make a better loan decision.
Finding a loan that offers the most favorable combination of features, including a competitive interest rate, fewer fees, and top-notch customer service, is well worth the time and research—and preserves equity in what's probably the biggest wealth asset you have.
After comparing multiple rates and features, you might decide that Discover Home Loans offers the best product that fits your needs.
If you're interested, you can apply online now—and you could see multiple personalized loan options in minutes.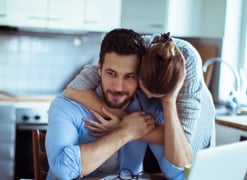 Find your low,
fixed rate

Use our Rate Calculator to find the rate and monthly payment that fits your budget.
Main

Start your application online

or give us a call.
Main

Start your application online or give us a call.