Home equity loan closing costs & fees

Have you already done your homework and found a home equity loan with a great interest rate? If so, congratulations!
But beyond obtaining an attractive rate, do you have a handle on what your full cost of borrowing might be? This could include closing costs and appraisal fees you may have to pay to get the loan.
"The expertise of licensed appraisers, attorneys, title agents and other support staff could be needed during this time," says Rob Cook, vice president of Marketing and Customer Experience for Discover® Home Loans, which is why some home equity loans also carry fees and closing costs. If you're not aware of all aspects of your loan, you may find yourself paying a lot more than you anticipated.
The key takeaway here is that not every loan is created equal and closing costs and fees vary by lender. Before signing on the dotted line, look at the types of fees you could be paying—in addition to interest.
Understanding your upfront closing costs
Closing costs vary but they're typically between 2 percent and 5 percent of your loan amount. Some lenders may waive the fees or pay for a portion of them. Here are some common closing costs you should know about.
Appraisal fee
A home appraisal determines your loan-to-value (LTV) ratio to figure out how much you can borrow. This fee varies depending on if you need a full appraisal, a drive-by appraisal, a desk appraisal where the lender uses existing data, or an automated valuation model (AVM) that's a statistical determination of home value. Appraisal fees can vary depending on the location, property, and type of appraisal.
Origination fee
Some lenders may charge you a fee to apply for a home equity loan, also known as an origination fee. Some will charge you a flat dollar amount upfront or a percentage of the loan amount and roll it into the cost of the loan thus increasing the annual percentage rate (APR).
These fees typically range a lot between different lenders. Some lenders may charge an application fee in addition to or instead of an origination fee.
Document preparation fees
Your lender may ask you to pay them a fee for preparing documents related to your loan. This could involve lawyers or notaries who will verify the paperwork.
Credit report fee
Lenders check your creditworthiness using credit reporting companies. Looking at your credit history and score will determine if you qualify for a home equity loan and for how much. The credit report fee is usually around $30 to $50.
Title search fee
This search confirms for the lender that you own your property. It also offers other information, such as if there are any liens or taxes owed. The title search fee typically ranges from $75 to $100.
Closing thoughts: Comparing lenders for your home equity loan application
Closing fees can significantly add to the overall cost of your home equity loan. Even if you find a loan with the lowest APR, paying for closing costs could mean that you haven't found a good deal. Looking for ways to reduce these costs may be best. You may want to try to find loans with no fees or closing costs, take advantage of lender discounts and/or only borrow what you need. And be sure to do a side-by-side comparison of loan features for the loans you are considering.
Most closing costs can't be waived so keep that in mind when shopping around and be realistic about your budget, so you are able to make on-time payments each month. Doing so could mean saving hundreds or thousands of dollars throughout the life of your home equity loan.
Discover Home Loans offers home equity loans and mortgage refinances with no appraisal or origination fees and no cash due at closing.
Articles may contain information from third parties. The inclusion of such information does not imply an affiliation with the bank or bank sponsorship, endorsement, or verification regarding the third party or its information.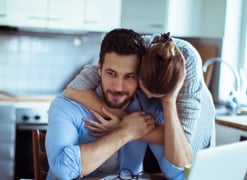 Find your low,
fixed rate

Use our Rate Calculator to find the rate and monthly payment that fits your budget.
Main

Start your application online or give us a call.