Using Home Equity to Finance Your Dream Wedding

Picture this: friends and family gathered around enjoying food, drink and conversation…golden rings…lovely flowers…beautiful music…photos capturing all the special moments. These are important things couples dream about for their wedding. However, the cost for all these special details can be a rude awakening. According to TheKnot.com, in 2021 national average wedding expenses were $28,000. Given these high costs, soon after the engagement is announced, the spouses-to-be and/or their parents are often left wondering: "How do I pay for wedding expenses?"
Paying for a Wedding
It's important to create a budget with good estimates of all wedding costs and a thorough list of items. Do sound research to get current realistic costs appropriate for your wedding location, not just wishful estimates. Take a hard look at the results to see if you can afford everything on the list. If not, prioritize what is truly important and cut costs in areas that are simply "nice to have."
Typical sources of wedding funds have included the couple's parents, the couple's savings, tax refunds, credit cards and, to a lesser extent, pre-wedding gifts.
In fact, a home equity loan can be a great choice if you already own a home. Traditionally, you may think of a home equity loan as a source of funds to improve your home, but more recently home equity loans have been used for other needs, including debt consolidation and major expenses. Consider a home equity loan for help in paying for your child's wedding, or your own.
Features of a Home Equity Loan
A home equity loan lets you borrow against the equity that you have in your home. Equity is not the sum of all the payments you've made. Instead, it's the difference between the current market value of your home and the amount you have left to pay on your mortgage. Because your home serves as collateral, a home equity loan typically has lower interest than credit cards and other non-secured loans.
Although the home equity loan is collateralized by your home, this doesn't restrict use of the loan to home-related improvements. Paying for a wedding is one of the major expenses that fits nicely with this type of loan.
These features make a home equity wedding loan appealing:
Interest rates are generally lower than for other loans and credit cards.

You can lock in a fixed interest rate for the life of the loan without worrying that your payments will rise from month to month.

A home equity loan from Discover, in particular, has no application, origination, or appraisal fees, and no cash is required at closing.
Planning a wedding should be fun, but it can also be hectic. Setting up a budget and ensuring that you have a match between what you want to spend and sources of funds will remove some of the uncertainty and financial tension before the big day. If you don't already have all the funds you need, investigate a home equity wedding loan as a possible solution.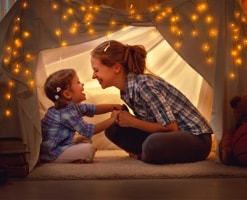 The home equity you've earned
can be used in a multitude of
ways. 
Main

Start your application online

or give us a call.
Main

Start your application online or give us a call.