Eco-Friendly Upgrades That Can Increase Your Home's Value

It's not easy being green, but it's certainly worth the effort—especially when it comes to your home. Remodeling with sustainable features is not only cost-efficient and environmentally conscious—but can increase your home's value. Green home construction has grown rapidly. Last year, according to the U.S. Green Building Council (USBGC), four out of five contractors reported that their customers requested energy-efficient materials for their U.S. projects, which shows a strong demand for green materials.
It's hard to deny the lifestyle shift, says Asa Foss, director of residential technical solutions for the U.S. Green Building Council. "We're seeing more of a focus on well-being, specifically through a more comfortable home, one with better air quality," Foss says. "It's such an important aspect of a home because it directly affects a [homeowner's] health."
The eco-friendly trend can directly play into the increased value of your home as owners become more aware of the many benefits, one being energy efficiency. It is common for new homes today to reduce energy expenditure by up to 60 percent compared to older homes—a compelling opportunity for eco- and budget-conscious homeowners.
One smart way to get an edge on your green renovation is through a home equity loan from Discover, which has no application, origination or appraisal fees—and does not require cash at closing. But before you begin the process of realizing your eco-friendly vision, you should do your homework: The upgrades you make, where you live and how your home is marketed at the time of sale may all play a role on your return on investment.
Here are five of the most popular green home upgrades that are good for your home's value, your pocketbook—and may literally help you breathe easier:
1. Build with Green Seal-certified materials
If you're making renovations to the interior of your home, you can consider purchasing materials that are more sustainable. Green Seal is an organization that vets manufacturers to see whether their products are environmentally friendly. Products that are Green Seal certified are made of non- or low-toxic materials.
Some products to look for with a Green Seal include insulation, wood stains, glue, carpets and paint that contains very low or no volatile organic compounds (VOCs)—chemicals given off by paints that have been linked to respiratory illness. When you start any home renovation project, head to your local home improvement store and ask which products are Green Seal certified. You can also find Green Seal certified construction materials and building equipment on Green Seals' official certification site.
As for how much value green upgrades offer, it depends on what type of materials you use. You also may not see an immediate increase in your home's value. But your realtor could highlight Green Seal as a selling feature when you do sell your property, a factor that has shown to increase value. And, detoxifying your home is a healthy plus.
2. Get sold on solar panels
Despite the initial upfront costs, installing solar panels could save you some cash on your electricity bill. How much really depends on the area you live in and whether or not you can rely 100 percent on solar energy to power your home.
According to Energy Sage, a solar company comparison site run by the U.S. Department of Energy, the average electricity used in homes each year is around 11,000 kilowatt-hours (kWh). The national average electricity rate was $0.1301 per KWh as of November 2017. Multiply those two numbers and you're spending around $1,430 on your electricity bill.
By contrast, solar energy is free except for the cost of purchasing and installing solar panels. Your costs will vary based on how much electricity you want to generate—the bigger the home, the more you could be paying. Averages range from $13,188 to $21,980 depending on the size of the solar panel system. This price reflects Federal solar tax rebates but different states may offer other incentives and rebates that can bring down the cost even more.
Looking at these numbers, it seems well worth it if you intend to stay in your home for a while. Even if you don't, installing solar panels has been shown to increase the value of a home.
However, according to HowStuffWorks, solar panels may not always be a money-saver, because there's the issue of energy production. Unless you live in California or a different warmer climate, solar energy alone may not be enough to meet your home's entire energy needs. This means that you'll still have to pay your utility company to draw some electricity from the regular grid. To know for sure, talk to a few companies that specialize in solar panels and have them come and do an audit of your home.
3. Save with Energy Star appliances
Energy Star certified appliances—appliance that operate just as well as the next but consume less energy—can help you save money on energy costs during use. With so many household appliances to choose from, you can save money on big or small item upgrades.
For example, the typical energy use of a clothes dryer is around 3,000 watts. One of the most efficient Energy Star certified dryers uses around 556 watts. That's energy savings of around 85 percent. Other major appliances, such as HVAC systems, can reduce your energy usage by 20 to 30 percent. While some of these items could set you back in cost, there may be special offers and rebates so be sure to check the Energy Star rebate finder to see what you could qualify for.
4. Consider installing smart windows
Smart windows are pretty tech-savvy, changing color according to the time of day, regulating how much light enters a room. This better controls air conditioning and heating costs. The idea is that as the sun gets brighter, the windows will have a darker tint, helping to keep cool or hot air in the home. The windows can also be set from clear to opaque, giving you privacy.
Installing these windows could cut your energy costs up to 20 percent because you'll be using less energy to heat or cool your home. However, unless you're planning on staying in the home for some time, the benefits don't necessarily outweigh the costs.
To replace your current windows with smart ones, you're looking at anywhere from $50 to $100 per square foot compared to $10 to $15 for regular glass. But it might be worth checking to see what incentives and rebates for energy-efficient windows are offered in your area.
5. Manage your own energy levels
Energy management systems give you the ability to track how much energy you're using as well as automatically turn off your air conditioning and heating system after you leave home. You can also network them with other smart household appliances so that you can control how much energy is being used and when. For example, you can program your smart dishwasher to run or your smart refrigerator to delay its defrost cycle until off-peak energy hours—saving energy and costs.
While energy management systems and smart appliances can help you save, the upfront costs could really add up. Just like smart windows, the technology is still relatively new so it may take a few years until prices go down.
The green home payoff
How much to spend really depends on the types of benefits you're looking for in your home. Foss stresses that there are immediate benefits, such as lowered utility bills and healthy living motivators, but the people working in the LEED (Leadership in Energy and Environmental Design) industry are just beginning to quantify them.

"What we do know is that with a LEED-certified green home, 30 to 60 percent less energy is used," Foss says. "We're also seeing numerous studies that around the U.S., there has been an increase in home value from these homes, because a high-performance home is a higher quality one."
Your best best is to get a home energy audit, which Foss recommends. Most local utility companies and state energy offices provide free audits and a professional will be able to show you how your home compares to others. It should also provide you with a detailed list of improvements and the advantages and disadvantages of each.
Even if you make small improvements, you could see some drastic differences in terms of recurring home expenses. Being able to redirect those savings could be a value-add as you continue along your home ownership journey.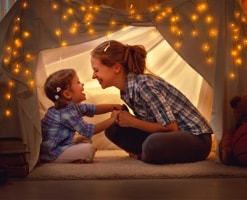 The home equity you've earned
can be used in a multitude of
ways. 
Main

Start your application online

or give us a call.
Main

Start your application online or give us a call.