What are the Different Types of Home Equity Loans?

The world of equity lending can seem confusing at first. What's the difference between fixed and variable rates? What does LTV mean? How is a home equity line of credit different from a home equity loan? But once you understand the terminology and basics, it becomes easy to see how a home equity loan can help you reach your goals. Learn more about the different types of home equity loans below.
What's the difference between "fixed rate" and "variable rate"?
Fixed rate home equity loans are simple-- the lender provides a lump sum payment to the borrower and every month the percentage of interest charged on loan remains the same. A fixed rate loan means you can budget your monthly payment exactly and not have the amount owed change that month and take you by surprise.
With home equity lines of credit, interest rates fluctuate with the market, meaning that a year from now, your rate could be higher than the day you signed up for the loan. This variable rate is based upon a publically available index (like the prime rate or U.S. Treasury bill rate) and will fluctuate with this index.

What does loan-to-value ratio (LTV) mean?
Loan-to-value ratio is a financial term for a lending risk assessment. Any lender will conduct an assessment of the risk associated with loaning you money for a mortgage or home equity loan before approving it. For example, if you want to purchase a $100,000 home and need to borrow $90,000, to do so, your LTV ratio would be 90%.

What terms do home equity loans typically have?
Home equity loans come in a range of term lengths. For example, Discover offers 10, 15, 20 and 30 year home equity loans. The features of the loan are similar regardless of the length, but the difference comes in with monthly payments and the overall cost of financing (as longer term loans may have higher APRs). If you wanted to borrow $40,000, the monthly payments on a 10 year loan will likely be much higher than with a 20 year loan because the total sum is divided over fewer monthly payments. However, it will cost you more money in financing to pay off the $40,000 over 20 years since you are charged interest over a longer period of time.
What's the right term for me?
There are four main factors to consider in choosing the right loan term for you: what you can qualify for, the monthly payment, APR, and the total interest cost. It may be worth it to you to pay some extra in financing to have a lower monthly payment. If there is room in your budget for a higher monthly payment, you can save money in interest over the long term. Talk with a Personal Banker to learn more about the differences between home equity lending options. These professionals can help you determine what you can qualify for and which term is the best fit for your finances.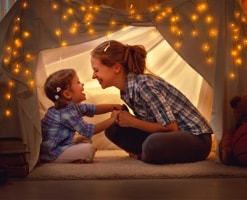 The home equity you've earned
can be used in a multitude of
ways. 
Main

Start your application online

or give us a call.
Main

Start your application online or give us a call.