How to Get a Home Equity Loan & Determine Eligibility

How Do You Qualify for a Home Equity Loan?
You may have heard that home equity loans are a great way to manage debt, pay for home improvements or even finance a large expense, like a wedding or travel overseas. Home equity loans have become a great choice for homeowners and it's all thanks to the hard work you've put into paying for your home.
When looking for a home equity loan, it's important to know the basics of how the loan operates, what you'll need to qualify and why this type of loan would be a sound choice for you and your family. This guide aims to introduce you to these topics so you can feel confident when you discuss loan options with a lending expert.
Get prepared by learning more about home equity loans, and be sure to learn about the great things you can do—or are already doing—to help you get the best possible loan options.
What Is a Home Equity Loan?
A home equity loan (HEL) is a fixed loan that is secured by the equity in your home. Your home's value, your current mortgage and the equity you have in your home are the biggest factors in determining whether or not you will qualify for a loan.
A HEL uses your home as collateral and requires that you have equity in your home. In simplest terms, you have equity in your home if it is worth more than you owe on your mortgage. You can often use that equity to borrow money.
For a HEL from Discover© Home Loans, you'll need to use the home that you live in as your primary residence. Examples of primary residences include condos, townhomes, single-family homes and some planned unit developments.  Unfortunately, Discover can't use investment property, commercial property or manufactured homes for a HEL loan.
Are There Benefits to a Home Equity Loan?
Some of the most common benefits include:
Interest rates are typically lower than those on credit cards and other unsecured debts 

Fees vary by lender, but Discover Home Loans has no application, origination, or appraisal fees, and no cash is required at closing

Interest on a home equity loan may be tax deductible depending on how the loan is used and your particular circumstances. Consult a tax advisor to see if you qualify.

Budgeting is manageable due to a fixed interest rate, fixed term and fixed monthly payment 

Money is received in a lump sum

Home Equity Loans can be used to improve your home, consolidate debt or pay for major expenses.
Determining Eligibility and Equity
Requirements for each loan and lender can vary, but there are some guiding principles that you can follow to see if you'll qualify for a loan. You will typically need:
Sufficient equity in your home—amount needed depends on the loan amount you want 
Credit score of at least 620 
History of responsible credit usage, such as paying bills on time 

Verifiable, consistent income
The equity in your home is the most common factor that puts a cap on how much you can borrow. Discover Home Loans offers fixed loans from $35,000-$300,000 with less than 90% CLTV, depending on your credit score.
To estimate the equity you have, you'll want to subtract the debts secured by your home from its estimated market value. Often that means subtracting your mortgage from your home's value, but other loans might need to be considered too.
Learning Home Values and Available Options
Your home's value plays a big role in how much you can borrow.
You'll start the HEL process by providing an estimate of your home's worth. We recommend you create a market value estimate by reviewing recent sale prices of homes in your area that are similar to your own home.
Comparisons are often available from real estate agents in your area, as well as through many helpful websites such as Zillow.com and Eppraisal.com.
Your Personal Banker and the Underwriters from Discover Home Loans will use a property condition report, the stated value you provide,  an automated valuation model (AVM) and, in some circumstances, more detailed appraisals to determine the value of your home.
In those cases, an appraiser may need to visit your home to view its exterior. Only in very rare circumstances will an interior appraisal be required. However, if one is needed, you can schedule an appraisal time that's convenient for you.
You may not have heard about the AVM, in which case, you are probably curious about how it works when it comes to valuing your home compared to an appraisal. AVMs use mathematical models based on listing trends, comparable home sales and home price changes. By looking at this information, one can get a good reading on your home, in addition to its projected value down the road.
How Much Home Equity Loan Can You Get?
With a HEL, your borrowing ability is mainly based on the equity in your home and your credit history. The best way to test out your borrowing ability is to use a loan amount calculator from Discover Home Loans.
Online calculators provide a quick way to see how much money you can leverage, but they may not reflect the final loan options you receive. Your final loan terms will take into account an understanding of your credit and the current housing market, both of which may affect the amount of money that's available to you. These considerations may also change your annual percentage rate (APR).
In general, APR is determined by your credit history, the loan amount you seek, the amount of equity you have and the repayment term of the loan. Longer repayment terms and higher loan amounts will typically raise your APR.
Get Everything You Need Together
After running those basic calculations, you'll have a good idea of how much you can borrow and what the general terms will be. Next, it's time to get a firm HELoffer. To make that process as smooth as possible, use this application checklist, and collect copies of the common documents needed mentioned below.
Forms you will need to apply for a home equity loan
Personal and home information 
Employment history for at least two years 
Income for the past two years 

List of debts
Documents to send
A recent pay stub 
Homeowner's insurance declarations page 
Mortgage statement 
Tax, disclosure and borrower's authorization statements
What loan specialists will check with other sources
Tax forms and W-2s 
Home valuation 

Debts and liens
There may also be some special documents required if you're paying off other debt, are self-employed or run a family business, in addition to other circumstances, like living in a flood zone.
Fill out the general paperwork for a loan application and provide the loan specialists with everything they ask for to increase your chances of eligibility.
Steps to Improving Your Qualification Chances
Beyond meeting the qualifications and numbers, there are some other steps you can take to improve your chances of qualifying for a home equity loan. These steps are part of a long-term plan and can be especially useful if you're considering a home equity loan to pay for a future expense.
Improve your equity
Take time to build your equity. Not only will higher home equity give you more to borrow against down the road, but it'll make it easier for you to get a HEL if you want a loan that is notably less than your available equity.
Pay down your mortgage
Paying directly against your mortgage loan can help improve your long-term chances of getting a HEL and increase the amount that you will be able to borrow. Not only is it important to pay down your mortgage, you also want to pay your bill on time.
Work on your overall credit
Good credit can go a long way towards helping you get approved for a HEL. It can even help you get better rates. A positive credit history is typically required for a HEL, so be sure to pay all of your bills on time, avoid going over your credit limits and only borrow what you need if you choose to take out other loans.
Show your payment skills
Part of the overall decision to provide you with a loan of almost any kind is the ability and confidence that you can repay it. Some of the best ways to show lenders that you're a safe risk are by maintaining a consistent employment history or income, reducing expenses and maintaining a low debt-to-income ratio. Learn more about that ratio here.
For employment history, you may not need to stay with the same employer for a long time, but you should be in the same career field for at least two years. As for your debt-to-income ratio, it's good to keep it below 36%.
One Important Reminder
A home equity loan is an amazing tool that you can use to control your finances and plan for the future. By using the equity in your home, you can ensure good rates and build up your credit by continuing a smart payment schedule.
It's important to remember that your home equity loan uses your house as collateral. Always make sure that you're comfortable with the amount you borrow, as well as the payment terms of the loan. Failure to pay a HEL back can have grave consequences for your future.
Talk to a Discover Personal Banker at 1-855-361-3435 to learn more about borrowing and payment options, plus get answers to all of your questions. We want you to feel comfortable and safe with your loan decision, which is why our specialists are here to make sure you get the loan you need and can afford.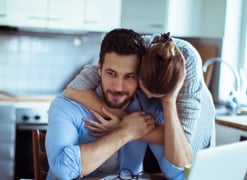 Find your low,
fixed rate

Use our Rate Calculator to find the rate and monthly payment that fits your budget.
Main

Start your application online

or give us a call.
Main

Start your application online or give us a call.