Home improvement loans: Which is best?
Home improvements are exciting, but expensive, projects. Fortunately, taking out a home improvement loan doesn't require using up the cash you might have in your savings account.
Examples of home improvement loans could be home equity loans or cash-out refinances that let you pull cash out of your home equity to provide upfront financing for your project.
Before jumping into a home improvement or renovation, take time to learn about different loan options and how home improvement loans work so you can pick the best loan to finance your upcoming home improvement projects.
How do home improvement loans work?
Technically, there is no single "home improvement loan" — instead, you can use one of several types of loan to help finance your home renovations or upgrades.
Like other types of loans, these home improvement loans provide cash to the borrower with repayments made on set terms. Because there are different loan options, some important specifics of the loan can vary.
Here are some key differences to look out for when comparing potential home improvement loans:
Secured vs unsecured loan
A secured loan means that the loan is backed by collateral.
In the case of home loans, this means that the value of your home backs the loan. Because secured loans are backed by collateral, they tend to come with lower interest rates and unsecured loans, and as a result typically have lower monthly payments. Secured loans can also be easier to qualify for than unsecured loans. Note that defaulting on a secured loan could mean losing the collateral, which in this case could be your home. However, secured loans could still be the better option for many homeowners.
Unsecured loans are not backed by collateral, meaning you borrow money based on your eligibility. As a result, these loans tend to come with higher interest rates and could have stricter qualifying requirements than secured loans, making them harder to get. For example, a lender might require you to have good or great credit to qualify for an unsecured loan. Depending on the loan terms, preset borrowing limits could also be too low, meaning you won't borrow enough cash to finance a home improvement if you don't meet the lender's requirements. The good news with unsecured loans is that there's no collateral, so defaulting on the loan doesn't mean a loss of assets.
Fixed vs variable interest rate
Home improvement loans either come with a fixed or variable interest rate. Fixed rate means that the interest rate attached to the loan won't change throughout the life of the loan, while variable rate means that the interest rate can change after a predetermined amount of time.
Typically, variable rate loans come with lower upfront mortgage rates. After a set period of time, the rate adjusts to market conditions. If mortgage rates decrease, then variable rate loans could maintain a relatively low rate compared to fixed rate loans. But if mortgage rates move higher in the future, then the variable rate loan rate can move higher, too, significantly impacting monthly payments. This can make variable rate loans riskier than fixed rate loans.
Anyone concerned about an environment with upward-trending rates might feel safer by avoiding variable rate loans. Of course, nobody can see the future, so the best option depends entirely on an individual's situation.
Closing costs
Depending on the type of loan and lender you choose, you may be required to pay closing costs on the loan. These fees can range anywhere from 2-5% of the loan value, meaning you need to pay these upfront costs to get the loan. Some businesses will waive or defer these costs to make the loan more affordable. Be sure to check for any closing costs or fees when choosing a loan or lender.
Best home improvement loan options
Before deciding which home improvement loan to get, consider your options. Because everyone's situation is unique, there's no "best" home improvement loan; however, there could be a best option for your situation.
Spending time learning about the benefits and drawbacks of each home improvement loan option could help you determine which loan fits your wants and needs the best.
These are the best home improvement loans available:
Home equity line of credit (HELOC)
A home equity line of credit (HELOC) is a type of second mortgage that lets you tap into the equity in your home. HELOCs are secured loans, meaning your home serves as collateral for the loan.
A HELOC works as a revolving line of credit, so you can pull as much or as little cash as necessary throughout the life of the loan. This is ideal for those who want to keep the size of the loan to a minimum. In most cases, HELOCs come with variable interest rates. So, as homeowners draw cash from the HELOC and rates change, monthly payments will also change.
Please note: Discover® Home Loans offers a home equity loan product, but does not offer HELOCs.
Home equity loan
Like HELOCs, home equity loans are secured loans that use homes as collateral. However, home equity loans and HELOCs work differently. Home equity loans typically come with a fixed mortgage rate, set terms, and a fixed loan amount. While you can't draw more cash from a home equity loan, the fixed terms ensure that monthly payments remain the same throughout the life of the loan.
If you want to learn more, Discover offers home equity loans that come without appraisal fees, mortgage taxes, or costs due at closing.
Cash-out refinance
A cash-out refinance replaces your current mortgage with a larger loan. You use the new, larger loan to pay off your original mortgage, then use the remaining cash from the loan however you choose. Home improvement or renovation projects are popular uses for money from a cash-out refinance, though the cash can be used however you'd like. Note that the new loan also comes with a new mortgage rate and monthly payments, something you would need to budget for.
Discover also offers cash-out refinances with different set loan terms to choose from.
Personal loan
Personal loans could be an option for anyone not interested in looking into a mortgage loan. Personal loans are unsecured loans that usually come with a fixed interest rate.
These loans can come with quick approval times compared to HELOCs or home equity loans, but they can be harder to get due to stricter requirements. Because the length and size of personal loans can vary, interest rates on these loans can be higher or lower than HELOCs, home equity loans, or cash-out refinances.
Credit card
Credit cards can serve as a quick, effective way to finance a home improvement. Like HELOCs, credit cards are revolving credit, meaning you can pull cash as needed. However, you can only use cash up to your credit card limit. Also, credit cards can carry a high APR, meaning sizeable interest payments. To best utilize this strategy, consider opening a card with a no or low APR period to avoid paying as much interest as possible.
How to get a home improvement loan
There are many types of home improvement loans, and each lender might offer variations to each option. So, home improvement loans have no "one size fits all" qualification.
Regardless of your loan decision, you need to provide some basic information. HELOCs, home equity loans, and refinance loans might also require you to meet other prerequisite requirements.
Factors considered during a home improvement loan application can include:
Income

Credit score

Debt-to-income ratio (DTI)

Loan-to-value ratio (LTV)
You can find out the specific requirements for a loan during the application process.
Keep in mind that, because loans set different requirements, you may qualify for one type of loan and not another. Or, maybe your specific situation means that one loan has the best terms available. Shopping loan rates and lenders ensures you're getting the best deal on your home improvement loan.
How to get the best home improvement loan rates
Rising mortgage rates can make it feel like getting a loan is unaffordable. However, mortgage rates can vary based on the loan you choose, the loan's terms, and your personal information. There's no way to know what mortgage rates are available until you check.
Check your potential loan terms with multiple lenders to ensure you're getting the best home improvement loan rates. Also, note that lower mortgage rates could also mean shorter loan terms and higher monthly payments.
Making the most of your home improvement loan
Home improvement loans might seem complicated at first, but remember the ultimate goal – making your home a better place to live in. After securing your loan, you're ready to get to work on your home improvement, renovation, or repair.
Discover is here to help you secure financing in your home improvement loan and can get you started when you verify your loan terms on a home equity loan or cash-out refinance with just a few pieces of information.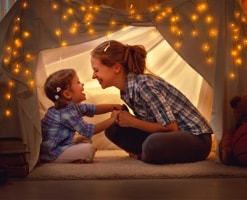 The home equity you've earned
can be used in a multitude of
ways. 
Main

Start your application online

or give us a call.
Main

Start your application online or give us a call.