A Beautiful Yard Can Increase Your Curb Appeal

Landscaping is an often forgotten aspect of your home that may increase its value. The saying, "you never get a second chance to make a first impression" defines the importance of landscaping to heighten the curb appeal of your home.
Understand the Benefits of Landscaping That Enhances Your Curb Appeal
Landscaping can add value to your home, depending on how much money you spend and how much the improvements enhance your yard. Repairing problem areas will increase the value of your home more than adding decorative elements, according to Realty Times. For instance, you can change the slope of your yard to provide better water drainage by adding dirt or installing new sod. You can also replace broken slats on a wooden fence or install a fence around a pool to improve your outdoor space. A well-manicured lawn with the right number and type of trees, bushes and flowers can draw positive attention.
Future buyers may want to enter your home if they like the landscaping.
How to Increase Curb Appeal with Landscaping
If you are inspired to get outside and improve your property, the first thing you want to consider is what improvements to make. Instead of attempting to landscape your entire yard, focus on specific areas if you plan to have your home appraised soon:
Clear the yard of debris, such as broken limbs and leaves, and reduce clutter due to decorative lawn ornaments.

Repair hardscaped features such as sidewalks, driveways and patios. Fix cracks, pull out weeds and pressure wash the concrete.

Re-sod areas that have thin or no grass.

Trim bushes and trees and replace spindly looking plants.

Add color by planting pretty flowers and plants that bloom while your home is being evaluated.

You may have no trouble deciding what can be improved if your lawn has been neglected for some time. However, it may not be as obvious if your lawn is in good shape, but it lacks style. In this case, drive around your neighborhood to get ideas. Find out what other homes have and choose two or three ideas to add to your own property.
Create an Outdoor Living Space

Remember to keep your landscape looking nice even in the off-season.
You may not have to spend a lot of money on your outdoor space to make the area more inviting. If you have a patio, or if you have room for one, consider creating a space that is an extension of your house. Although a patio is a great feature for any home, it is an especially important feature in warm weather regions where people spend time outside all year long.
You don't have to be elaborate in your landscaping. Place a few stone pavers on the ground and set up a table and a couple of chairs. If you already have an outdoor area that is seldom used, spruce it up. Put a new coat of paint on your outdoor furniture or add outdoor cushions to make the place feel more inviting.
Remember to keep your landscape looking nice even in the off-season. Depending on where you live, this can be challenging, but not impossible:
Keep leaves raked and bagged in the fall.

Remove ice and snow from sidewalks and driveways.

Plant a few evergreen trees and bushes for fall or winter appeal.

Plant seasonal plants designed to bloom in the fall or winter.

Make the entryway or front porch more decorative to draw the attention of buyers.
Make an unforgettable first impression for your own enjoyment and to entice future buyers by creating a landscape that has tremendous curb appeal.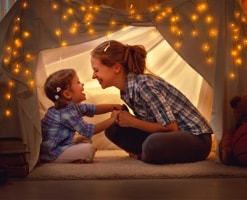 The home equity you've earned
can be used in a multitude of
ways. 
Main

Start your application online

or give us a call.
Main

Start your application online or give us a call.